The Eugene, 435 West 31st Street: Review and Ratings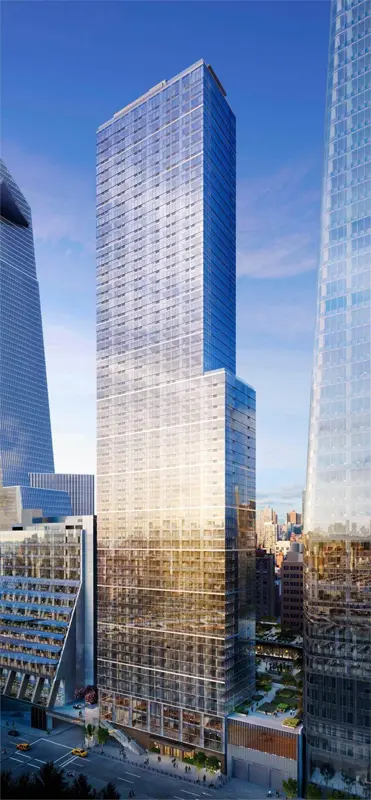 Review of 435 West 31st Street by
Carter Horsley
This reflective-glass tower at 435 West 35th Street is a 62-story rental apartment building that opened in 2017.
It is known as the Eugene and is part of the 6-building, 7-million-square-foot Manhattan West development by Brookfield Properties that is just to the east of the recently handsomely reclad 450 West 33rd Street, whose façades are angled and which is now known as 5 Manhattan West. That building, which was formerly known as the Westyard Distribution Building, was purchased in 2014 by Brookfield Properties.
The 702-foot-high Eugene, which fronts on Ninth Avenue across from the full-block, James Farley Post Office Building, will have 844 apartments.
It has a reflective glass façade that is similar to that of 5 Manhattan West and the eastern towers of the Hudson Yards projects on the west side of Tenth Avenue.
The Eugene has been designed by SLCE Architects. Roman and Williams was the interior designer.
Twenty percent of the building's unit are "affordable."
Eugene was the middle name of John Zuccotti, the late chairman of Brookfield and a former chairman of the New York City Planning Commission.
Bottom Line
A reflective glass rental tower that is part of the Manhattan West development that is closer to Midtown than the Hudson Yards project to the west and this building has many amenities and many small apartments with superb vistas of the Empire State Building.
Description
This tower and its office building mate to the south have slightly tilted façades facing one another in opposite directions across an attractive curved and terraced plaza.
The façade tilts are an distinctive but slightly awkward yet acceptable touch.
A January 8, 2017 article on the project at 6sqft.com quoted Peter Downes of Navillus on the building's structure and that of One Manhattan West, the 2.1-million-square-foot office tower planned for a site just to the south:
"We are furnishing and installing the concrete for the superstructure portion of both jobs. The residential building is a concrete framed building and the office tower is a steel framed building with a concrete core. The reason for the different structure is that residential buildings do not normally need big floor to floor heights, and the floors do not have to be as open as office towers as the typical floors are usually divided into apartments. Also, concrete framed buildings tend to be quicker and cheaper to build as well, while office towers need higher floor to floor heights due to the required mechanical systems and also greater column to column spans to create as much open office space as possible. This is achieved more efficiently with steel framing."
The tower has a mid-shaft setback on its west side.
Amenities
The Eugene has a 24-hour attended lobby with LIVunLtd by Abigail Michaels Concierge Services and 55,000 square feet of amenity space including a Bluestone Lane Coffee Shop, a La Palestra fitness center, a pet spa, a regulation-sized basketball court, a golf simulator, a rock climbing wall, a library, a bicycle repair station, a children's activity room, a sky lounge and a roof terrace known as the Hudson Club.
Apartments
Apartments will have floor-to-ceiling windows, stainless-steel kitchen appliances and a granite kitchen countertop.
Apartment C on floors 10 through 36 is a two-bedroom unit with a 16-foot-wide living room with a 8-foot-wide open kitchen with an island.
Apartment G on floors 4 through 52 is a one-bedroom unit with and open kitchen and a 15-foot-long living area.
Apartment D on floors 8 through 36 is a one-bedroom unit with a 20-foot-long living room with an open kitchen.
Apartment H on floors 4 through 52 is a one-bedroom unit with a 16-foot-long living room with a pass-through kitchen.
Apartment S on floors 5 to 36 is a studio unit with an open kitchen in the entry foyer that leads to a 14-foot-wide living area.
History
A September 6, 2016 article by Katy Cornell at 6sqft.com outlined the site's history:
"On September 28, 1967, Mayor Lindsay announced plans to develop a $60 million, middle-income apartment complex to be built west of Ninth Avenue between 31st and 33rd Streets over the Pennsylvania Railroad tracks. Dubbed Chelsea Walk, the complex was proposed to consist of 1,600 residences, ranging from studios to three-bedrooms for an average price of $53/month. Designed by Philip Johnson, the development would consist of two 25 story towers and two 38-story towers as well as retail stores, offices, a private park, and a nursery school."
The project called for very attractive slab towers with broadened bases and tops and slanting bases between the taller and shorter towers and all towers had highly textured east-and-west façades festooned with many balconies in staggered arrays in handsome brutalist fashion.
The project, however, was opposed with some critics arguing for industrial development and others for low-income housing.
In 1990, according to Ms. Cornell's article, Harvey Schulweiss planned a 1-million-square-foot, mid-rise office tower at 400 West 33rd Street designed by Gwathmey Seigel Architects.with four slightly angled setbacks. The City Planning Commission eventually failed to give the property all the tax breaks sought by the developer and the plans were dropped in 2001.
Meanwhile, Olympia & York, which had built the World Financial Center at Battery Park City, planned a 754-office tower at 375 Ninth Avenue designed by Kohn Pedersen Fox. Brookfield Properties acquired Olympia & York in 1996 and purchased the Schulweis northern half of the site in 2006.