Tower 31, 9 West 31st Street: Review and Ratings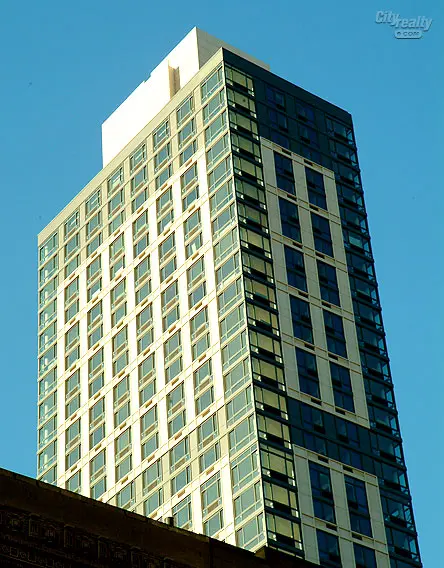 Review of 9 West 31st Street by
Carter Horsley
Erected in 2006, this 41-story tower has 283 rental apartments and very distinctive façades on its north and south sides highlighted by three center five-story-high "boxes of "25 windows" framed in white to contrast dramatically with the building's dark façades.
Designed by Costas Kondylis, the building has a marquee entrance and its second story has protruding glass windows.
Known as Tower 31, the building was developed by Jack Halpern and is located at 5 West 31st Street, which is close to "Koreatown."
In an October 17, 2008 article in The New York Times, Deborah Baldwin observed that "few would describe the area's odd mix of Korean lounges, Irish bars, sooty office buildings, vintage architecture and discount clothing stores as closely knit." "But," she continued, "for some newcomers, prying out its secrets is part of the allure....With Chelsea and Gramercy Park hemming it in, Koreatown has come up in the world, acquiring an affiliation with SoFi (South Fifth Avenue) and NoMad (north of Madison Square)....The rakish Main Street - West 32nd Street between Fifth and Broadway - has so many kimchi and karaoke joints, Internet cafes, and all-night spas that they have started stacking up, Seoul-style."
The building is close to the Empire State Building, Herald Square, Penn Station, Madison Square Garden and public transportation.
Kitchens have Impala black honed granite counters, Vitra mosaic tile backsplashes, and GE stainless steel ranges. Bathrooms have Statuario marble tile bath surrounds and Calacata Luna vanity top with Kohler basins.
The building has the 31 Club with a landscaped terrace with game tables, a media lounge, a screening room, a fitness center, complimentary continental breakfasts, and a suneck.