1080 Amsterdam Avenue in Morningside Heights: Review and Ratings | CityRealty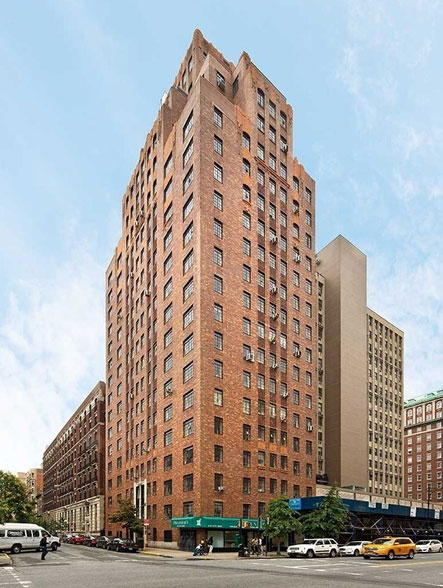 Review by
Carter Horsley

Carter B. Horsley, a former journalist for The New York Times, The International Herald Tribune and The New York Post. Mr. Horsley is also the editorial director of CityRealty.com.
This handsome, Art Deco-style, 20-story, orange-colored brick apartment building at 1080 Amsterdam Avenue on the northwest corner at 113th Street was erected in 1931 and designed by George F. Pelham.
It was sold by St. Luke's-Roosevelt Hospital Center to Fine Times Inc., in 2015 for $29.1 million. Its 99-year ground lease was acquired by Stonehenge Partners and S. I. Green Realty for $31.2 million in 2012 from St. Luke's-Roosevelt Hospital Center.
The hospital had used the building to house some of its staff.
Stonehenge and S. I. Green spent about $13 million in renovating the building for luxury apartments.
Steven Kratchman was the architect for the conversion and Andres Escobar was the interior designer. Newly renovated apartments feature hardwood floors, sunken living rooms, stainless steel appliances, and stunning finishes.
It has 96 rental apartments and two commercial units.
It was originally known as St. James House.
It is convenient to Columbia University, public transportation, shopping and a nice delicatessen and restaurant is next door.
Bottom Line
This attractive, Art Deco building is superbly located diagonally across Amsterdam Avenue from St. John The Divine Cathedral, is across the avenue from St. Luke's-Roosevelt Hospital Center and down the street from Columbia University.
Description
The building has a large, hanging marquee on the sidestreet and a three-story limestone entrance surround.
It has some small setbacks at its top.
Amenities
The building has a fitness center, a residents' lounge, bicycle storage, a laundry room, an attended lobby and is pet-friendly.
Apartments
Most apartments have two-steps-down sunken living rooms.
Kitchens have Frosty Carrina Caesarstone countertops and Scavolini cabinetry.
The penthouse is a two-bedroom unit with an entry foyer that leads to a 17-foot-wide that opens onto a very large terrace that is also accessible from the master bedroom. The living room leads one-step-up to a 14-foot-wide dining room off the open and windowed kitchen.
Apartment 3 on floors 3 through 17 is a one-bedroom unit with an entry foyer that leads for an open and window kitchen and a 17-foot-long sunken living floor.