The Copper, 626 First Avenue: Review and Ratings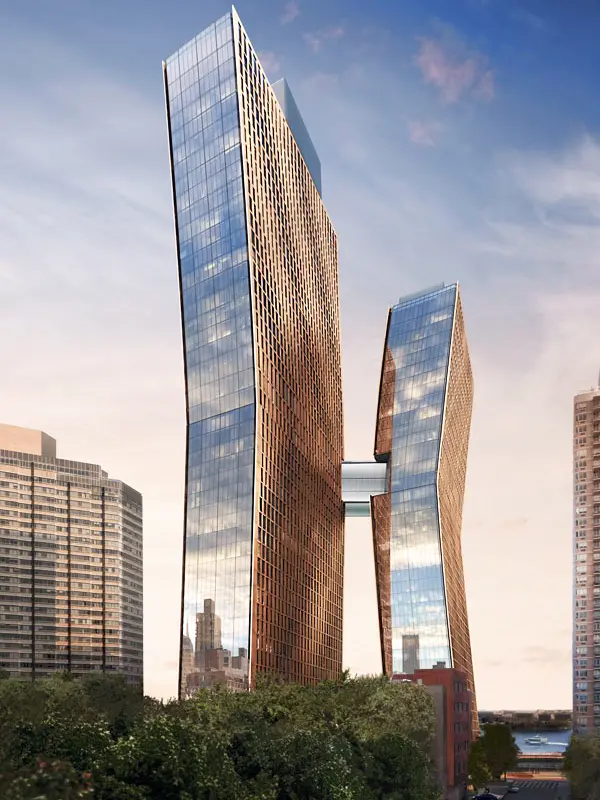 Review of 626 First Avenue by
Carter Horsley
The jaunty two rental apartment towers of the American Copper Buildings complex, east of First Avenue between 35th and 36th streets, appear to want to fly off in different directions but are tied together at their waists with a three-story-high skybridge that contains mechanical spaces and a 75-foot-long swimming pool.
The south tower is 41 stories high and is closest to the East River. The north tower is 48 stories high and closer to the Empire State Building further west on 34th Street.
The complex contains 761 apartments of which about 150 are affordable.
The developer is JDS, which is headed by Michael Stern and whose other projects include the Walker Tower in Chelsea and 111 West 57th Street, a planned 1,400-foot-high skyscraper.
It has been designed by SHoP Architects, best known for its reptilian Barclays Center in Brooklyn.
Bottom Line
The city's most spectacular slanting towers that rub their bellies, these towers wear copper on their north and south sides and glass on their east and west sides and their residents defy vertigo. Rumor has it they've got rhythm and are "pushing the envelope."
Description
Just when you thought it was safe to go near the water, here's something else to think about: a pretty darn large duo of bronze-colored, tilting towers teetering over the East River, dancing like topless, sun-tanned beauties.
No, this is not the Coney Island Fun House with crazy mirrors, but a really interesting flourish from SHoP Architects.
Imagine putting Manhattan inside a very large wok and swirling things around. Fast, like stir-fry.
Imagine the Michelin Tire Giant bumping his way through Manhattan —with a smile, of course.
Imagine the San Andreas Fault showing up under the FDR Drive. Oh, the humanity!
It's not as spectacular as Moshe Safdie's great, curved, triple-towered Marina Bay Sands extravaganza straddled with its 1,120-foot-long SkyPark and 490-foot-long infinity swimming pool in Singapore.
But it does give Rem Koolhaas a reason to revisit his marvelous book, "Delirious New York," and lets the locally-based SHoP firm put to shame most of the non-local "stararchitects" designing projects in the city in recent years.
A serious critique of the project would be awed by the subtle fenestration patterns on the bronze façades and a bit disappointed that they don't wrap fully around the towers and have been replaced with glass on the skinny east and west façades.
The towers' shimmy is only about 4 degrees but that is enough to cause residents some consternation when hanging their large Basquiats or Twomblys on their slanted walls.
Of course, this is no ordinary "rambling wreck" with just some slight angles.
The skybridge is "wedged" at a dramatic, 45-degree between the two towers whose bulk somewhat minimizes its impressive size.
The roof of the skybridge is divided into three apartment terraces. The skybridge is longer on its northern side that also does not flushly meet the north tower but "sits" in a small, multi-story indentation.
The western tower also has a slim 9-story indentation above its entrance to the complex's large plaza that is a 38,000-square-foot park.
The project also has about 4,000 square feet of retail space and 95,000 square feet of amenities and community facilities.
Amenities
In addition to the 75-foot-long swimming pool, the skybridge has a two-story-high fitness center with climbing wall and a residents' lounge and bar with sharply angled ceiling lighting, a screening room and a children's playroom. The building also has a roof deck with an infinity pool, a garage for more than 200 cars, and a spa.
History
In 2013, Mr. Solow, who had developed the sloping skyscraper at 9 West 57th Street, sold this site to JDS Development for $172.5 million and according to an August 1, 2013 article in The New York Times by Julie Satow JDS "is now in talks to acquire the two remaining parcels."
Her article quoted Vishaan Chakrabarti of SHoP as stating that the "buildings are modern and fresh," adding that "they dance with each other, not like Ginger Rogers and Fred Astaire, but like Shawn (Jay Z) and Beyonce,"
The site was flooded in Hurricane Sandy and as a result the developed put mechanical equipment on the second floor and installed floodgates and back-up generators.