The Parkville, 823 Park Avenue: Review and Ratings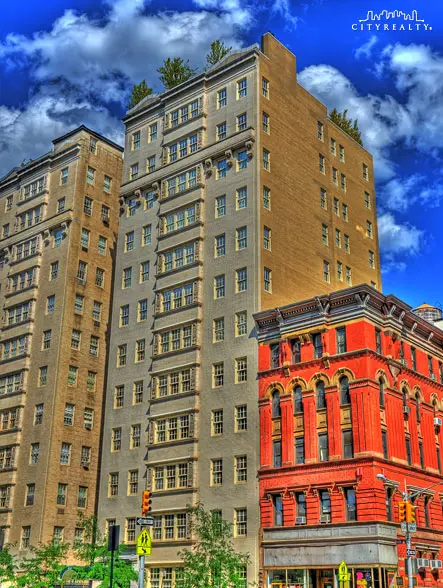 Review of 823 Park Avenue by
Carter Horsley
This 13-story, mid-block apartment building at 823 Park Avenue between 75th and 76th Streets was designed by Pickering and Walker in 1912 and closely resembles the larger 829 Park Avenue apartment building that had been erected the year before.
Bottom Line
A prime Upper East Side location with a very handsome lobby, fireplaces and full-floor apartments.
Description
The buff-brick building has a canopied, one-step-up entrance flanked by fluted columns and topped by a Classical entablature, and sidewalk landscaping.
It has a slightly protruding center pier of three windows flanked by decorative pilasters and a broad bandcourse above the 10th floor supported by large brackets and a thin cornice of two horizontal stringcourses. The center pier is flanked by two windows on each side whereas the two very similar wings of 829 Park Avenue are flanked by single windows.
It has an exposed roof-top watertank enclosure.
Amenities
The building has a doorman, a live-in superintendent, wine storage, and a fitness center.
Apartments
The maisonette is a three-bedroom unit with a 9-foot-long gallery entrance three steps up off the lobby that leads to a 31-foot-long living room with fireplace, a 14-foot-long library with bar, a 14-foot-long dining room next to a 21-foot-long, eat-in, windowed kitchen, and a 25-foot-long terrace.
The 8th floor has five bedrooms, a 32-foot-long living room with fireplace that connects to a 17-foot-long library with fireplace, a 21-foot-long, windowed dining room and a 19-foot-long eat-in, windowed kitchen.
History
According to a July 4, 1993 article in The New York Times by Christopher Gray "in 1940 the shareholders gave the building back to the principal lender, the Dry Dock Savings Bank, and the building was emptied."
"Dry Dock," the article continued, "brought in Edgar Ellinger, who had just drastically cut down the large apartments in the bank's Alwyn Court apartments on 58th Street and Seventh Avenue, and Louis S. Weeks, the bank's consulting architect. They developed a plan to make 38 two-to four-room apartments in place of the original 23. They introduced push-button elevators, kitchenettes, glass-block partitions and an outside servants' bathroom on each public hallway....In 1930, 70 percent of the tenants at 823 were in the Social Register....But in 1950, after reconstruction, only 10 percent of 823 Park Avenue's tenants were in the Social Register."
A September 19, 2004, article in The New York Times by Josh Barbanel noted that the building's tenants "fought off a conversion plan in the 1970s, stopped another plan in the 1980s for a 'lollipop' condominium, in which a new bulding would be built on top of the old one, and for a time in the early 1990s, ran the building theselves after a developer lost it for non-payment of taxes."
"Finally," the article continued, "last spring, while both sides were waiting for a decision from the State's Division of Housing and Community Renewal – a process that had involved 170 hearing dates stretching more than three-and-a-half years that was recording in t a 100,000-page transcript – the final 17 tenants took significant, but undisclosed buyouts."
"The Manocherian Brothers," a Real Deal article said, "purchased the property at a city auction for $4.175 million in 1994" and ten years later sold it Elliott Joseph of the Property Market Group for about $61 million.
Mr. Joseph commissioned architect Barry Rice to convert the building to 12 condominium apartments.
Mr. Elliot's company asked the Landmarks Preservation Commission for permission to add a floor to the building as well as to create a 20-foot-square room on every floor at the rear of the building. The commission denied the request for an additional floor, but approved the plan for the extension at the rear.
An 8-bedroom, maisonette duplex unit in the building that was subsequently offered for almost $20 million had two gas fireplaces and Blue Eyes marble in the kitchens and non-porous CaesarStone quartz.
An October 29, 2006 article in The New York Times by Josh Barbanel said that a deal had been closed on the building's duplex penthouse for $30 million, $5 million below the asking price.
An article by Max Abelson in the September 18, 2008 edition of The New York Observer noted that Ray Iwanowski paid about $13,500,000 for a full-floor apartment with 10-foot-high ceilings and two fireplaces at 823 Park Avenue.
Book a Tour or Get More Information on this Building
253 Buyers
are interested in buying at
823 Park Avenue!
Interested in Selling?
We'll introduce you to the agents that
specialize in 823 Park Avenue and are
experts in selling apartments there.

And they'll be able to contact all of the buyers interested in the building.
There's no obligation and your inquiry is confidential.
Call us at (212) 755-5544