The Clark, 310 Clarkson Avenue: Review and Ratings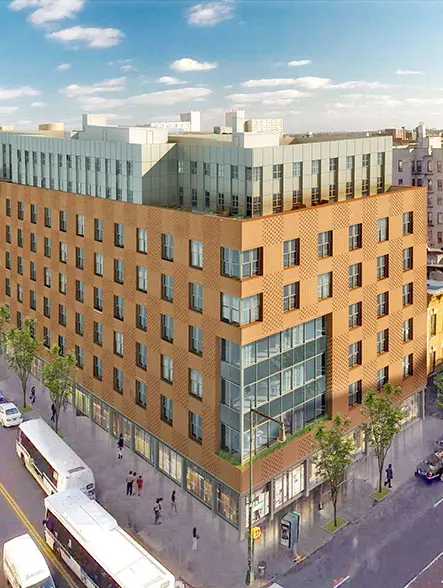 Review of 310 Clarkson Avenue by
Carter Horsley
This attractive, 8-story building at 310 Clarkson Avenue between Nostrand and New York avenues in Prospect Lefferts Gardens in Brooklyn was erected in 2018 by the Hudson Companies. It has 170 market-rate rental apartments and 8,000 square feet of retail space.
It was designed by Jonathan Kirschenfeld Architects and is known as The Clark.
The building is the first phase of a development by Hudson Companies whose second phase is 350 Clarkson on an adjacent lot with 250 market-rate apartments and 6,000 square feet of retail space.
The 350 Clarkson building, which was designed by CetraRuddy, is the larger and more attractive of the two buildings and has two grey, 6-story façades with two-story white setbacks atop them that flank an 8-story pale yellow-façade.
According to an April 13, 2017 article at cityrealty.com, architect John Cetra maintained that "The design of the [350 Clarkson] building references the neighborhood's industrial past, with a unique façade featuring a rhythm of recessed masonry expressions and an accent of copper panels."
The base of the grey façades, which has an irregular fenestration pattern, is indented and has angled white columns.
The buildings are a short walk from Prospect Park.
Bottom Line
A pleasant mid-rise building with a mostly orange façade, a roof deck and an attended lobby that is part of a large two-building rental complex developed by the Hudson Companies in the Prospect Lefferts Gardens section of Brooklyn.
Description
The 8-story 310 Clarkson has an orange façade over a dark retail base and beneath a two-story setback section with white façades. It has a three-story inset window section at one of its corners.
Its first floor has a dark façade.
The building was designed to be environmentally conscious and meets LEED Silver and Energy Star standards.
Amenities
The building has an attended lobby, a roof deck, a fitness center, a children's playroom, a lounge, a screening room, a game room, a dog run and pet grooming, covered on-site parking, a business center, bicycle storage and a garden.
Apartments
Apartments have washers and dryers and solar shades.
Apartment 820 is a corner 3-bedroom unit with an entry foyer that leads to a 15-foot-wide living/dining room with an open kitchen with a breakfast bar and an entrance to a large terrace.
Apartment 617 is a one-bedroom unit with an 18-foot-long living/dining room with an open kitchen with a breakfast bar.
Apartment 66 is a two-bedroom unit with a large entry foyer that leads past an open kitchen with a breakfast bar to a 13-foot-wide living/dining room.
Apartment 610 is a studio unit with a 14-foot-long living room with an open kitchen and a 10-foot-long alcove near the entrance.