1 West End Avenue in Riverside Dr./West End Ave.: Review and Ratings | CityRealty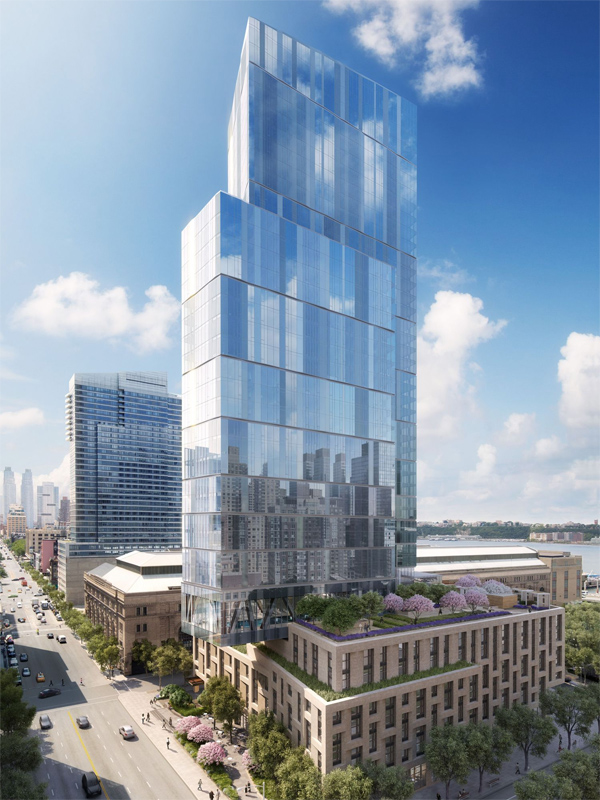 Review by
Carter Horsley

Carter B. Horsley, a former journalist for The New York Times, The International Herald Tribune and The New York Post. Mr. Horsley is also the editorial director of CityRealty.com.
This large and exquisitely detailed, and possibly over-detailed, 41-story, mixed-use complex at One West End Avenue between 59th and 60th streets in the Waterline Square project on the Upper West Side was erected by the Elad Group and Silverstein Properties and was due for completion in 2017.
It was designed by Pelli Clarke Pelli and Goldstein Hill & West.
The interiors are by Jeffrey Beers International.
Mathews Nielsen are the landscape architects.
It has 246 market-rate, condominium apartments and 116 "affordable" units. The latter are contained in a low-rise base clad in Indiana limestone whose address is 10 Freedom Place.
It is just to the north of the very long and low electrical power plant with a very tall smokestack between 58th and 59th Streets that is just to the north of pyramid-shaped apartment complex designed by Bjarke Ingalls.
Bottom Line
This amenity-rich project looks like it was put together by a wild and crazy kid a la Steve Martin: very slick and elegant, bifurcated glass towers with slanted roofs sitting on, and partially sinking into, an irregular limestone base with a huge spear of diagonal braces stuck into its lower midriff that cantilevers significantly over the sidewalk.
The low-rise commercial limestone base bears no relation to the glass towers and its fenestration and massing is also unusual.
It is a scrumptious, gee-whiz building but did anyone involved with this project hear of restraint? Huh?
Description
The glass tower above the base is divided in two with a 41-story component on the south side with a slanted top and a 26-story component on the north side that is slightly angled away to the north from the south tower and which also projects out 50 feet beyond the low-rise base and 70 feet above West End Avenue.
The glass façade of the angled, shorter tower actually "cuts" into the top floor of the limestone base and its lowest level contains the major "amenity floor" with a 75-foot-long swimming pool behind dramatic and large diagonal bracing.
The project is adjacent to a planned, 3.2-acre, landscaped plaza facing the Hudson River. The glass slab "market-rate" tower runs from west to east and cantilevers significantly and very dramatically over the east end of the large limestone base with retail and office space.
The top two floors of the base are slightly setback and have large roof gardens.
The tower is divided into two parts, one 41 stories and the other, slightly angled, 26 stories. The shorter tower cantilevers dramatically over the base and West End Avenue.
The tower's glass façades have "piers" that are alternately placed and the fenestration of the limestone base is quite complex with opposing inward slants and alternate window heights, all of which contrast boldly if not incongruously with the elegant glass tower.
The towers' glass façades also have slightly curved floor plates every three floors that almost give them the appearance of a giant, urban, Rubik's Cube without the vertical axis. The curves are very subtle.
The width of the towers' windows alternates every two or three floors and each floor has three different window widths, with some of the narrower ones bunched other visually like an accordion.
The tower façades are have very narrow recesses between the floor groupings that add a subtle refinement but are discrete enough not to mare the overall effect of the glass façades. These recesses appear in some of the lavish building brochure to have very slight and gentle horizontal curves.
The low-rise commercial limestone base bears no relation to the glass towers. It has considerable retail space and floors 2 through 5 have commercial space. The west end of the base is 8 stories tall but the east end is 5.
As an afterthought to early renderings, the development has added very attractive, dark metal short "Juliet balcony"-type railings to the windows in the base.
In addition, the west end of the base is slightly bent on its south end where its fenestration dramatically shifts its pattern and employs some large vertical windows.
The windows in the base are inset with one side slightly angled.
The building has extensive sidewalk landscaping and its double-height "affordable" entrance is indented on Freedom Place South and the market-rate entrance is on West End Avenue. The affordable entrance became known as the project's "poor door," and subsequently legislation was enacted banning such "poor doors."
The building has two "floating" entrance marquees that extend considerably within the entrances where they overlap.
The walls enclosing the concierge desk on two sides and the ceiling are paneled in rich, dark woods while its rear wall consists of large metal panels. Part of the residents' lobby lounge has a large corrugated ceiling element of rich dark wood.
Outside one side of the lobby is a small, angled, 4-step waterfall surrounding by lush plantings.
Amenities
The building has two doormen, a concierge, a lobby overlooking a garden and reflective pool, a children's playroom with bins that open diagonally and a large communal table at one end of which is a very large hanging roll of drawing paper, a media room with two large televisions in the center of a large wall sculpted with large trapezoids, a swimming pool with very large diagonal and paneled columns, cold storage, a roof garden terrace with trellis-sided- and roofed cabanas and BBQ grills, a fitness center with a yoga studio, a living room with a fireplace and a large terrace with vertically folding doors, a billiards room, a chef's kitchen, a game room.
Apartments
Apartments have walnut entrance doors with large, mounted bronze newspaper boxes, and 7-and-a-half inch wide white oak or walnut flooring.
Kitchens have marble countertops and backsplashes with waterfall edges, Sub-Zero refrigerators and wine coolers, Wolf ovens, gas cooktops with stainless steel hoods and microwaves and Miele dishwashers. Cabinet finishes are either light- or dark-stained walnut. Ceiling lights are recessed.
Master baths have walnut vanities by Scavolini with marble countertops, marble flooring, brushed limestone walls, recessed medicine cabinets, free-standing baths, Toto toilets and heated floors.
Laundry closets have Asko or LG washers and dryers.
Some apartments will have electronically controlled solar shades.
Penthouse A is a U-shaped, four-bedroom unit with 5,990 square feet of interior space and 798 square feet of exterior space with an entry foyer that leads north to a 42-foot-long living room adjacent to a 20-foot-long library and a 21-foot-long kitchen and south to a 35-foot-long corner terrace next to a 16-foot-wide solarium.
Apartment F on floors 21 through 28 is a four-bedroom unit with 2,836 square feet with a 26-foot-wide living/dining room with an open, pass-through kitchen.
Apartment A is a three-bedroom unit with 2,748 square feet and an angled, 31-foot-long living/dining room with an open kitchen with an island.
Apartment E is a three-bedroom unit with 2,462 square feet on floors 21 through 26 with a 27-foot-long corner living/dining room with an open kitchen with an island.
Apartment D on the 8th floor is a three-bedroom unit with 2,075 square feet and an angled 26-foot-long living/dining room with an open, pass-through kitchen.
Apartment D on floors 23 through 27 is a two-bedroom unit with 1,581 square feet and a 20-foot-long living/dining room with an open kitchen.
Apartment F is a two-bedroom unit with 1,561 square feet with a 25-foot-long angled corner living/dining room with an open kitchen.
History
This complex, which used to be called Riverside Center, was initially part of Donald Trump's Riverside South development but he sold the southern end of it to Extell Development, which is headed by Gary Barnett. Mr. Trump built several of the complex's towers at its north end and Mr. Barnett built several at the south end.
Mr. Barnett and the Carlyle Group commissioned Christian de Portzamparc to create a master plan for the Riverside Center complex and later sold off two of its five sites on its north side.
The second of those was acquired by The Dermot Company and is known as 21 West End Avenue, which has been designed with 616 rental apartments by SLCE. The Dermot site is just to the south of a new Collegiate School building designed by Kohn Pedersen Fox that is just behind Extell's Aldyn building facing the Hudson River.
This tower is one of three in the complex that were acquired by GID, which commissioned Richard Meier and Rafael Vinoly to design the other two. While these three share a reflective-glass aesthetic in the façades of the towers, the buildings' massing and bases differ.
Book a Tour or Get More Information on this Building
2,116 Buyers
are interested in buying at
1 West End Avenue!
Interested in Selling?
We'll introduce you to the agents that
specialize in 1 West End Avenue and are
experts in selling apartments there.

And they'll be able to contact all of the buyers interested in the building.
There's no obligation and your inquiry is confidential.
Call us at (212) 755-5544