The Chatsworth at 344 West 72nd Street: Review and Ratings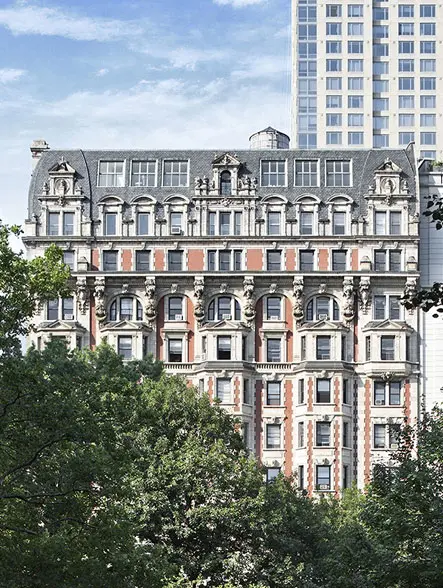 Review of 344 West 72nd Street by
Carter Horsley

Carter B. Horsley, a former journalist for The New York Times, The International Herald Tribune and The New York Post. Mr. Horsley is also the editorial director of CityRealty.com.
The former anchor of Riverside Drive, this fine and distinguished apartment building at 344 west 72nd Street is known as the Chatsworth and was designed by John E. Scharsmith and completed in 1904. A smaller annex was designed by the same architect just to the west at 340 West 72nd Street in 1906.
The Chatsworth actually consists of three buildings. In addition to the annex there is a building at 353 West 71st Street.
In their wonderful book, "The A. I. A. Guide to New York City, Fourth Edition," (Three Rivers Press, 2000), Elliot Willensky and Norval White described these buildings as "gracious russet-colored brick apartment blocks embellished with lavish limestone trim in the tradition of the Kenilworth and Rossleigh Court/Orwell House."
This 12-story building overlooks Riverside Park and is adjacent to the large Riverside South development overlooking the Hudson River that Donald Trump starting erecting in the 1980s.
When it opened it had 66 "housekeeping units," some as large as 15 rooms, but most were subdivided by 1996 when there were about 169 rent units.
It had been developed by George F. Johnson Jr., and Aleck Kahn, who had built the large Hendrik Hudson Apartments on Riverside Drive at 110th Street.
John E. Scharsmith was the architect of the Beaux Arts-style Chatsworth and its 8-story annex.
According to a September 26, 2014 article in The New York Times by C. J. Hughes, HFZ Capital, headed by Ziel Feldman, and BSG Real Estate Ltd., brought the building for about $150 million in 2012,and planned to reduce the number of apartments to 81 condominiums. About a quarter of the units were rent-regulated at the time of the article.
Bottom Line
A very ornate and handsome, mid-rise apartment complex at the western end of 72nd Street that provides the anchoring base for the glories of Riverside Drive and its riverfront park.
Description
The Chatsworth is a through-block complex with two buildings with different floor plans. They shared a common entrance and large lobby. The annex had 11-room apartments on the seven floors above its lobby.
The lower four floors of the Chatsworth were rusticated and had a very large and ornate portico entrance and two-step-up entrance.
The Landmarks Preservation Commission's designation report notes that "rusticated pilasters spring for the first floor impost blocks that consist of garlanded shields capped by festooned elk heads, rise two stories, terminate in an Ionic capital, and support a convex projecting frieze that is crowned by a cornice. Flanking each pilaster's capital are stylized console bracket embellished with garlanded human busts between which nestles an antlered animal bust."
The second, fourth, 9th, 12th and 13th floors have window pediments and three of its central piers have bay windows.
The designation report also notes that "at the tenth floor round arches articular the five center bays from which garlanded half-caryatids function as brackets supporting the heavy denticulated and modillioned cornice which terminates the midsection.
"At the fourth floor," the report continues, "limestone cherubs seated on blocks recline against either side of each bay."
There is a large bandcourse above the third floor and a continuous balcony at the 11th floor and a bandcourse above the 11th floor.
The annex, which is connected to the Chatsworth by a one-story rusticated wing, has arched windows on the first floor and a bandcourse above the second floor, a stringcourse above the seventh floor and a large cornice.
"In the case of the Chatsworth and its annex," the report concluded, "architect John E. Scharsmith successfully reinforced the effect of luxury by relying on a large-scale design, exuberant use of classical detail and a sumptuous choice of materials to produce an elaborate essay in the grand French Beaux-Arts architectural tradition.
Amenities
It has a concierge, fireplaces, wonderful views and high ceilings but no health club, no garage and no sidewalk landscaping.
It originally offered a "conservatory on the mansard story, a sun parlor, a billiards parlor, a café, a barbershop, a ladies' hair salon, a valet and tailor service and Electric bus service was available on 72nd Street from Central Park to the building.
Apartments
Apartment 11B is a four-bedroom unit with a 30-foot-long entrance gallery that leads to a 25-foot, eight-sided living room next to a 15-foot-long windowed enclosed dining room adjacent to a windowed enclosed 12-foot-long kitchen.
Apartment 11F is a three-bedroom unit with a 9-foot-long entry foyer that leads past an 11-foot-long enclosed and windowed kitchen across from a 22-foot-long living room with a decorative fireplace and sliding pocket door to a 16-foot-long dining room with a decorative fireplace.
Apartment 9K is a two-bedroom unit with a 17-foot-long entry foyer that leads past a 17-foot-long windowed enclosed kitchen to a 19-foot-long kitchen with a fireplace and a 17-foot-long living room.
Apartment 4CD is a four-bedroom unit with an entry foyer that leads to a 23-foot-long living room with a bay window that opens onto a 17-foot-long dining room next to a powder room and a 13-foot-long open kitchen. The narrow master bedroom is 33-foot-long.
Apartment 3DN is a two-bedroom unit with an angled entry foyer that leads past a 12-foot-long, windowed, open, pass-through kitchen to a 24-foot-long, angled, living/dining room.
Apartment 6G is a two-bedroom unit with a small entry foyer that leads to a 16-foot-long living room that opens onto a 12-foot-square dining room with a fireplace and a small windowed alcove and is adjacent to a 12-foot-long enclosed kitchen.
Apartment 1S is a one-bedroom unit with a 14-foot-long entry foyer that leads past a 10-foot-long, open, windowed kitchen to a 12-fot-long living/dining room with an angled window.
Apartment 12D is a two-bedroom unit with a 21-foot-long, living/dining room and a 10-foot-long windowed enclosed kitchen.
History
According to the December 8, 2012 edition of daytoninmanhattan.blogspot.com, the magazine Apartment Houses of the Metropolis noted that 'the parlors are in white mahogany, the libraries in regular mahogany, and dining rooms in mission oak."
In his December 13, 1992 "Streetscapes" column in The New York Times, Christopher Gray wrote that the building "typifies the blousy, Beaux-Arts style popular with developers for a few years," adding that the main façade has "intermittent bursts of sculptural decoration."
When it was erected, Mr. Gray continued, "tenants also got what are now considered astounding views of the river, even allowing for the presence of the rail yard and other industrial activity," adding that views seem to have been minor issues in pre-1920 apartment design; bathrooms and servants' bedrooms were typically along the river side, while parlors and other entertaining rooms were oriented toward the street."
In October, 2013, HFZ Capital announced plans by Montroy Anderson Demarco for a penthouse addition that would partially obscure views of the complex's watertanks, add some windows and entrances. The plans, however, were widely opposed by some community politicians and activists.
Location
There is an express subway station nearby at 72nd Street and Broadway and this location is not far from the Lincoln Center for the Performing Arts. There is excellent local shopping and many restaurants on Broadway.
Book a Tour or Get More Information on this Building
267 Buyers
are interested in buying at
344 West 72nd Street!
Interested in Selling?
We'll introduce you to the agents that
specialize in 344 West 72nd Street and are
experts in selling apartments there.

And they'll be able to contact all of the buyers interested in the building.
There's no obligation and your inquiry is confidential.
Call us at (212) 755-5544