The Cliff Dwelling, 243 Riverside Drive: Review and Ratings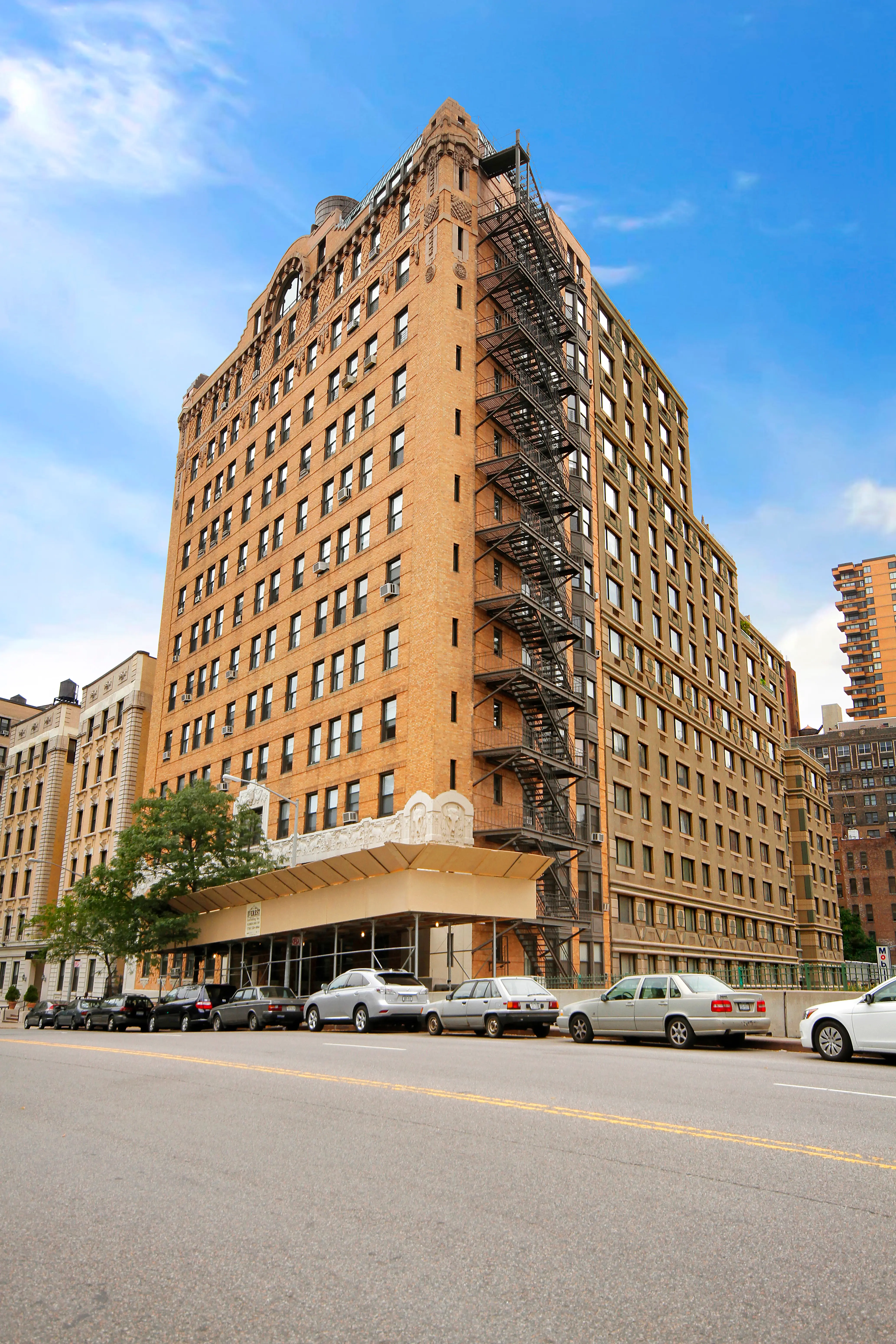 Review of 243 Riverside Drive by
Carter Horsley
Some famous buildings in New York are best known for their unusual decoration and some for their unusual shapes.
This 12-story building at 243 Riverside Drive on the northeast corner at 96th Street is known for both, although it is not as famous as it should be.
It was designed by Herman Lee Meader and developed by Leslie R. Palmer.
The building, which is known was the Cliff Dwellers' Apartments, was erected in 1914 and converted to a co-operative in 1979. It has 43 apartments.
Bottom Line
New York City's architectural ode to the Wild West, this narrow and angled building is one of the city's most eccentric and it has excellent public transportation.
Description
A thin, asymmetrical wedge, it is neither typical, nor derivative.
The architect framed the lower two stories in limestone friezes of Wild West motifs and capped the building with a very pronounced cornice that is arched in the center of the Riverside Drive frontage. The cornice, however, is just below the roofline, which has curved, arched elements at the corners and is angled to rise above the arch of the cornice.
The third-story window above the entrance is trimmed in limestone to reinforce the composition's dynamics.
The friezes are distinguished by their fine detailing and are most notable for their buffalo skulls, although the façade also depicts mountain lions and rattlesnakes.
In their superb book, "The A.I.A. Guide to New York City, Third Edition," (Harcourt Brace Jovanovich, 1988), Elliot Willensky and Norval White said that it is "An odd building predating the Art Deco interest in Mayan motifs." They said that the friezes "symbolize the life of the Arizona cliff dwellers and serve to tie these prehistoric people to Manhattan's modern cliff dwellers." "All in all," they concluded, "an underrated façade."
The yellow-brick building is on the north side of a bridge over 96th Street and its façade along the cross-street is marred by some fire escapes. It is across the cross-street from a large playground, which contributes to the building's considerable "light and air."
The building, which is quite narrow at its north end, permits protruding air-conditioners and has consistent fenestration. It is convenient to cross-town bus service and a local subway station at 96th Street and Broadway.
In a January 6, 2002, article in The New York Times, Christopher Gray wrote that that the building's developer, Mr. Palmer also built "the highly colored loft building on the southeast corner of 14th Street and Seventh Avenue."
Mr. Gray wrote that the building was erected as an apartment hotel, with five one- and two-bedroom suites on each floor served by a restaurant on the mezzanine.
The lobby, he continued, "was furnished with Navajo rugs, tiles of ran, green, black and blood red; and zig-zag designs on the lamps and elevator cages reminiscent of American Indian designs." Mr. Gray added that the architect, who had worked by Ernest Flagg, had "designed a simpler but similar building for a different client at the southeast corner of 25th Street and Lexington Avenue."
In 1932, the building was converted to housekeeping apartments, and kitchens were awkwardly installed in the old foyers and even living rooms.
Because of its small size and cramped kitchens, the Cliff Building has an unusual provision: adjoining apartments have right-of-first-refusal on sales, and there have been numerous combinations in the building," Mr. Gray continued, adding that the building's metal and glass marquee has been removed.
In 2002, construction began on the site just to the east of the building on 96th Street of an apartment building known as the Park West.
Apartments
Apartment 1103 is a two-bedroom unit with a 4-foot-wide entry foyer that opens into a 14-foot-long living room next toa9-foot-long dining room and an open 15-foot-longwidekitchen. The master-bedroom has a bay window and the second bedroom has a sliding door.
Apartment 801 is a two-bedroom unit with an entry foyer that leads past an enclosed, 9-foot-long, angled kitchen to a 20-foot-long living room with a bay window next to an angular 17-foot-long dining room.
Maisonette 2 is a two-bedroom duplex with an entry foyer on the lower level that leads to a 18foot-long living room with an open, 14-footlong kitchen with an island and a bedroom and the second bedroom on the upper level.
Apartment 503 is a one-bedroom unit that has a 7-foot-long open kitchen at the entrance next to an 11-foot-square dining room that opens onto a 6-foot-long living room.
Apartment 705 is a one-bedroom unit with an open, 15-foot-long kitchen by the entrance that leads to an 18-foot-long, angular living/dining room.
Apartment 104 is a one-bedroom unit with an angled living room and an enclosed kitchen.
Book a Tour or Get More Information on this Building
877 Buyers
are interested in buying at
243 Riverside Drive!
Interested in Selling?
We'll introduce you to the agents that
specialize in 243 Riverside Drive and are
experts in selling apartments there.

And they'll be able to contact all of the buyers interested in the building.
There's no obligation and your inquiry is confidential.
Call us at (212) 755-5544