The Columbia at 275 West 96th Street: Review and Ratings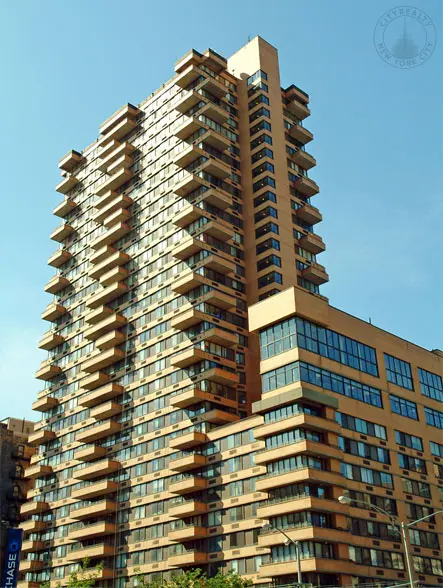 Review of 275 West 96th Street by
Carter Horsley

Carter B. Horsley, a former journalist for The New York Times, The International Herald Tribune and The New York Post. Mr. Horsley is also the editorial director of CityRealty.com.
The 32-story condominium building at 275 West 96th Street on the northwest corner at Broadway was a major pioneer in 1983 in the redevelopment of Broadway north of 86th Street.
Not surprisingly, it was developed by William Zeckendorf Jr., and partners, who also pioneered the redevelopment of Union Square with Zeckendorf Towers and Eighth Avenue in midtown, with the WorldWide Plaza complex.
The Columbia was designed by Frank Williams of Liebman Williams Ellis Architects.
The light-colored building has 320 units and many boast dramatic views.
It is across the street from a dramatic redesign of the 96th Street subway station that opened in 2012.
Amenities include 24-hour doormen/concierge, a state-of-the-art fitness center with sauna and steam room, squash and basketball court, bike storage, a huge pool, children's playroom, entertainment lounge, garage, central laundry and a beautiful rooftop.
Bottom Line
A very robust and vigorously massed building with full balconies and many amenities, the Columbia created an aggressive mold for major new development north of 96th Street.
Description
The Columbia is one of the Upper West Side's tallest buildings, as well as one of its most sculpturally massed. It is interesting that the architects also set the main tower back from Broadway to minimize its visual impact on that street's cornice line. The base of the building extends fully to Broadway and the top of the base contains a health club and pool.
The building has 35,000 square feet of commercial space, a 16,000-square foot health club and a 7,000-square-foot community garden on the roof of the building's garage on 97th Street.
The slab tower is mid-block and its corner balconies alternate from the south to the east or west façades and the off-center balconies alternate in length above the 8th floor. Its solid balconies are staggered or alternated to create a very vigorous façade.
Amenities
The Columbia has a fitness center with a pool, a garage, a roof deck, a live-in superintendent, a laundry room, a nursery, racquetball and squash courts and a community garden.
Apartments
Apartment 2E is a three-bedroom unit that has a 21-foot-long living room with an adjoining 10-foot-long dining area off a 10-foot-wide pass-through kitchen. One side of the apartment has a 40-foot-wide terrace and the other a 48-foot-wide terrace.
Apartment 10F is a two-bedroom unit that has a pass-through, 7-foot-long kitchen and an 18-foot-long living room that opens onto a 28-foot-wide terrace.
Apartment 10L is a three-bedroom unit that had an entry foyer that leads to a 19-foot-long dining room next to an 8-foot-wide, pass-through kitchen and an 18-foot-wide living from with a wrap-around terrace.
Apartment 25A is a three-bedroom unit with an entry foyer that leads past an 8-foot-wide, pass-through kitchen to a 24-foot-long living room. The master bedroom has a 12-foot-wide terrace.
History
At the time of its construction, the area had fallen on bad times and this was the first major private investment in many years.
For a while, the site had been considered by a department store for a major satellite operation.
At one point, Alexander's planned a department store for the site and in 1974, Christopher Boomis had proposed a 34-story apartment building for the site, but nothing happened until 1976, when Chemical Bank foreclosed on the Riverside-Riveria theaters that had been erected in 1913.
In 1977, the Starrett Housing Corporation acquired the site and two years later indicated that 20 percent of its planned apartments would be for low-income residents, an announcement that did not win support in the community at the time. It announced plans for a 28-story development designed by Frank Williams, then the design partner with Liebman Williams Ellis. Meanwhile community activists created a community garden on the site. Starrett backed off its plans for low-income residents as community leaders protested the neighborhood already had too many and when the city enacted a new Housing Quality Program the project was redesigned to take advantage of its provisions for rooftop recreational space and windows in public corridors.
In 1982 William Zeckendorf Jr. and Justin Colin took over the site from Starrett and planned a 32-story, 320-unit apartment building with a 7,000-square-foot community garden on the roof of the garage.
In his excellent book, "On Broadway, A Journey Over Time" (Rizzoli, 1990), David W. Dunlap, a reporter with The New York Times, noted: "In spite of its rebounding commercial life, Broadway as a physical entity remained frozen in its pre-Depression state through the 1970's. It was a measure of local stasis that the blockfront at Ninety-sixth Street stood largely vacant, except for a community garden, for fifteen years after the Riveria and Riverside theaters were razed in 1976. Finally, in 1981, after several false starts by other developers, William Zeckendorf Jr., began a huge condominium apartment tower called the Columbia. This project has been credited-and blamed-for triggering the wave of luxury high-rise construction in the mid-1980s."
Indeed, in 1984 the city enacted new zoning for Broadway on the Upper West Side to encourage contextual architecture and discourage tall buildings for the area bounded by the Hudson River, Central Park West, 59th and 86th Streets. A generation later, the city would again rezone the area in response to community outcry over two tall residential towers erected by Extell Development across from one another on Broadway between 99th and 100th Streets.
The name of this building is probably a reference to the famous university of the same name about a mile north on Broadway.
"This towering hulk is the earliest adventure in sophisticated modern housing on the Upper West Side. A bit brash, it evokes the cubistic dreams of Walter Gropius in his wonderful but losing scheme for the Chicago Tribune Tower," observed Elliot Willensky and Norval White in their excellent book, 'The A.I.A. Guide to New York City, Third Edition,' (Harcourt Brace Jovanovich, 1988).
"What is refreshing here is that the terms of apartment development - pack the site, create units with balconies and views, do it at low cost - are met head-on, unflinchingly, in a neo-Bauhaus design that eschews fashionable contextualism and does not try pretentiously to conceal its inherent tawdriness. What a breath of fresh air!" exclaimed Francis Morrone in his book, "The Architectural Guide to New York City," (a Peregrine Smith Book, published by Gibbs Smith, Publishers, Layton, Utah, 1994).
Book a Tour or Get More Information on this Building
232 Buyers
are interested in buying at
275 West 96th Street!
Interested in Selling?
We'll introduce you to the agents that
specialize in 275 West 96th Street and are
experts in selling apartments there.

And they'll be able to contact all of the buyers interested in the building.
There's no obligation and your inquiry is confidential.
Call us at (212) 755-5544