261 Hudson Street: Review and Ratings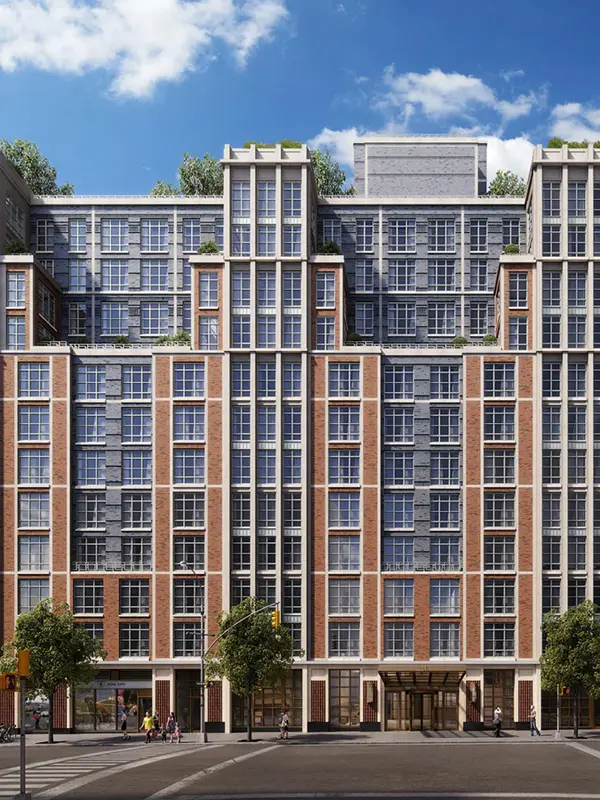 Review of 261 Hudson Street by
Carter Horsley
This very handsome, 12-story apartment building at 261 Hudson Street in the West Village is a red-and-grey-brick structure with many cast-stone window surround piers and multi-paned windows.
It has 201 rental apartments of which 160 are market-rate and the rest are affordable.
It was erected in 2017 by the Related Companies and designed by Robert A. M. Stern. HMWhite was the landscape architect.
It is half a block north of Canal Street, a bit south of Spring Street and not far from the Hudson River and the Holland Tunnel. It is at the terminus of Dominick Street.
Bottom Line
An extremely attractive, Post-Modern confection by Robert A. M. Stern that is stylistically related to his less graceful Brompton development for Related on East 85th Street and looks like it could stand in for a great and huge country house in Edwardian England.
Description
The building has an 8-story base with three window piers that rise above it four floors with narrow two-story setbacks. The top of the three piers have four short columns that accent the building's cornice line.
The center of the piers has protruding cast-stone window surrounds. The piers have red-brick sides and are separated above the third floor by gray brick façades that widen on the upper floors to accentuate the building's stony and Edwardian texture.
The red-brick piers have cast-stone outlines under the cast-stone bandcourse over the first floor that is repeated above the eighth floor.
The windows are 8 or 12 panes.
The large, curved lobby has a stair with thin brass railings to upper and lower levels and an elevator bank behind a thin brass grill that looks like a very elegant jail anteroom.
Amenities
The smoke-free development has a 24-hour concierge, an Equinox fitness center, a landscaped roof deck with barbecue grills, a landscaped courtyard with barbecue grills, a technology lounge with terrace, a library, a resident lounge with a fireplace, pet grooming by Dog City, housekeeping and dry cleaning services, and bicycle storage.
Apartments
Apartments Soho oak floors, stainless-steel Bosch kitchen appliances, grey-stained white oak kitchen cabinetry, polished quartz kitchen countertops and Carrara marble kitchen backsplashes. The units, which are not large, also have Bosch washers and dryers.
Apartment L on floors 10 and 11 is a corner two-bedroom unit with an entry foyer that is next to an enclosed kitchen and a 19-foot-long living/dining room that opens onto a 225-square-foot terrace only on the 10th floor and to an 11-foot-wide, windowed den with pocket doors. The master bedroom has a 197-square-foot terrace.;
Apartment S on floors 5 through 9 is a two-bedroom unit with an entry foyer next to the open, pass-through kitchen that is next to a 18-foot-long living/dining room.
Apartment V on floors 3 through 9 is a one-bedroom unit with an entry foyer that leads to an open, pass-through kitchen and a 23-foot-long living/dining room.