Independence Plaza, 310 Greenwich Street: Review and Ratings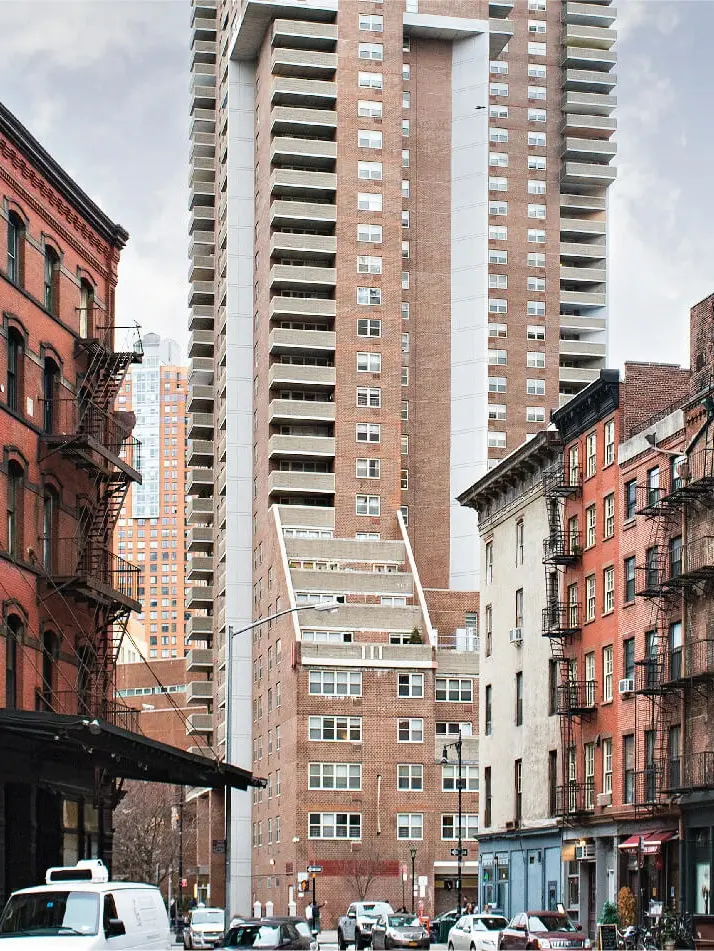 Review of 310 Greenwich Street by
Carter Horsley
The Independence Plaza North complex consists of three 40-story rental apartment towers containing a total of 1,338 units on Greenwich Street between Duane and North Moore Streets.
The buildings were designed by Oppenheimer, Brady & Vogelstein with Barry Goldsmith as project designer and John Pruyn.
They were conceived as part of an urban renewal plan that also included a low-rise component, a group of nine early 19th Century townhouses that are clustered in village street fashion near the northeast corner of the large complex.
In 2005, Larry Gluck took the complex out of the Mitchell-Lame program.
The towers bear a striking similarity to several other major high-rise housing complexes of the period such as Waterside and Harlem River Park Houses and Ruppert-Yorkville Towers, all designed by Davis, Brody & Associates in 1975, 1975 and 1976, respectively, and the Arthur A. Schomburg Plaza complex designed in 1975 by Gruzen & Partners and Casto-Blanco, Piscioneri & Feder.
These towers emphasized verticality and substituted cantilevered corners instead of setbacks. Because of the increasing popularity of Jane Jacobs's celebration of low-rise neighborhoods and opposition to high-rise projects and because of concerns that high rise buildings had more security issues than low-rise buildings, such impressive high-rise complexes began to fall out of favor in New York City, although the rest of the world is just thrilled with them as witnessed by the phenomenal explosion of supertall buildings around the world in this millennium.
In their great book, "The A.I.A. Guide to New York City, Fourth Edition," Norval White and Elliot Willensky described Independence Plaza North as "overpowering 40-story middle-income blockbusters of brick and striated concrete block," adding that "the design was intended to minimize them by plasticity, through cantilevers and steady increases in bulk at the top, and toothiness, by silhouetting balconies against the sky." "Verdict: they're still Brobdingnagians. To exacerbate their Brobdingnagian (!), their shadow falls upon a flock of exquisite Federal Houses," they declared.
These Federal houses include 24 to 41 Harrison Street at the southwest corner of Greenwich Street. White and Willensky noted that "these were originally elegant Federal houses, recycled (rejected) as produce market buildings, 2 on Harrison Street and a group from a now extinct part of Washington Street."
"Their reincarnation," the authors continued, "included moving the Washington Street group 2 blocks to this enclave. They have been lovingly restored - perhaps too lovingly; the patina from the passage of time has been totally erased (cf. Williamsburg, Va.)."
While one could argue endlessly over the merits of these high-rise housing complexes of the period, Independence Plaza North is undoubtedly the most successful urbanistically because of its fabulous waterfront and Lower Manhattan vistas, its significant improvement over the more traditionally styled buildings that were beginning to rise at Battery Park City just to the south, because of the great charm of the low-rise Federal Houses that were in the vanguard of excitement over the wonderful architecture of TriBeCa. (One of the very attractive but simple Federal houses here was available for only $60,000 initially).
In their great book, "New York 1960, Architecture and Urbanism between the Second World War and the Bicentennial," Robert A. M. Stern, Thomas Mellins, and David Fishman noted that the city's Landmarks Preservation Commission negotiated to have the restoration of the Federal houses funded and executed as part of the Independence Plaza urban renewal scheme.
"Nine two-and-a-half and three-story houses were brought together along Harrison and Washington Streets to form an L-shaped enclave, renovated in 1974 by Oppenheimer, Brady & Vogelstein to include newly created cobblestone streets and flagstone sidewalks, as well as a rear courtyard they shared with low-rise apartments. The houses, which had been altered to flat-roofed, three-story structures, were restored to approximate their original appearance.
"The seven dormered, two-and-half story houses - the Sarah R. Lambert house (1827), the Jacob Ruckle house (1827) and the Ebenezer Miller House (1827), located at 29, 31 and 33 Harrison Street, respectively; the Wilson Hunt house (1828), the Joseph Randolph House (1828) and the William B. Nichols House (1828), at 327, 329 and 331 Washington Street; and the Jonas Wood House (1804), at 314 Washington Street, all designed by unidentified architects - were thought to be among the last remaining examp0les of the type in Manhattan. The two other houses in the grouping, 315 and 317 Washington Street, were built in 1819 and 1797 respectively and were both designed by John McComb Jr., New York's first native-born architect and the co-designer of City Hall; McComb himself had lived a number 317. In order to provide room for the Independence Plaza buildings and create a cohesive townhouse ensemble, the two McComb houses were moved from their original sites several blocks south; one collapsed during relocation and had to be significantly rebuilt."
The "purity" of the low-rise Federal designs provide a stunning and very charming contrast with the "brutalism" of the towers in classic New York fashion. Whereas Battery Park City tended to one to mimic Gramercy Park and turn its back on modernism, the Independence Plaza North complex embraces the city's chaotic history and says "let it be...."