Tribeca Tower, 105 Duane Street: Review and Ratings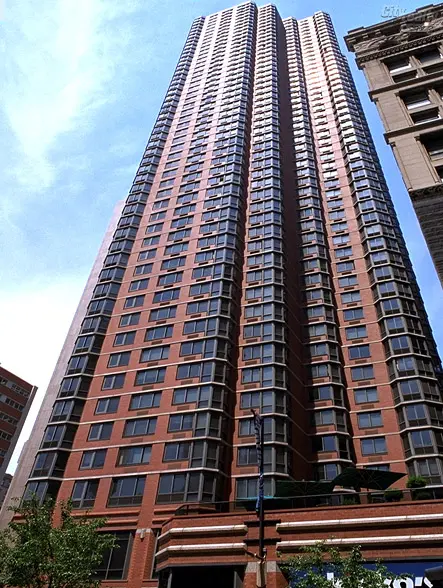 Review of 105 Duane Street by
Carter Horsley
This 52-story tower has fabulous views in many directions because it sprouts in an area composed mostly of 19th Century cast-iron buildings a couple of blocks in from the Hudson River waterfront and a couple of blocks away from the city's civic center.
The building's location at 105 Duane Street is smack in the midst of the very popular TriBeCa district that is home to many trendy restaurants and clubs. This area is an architecture buff's dream for it combines within easy walking distance excellent examples of a wide variety of styles.
Nearby landmarks include City Hall, the Woolworth Building, the World Financial Center, St. Paul's Church, the great gate of P. S. 234, designed by Richard Dattner, the impressive megastructure of the Borough of Manhattan Community College designed by the Caudill Rowlett Scott Partnership, the superb Independence Plaza North complex designed by Oppenheimer, Brady & Vogelstein and a group of very handsome Federal townhouses at Harrison and Greenwich Streets.
This rental apartment tower was designed by Schuman Lichtenstein Claman and Efron and is owned by The Related Companies. It has 451 apartments, many with bay windows, some at the building's corners.
The building, which is also known as 10 Thomas Street and 1 Trimble Place, has a garage, a health club and pool, a doorman, a concierge, a two-story-high lobby, a bicycle room, a sundeck, a landscaped plaza and valet service. It permits small dogs.
There are several subway lines with nearby express stations.
In addition to the vast retail concourses at the World Financial Center in Battery Park City a few blocks to the south, this area is quite close to the Canal Street retail strip and not that far from Chinatown and the Nassau Street Mall.
The north end of Battery Park City is nearby with a handsome bridge that leads to the very prestigious Stuyvesant High School and there is a large park at City Hall.
History abounds here and this building has a very central location for the wonders of Lower Manhattan.
The site is a few blocks north of Ground Zero where the World Trade Center once stood.