The Riviera at 790 Riverside Drive: Review and Ratings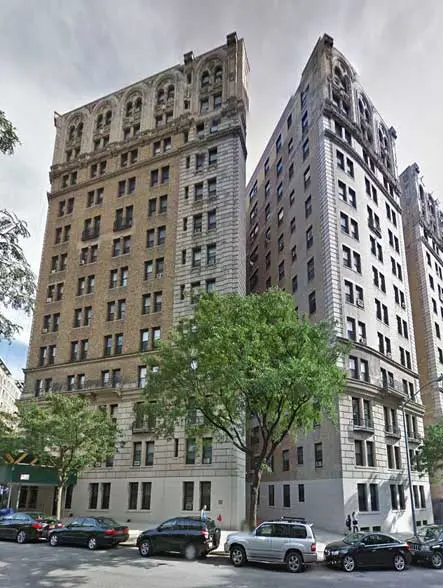 Review of 790 Riverside Drive by
Carter Horsley

Carter B. Horsley, a former journalist for The New York Times, The International Herald Tribune and The New York Post. Mr. Horsley is also the editorial director of CityRealty.com.
This impressive, 13-story building at 790 Riverside Drive at 157th Street in Washington Heights was erected in 1910 by the Rivera Realty Corporation of which Max Ash was the president and is known as The Riviera.
It has 199 cooperative apartments and was designed by Rouse & Gladstone in the Beaux-Arts style. It stands in the heart of the landmarked Audubon Park Historic District. This premier building, which is also known as 629-641 West 156th Street and 618-630 West 157th Street, overlooks the Hudson River. Residents of this doorman building enjoy storage, bike room, resident superintendent, and central laundry. Pets are welcome.
Outdoor enthusiasts enjoy easy access to the Hudson River Greenway, a beautiful dedicated bike path along the river, plus Fort Washington Park, which has recently been refurbished with volleyball courts, soccer fields, tennis courts, handball, playgrounds, and more.
Live in a vibrant neighborhood close to New York Presbyterian Hospital, Columbia University, CCNY, Riverside Park, Riverbank State Park, and neighborhood cafes and restaurants. It is one block away from the 1 subway station, which gets one to midtown in 20 minutes. Drivers have easy access to the Henry Hudson, the George Washington Bridge, and all major metropolitan roadways.
It residents have included Bennett Cerf, the publisher, and Stokely Carmichael, the civil rights leader.
Bottom Line
The Rivera is one of most desirable addresses in Washington Heights with spectacular Hudson River views, a grand lobby with stained glass windows and a coffered ceiling and gilt-iron and marble double staircases.
Description
The building has two entrances and when it was erected there was no viaduct so residents could walk right down to the river.
The building has a three-story limestone base beneath eight stories of iron-flecked buff brick with limestone and terra-cotta details, and round arch windows at the 13th story with double-height slightly recessed window surrounds at second and third stories with limestone panels with roundel details beneath third-story balconettes. There are terra-cotta balustrades on the 12th floor between paneled posts supported on scroll brackets with foliate details.
On 157th Street one bay projects slightly from the rest of elevation and features rusticated limestone or terra-cotta at shaft; portico at first story within slightly below-grade areaway is raised on one granite step and features four Doric columns on granite plinths supporting an entablature with modillioned cornice and fascia featuring triglyphs with guttae and the word Rivera.
It is the tallest building in the Audubon Terrace Historic District and sits on the former site of the Hemlocks, a home owned and occupied by the Grinnell family. When completed, this building was the largest apartment house in Washington Heights and one of the largest in the city.
Amenities
The building has a full-time doorman, live-in superintendent, a laundry and a bicycle room. It permits cats and dogs.
Apartments
The Penthouse is a three-bedroom triplex with a 70-foot-long roof deck on the top level, a skylight staircase and a two bedrooms and an open kitchen and a living/dining room and three large wraparound terraces on the main level and a 26-foot-long, angled master bedroom with a 10-foot-long dressing room and on the lower level.
Apartment 5E is a five-bedroom unit with a 15-foot-long, angled foyer leading to a long angled gallery, a 24-foot-wide, angled living room with a fireplace next to an 18-foot-wide, angled dining room, and an 18-foot-wide, angled kitchen.
Apartment 6C at the southwest corner of the building is a four-bedroom unit with an entry foyer that opens onto a slightly angled, 17-foot-wide parlor with a fireplace that opens onto a 15-foot-long living room that opens onto a 17-foot-long dining groom across from the 20-foot-wide, open, pass-through kitchen. The master bedroom has a decorative fireplace and is next to a 10-foot-square office/den.
Apartment 7A is a three-bedroom unit with a very long entry foyer that is next to an enclosed 13-foot-long kitchen and leads to an 18-foot-wide living room that opens onto a 17-foot-wide dining room.
Apartment 9K is a two-bedroom unit with a 21-foot-long, living/dining room next to an open, pass-through 11-foot-wide kitchen.
Apartment 6I is a one-bedroom unit with an 11-foot-wide entry foyer that leads to a 19-foot-wide living room and an angled and windowed 12-foot-long kitchen and to the 14-foot-angled bedroom.
History
When it was built, it had 149 apartments but a 1938 remodeled of two wings with 52 built was converted into 92 suites and the building had 192 apartments in 1944.
In 1959, Susan Fanshel lived with her sister and parents in a four-bedroom apartment on the 5th floor, whose monthly rent was $125. In her comments at www.790rsd100.org/people.html she recalls that "both my sister and I remember clearly how much Broadway served as a clear dividing line between the mostly white middle and lower-middle-class white families lived to the west of Broadway, and the mostly African American and Hispanic families that lived east of Broadway," adding that "it seemed as if the two communities rarely intersected."
Another resident wrote that she had "wonderful memories of the 'old neighborhood' and the way the Rivera looked, with manually operated elevators by elevator men, before the postal system installed mail boxes, and when there was a vestibule located between the main stairwells in the lobby, equipped with a telephone switchboard and the old patch bays. And how could I ever forget the wrought iron doors? They were so heavy that I once nearly froze trying to open the middle door during a major snow blizzard as a youngster. The concrete walls on 156th Street and south of the middle entrance were the best in the neighborhood for Chinese handball and Johnny Rides the Pony!...Throughout my teenage years (1960s) I had aspired to become a musician. May well-known people in the entertainment industry resided in 790 at that time. Lou Gilbert was an actor who was credited with roles in the great White Hope and Marathon Man, Larry Marshall played Cab Calloway in the movie, Cotton Club. Mr. Wells, who lived on the eighth floor…was the proprietor of Harlem's famous Wells' Restaurant. Mr. Wells told us stories about Count Basie and some of the famous jazz musicians who performed at his club. I worked with Joey Dee and the Starliters of Peppermint Twist fame. Joey used to visit me here at 790….While working with Joey, the Bennetts, of Ronettes fame, moved into an apartment on the tenth floor….Ronnie Spector and Estelle Bennett lived with their mom and later, during her tumultuous relationship with the record producer, Phil Spector. Ronnie frequently visited 790. I also worked with Sam & Dave of "Hold On, I'm Coming," "Soul Man"….The band, all 12 pieces, including the horn section, would rehearse occasionally in my apartment…."
Several movies have been shot inside the building including Salt in 2009 with Angelina Jolie, the 1980 film Gloria directed by John Cassavetes, a resident of the building, and its 1999 remake directed by Sidney Lumet, the 1999 film Big Daddy with Adam Sandler, and the 2000 remake of Shaft with Samuel L. Jackson and Vanessa Williams.
Book a Tour or Get More Information on this Building
114 Buyers
are interested in buying at
790 Riverside Drive!
Interested in Selling?
We'll introduce you to the agents that
specialize in 790 Riverside Drive and are
experts in selling apartments there.

And they'll be able to contact all of the buyers interested in the building.
There's no obligation and your inquiry is confidential.
Call us at (212) 755-5544