166 Perry Street: Review and Ratings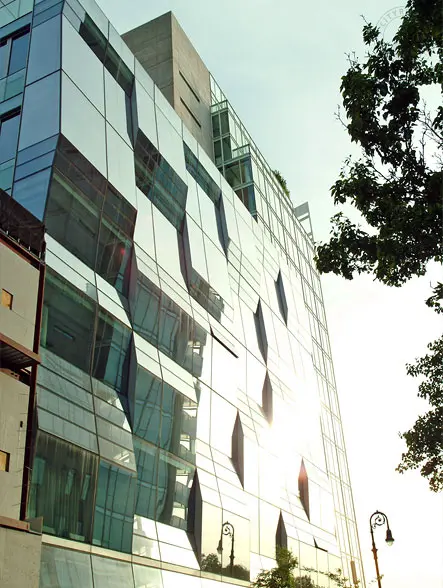 Review of 166 Perry Street by
Carter Horsley

Carter B. Horsley, a former journalist for The New York Times, The International Herald Tribune and The New York Post. Mr. Horsley is also the editorial director of CityRealty.com.
The stunning design of the 8-story, mid-block residential condominium building at 166 Perry Street between West and Washington streets by Asymptote, of which Hani Rashid and LiseAnne Couture are the principals, is distinguished by its vertical undulating façade.
The project was developed by Charles Blaichman, Richard Born, Ira Druckier and Bella Sekons. Mr. Blaichman, Mr. Born and Mr. Druckier were the developers of two of the three, nearby, famous, 16-story, modernist glass towers designed by Richard Meier along West Street.
The building, which extends through the block to Charles Lane, has 24 apartments.
It was completed in 2008.
Bottom Line
One of the most handsome, modern small apartment buildings in the city, it has a prime location in the West Village.
Description
The striking building is highlighted by its rippling glass façades with cascading, alternately angled windows and its dramatic street entrance with perforated metal scrim and mechanized single-pane, blue glass doors that lead into a lobby "capsule" with rounded edges, white lacquered walls, silver-leather seating, blue-lacquered concierge desk and polished white concrete flooring with inset brushed-aluminum panels.
There is a setback at the 6th floor and the glass cornice drops down two stories at the building's east and west sides. All apartments are corner apartments.
Renderings of the Asymptote design appeared in "US, Architecture in the United States," by Philip Jodidio, published in January 2007 by Taschen.
Mr. Jodidio noted in his book that Asymptote calls its project "Surfaced Space." He provides a quote from Rashid that the design "is in many ways simultaneously antidotal as it is a formal and tectonic playing off" of the nearby buildings designed by Richard Meier.
"More specifically," he continues, "Asymptote's approach primarily emerged from a search for an apropos musical assembly of glass and geometry whereby a play of reflections, atmosphere and surface produce an envelope of effects that would weld the disparities of brick, ornament and stoops with glass, smoothness and constant plays of surface and space, resulting in another definition of elegance possibly transcending that of the high modernist traditions and minimalist aspirations expressed in the adjacent towers and the quaintness and scale of domesticity that the building is situated in.' "
Mr. Jodidio observed that "the flowing lines typical of their designs are most visible near the entrance" and that "the lower floors of the building stand out from the main block and give both a certain transparency and a feeling of movement to the structure."
In a press release for the building, Richard Born declared that "In Hani Rashid, LiseAnne Couture and their team we have found individuals as passionate as we are about progressive design, original ideas and simply beautiful high-performance buildings." "It is a privilege to work with them and to be participating in what we view as a new Golden Age of architectural experimentation in New York City," he added.
Amenities
The building has a fitness center, 24-hour doorman and concierge services, private storage facilities, and room service and pantry stocking services provided by Jean-George Vongerichten's Perry Street restaurant.
Apartments
Apartment layouts are distinguished by sliding doors and translucent glass bathroom walls. Ceiling heights range from 10 to 12 feet.
The duplex penthouse has two fireplaces and a lap pool.
Apartment 5A is a four-bedroom unit that has a 26-foot-long corner living room with an 14-foot-wide open kitchen with an island, a 21-foot-long study, a 25-foot-long play area that flows into a 19-foot-long family room adjacent to a 14-foot-long study.
Apartment 4C is a two-bedroom unit that has an entry foyer that leads past an open kitchen with an island to a 27-foot-long living/dining room. It also has a home office.
Penthouse W is a duplex with a 23-foot-long great room with a free-standing wood-burning fireplace that flows into a 14-foot-long library/gallery that leads past a gas fireplace to a 18-foot-long dining room next to the large open kitchen with an island on the lower level that has a 615-square-foot north terrace and a 610-square-foot south terrace with a 106-square-foot pool. The upper level has three bedrooms and a 13-foot-long media room/play area.
Apartment 6A/D is a three-bedroom unit with a 34-foot-long living/dining room with a 16-foot-wide open kitchen with an island and a 15-foot-wide pantry.
History
The developers were in the process of adding two stories to an existing 6-story garage structure on the site when the City Council voted October 13, 2005 to rezone the permissible size of new buildings in the neighborhood.
The Board of Standards & Appeals unanimously approved January 31, 2006 the lifting of a stop-work order by the Department of Buildings on a renovation of a two-story addition to a six-story building at 164-173 Perry Street in the Far West Village.
In its submission to the board, the Perry Street Development Corporation argued for the renewal of the "lawfully issued building permit issued before the effective date of the map change to the Zoning Maps and maintained that its "irrevocable financial commitment" for the project was "$1,864,488. Its site fronts for 100 feet on Perry Street and 100 feet one inch on Charles Lane.
At 163 Charles Street, Barry Leistner was building a 8-story building designed by Daniel Goldner Architects with a triplex and two duplex apartments and ground floor commercial space. That project was also approved a year ago by the Board of Standards & Appeals.
This building's Perry Street highly faceted façade is much more complex than Meier's minimalist towers and it significantly reinforces this modernist "outpost" where many preservationists have resisted such intrusions into their low-rise, 19th Century community.
Book a Tour or Get More Information on this Building
126 Buyers
are interested in buying at
166 Perry Street!
Interested in Selling?
We'll introduce you to the agents that
specialize in 166 Perry Street and are
experts in selling apartments there.

And they'll be able to contact all of the buyers interested in the building.
There's no obligation and your inquiry is confidential.
Call us at (212) 755-5544