One Jackson Square at 122 Greenwich Avenue: Review and Ratings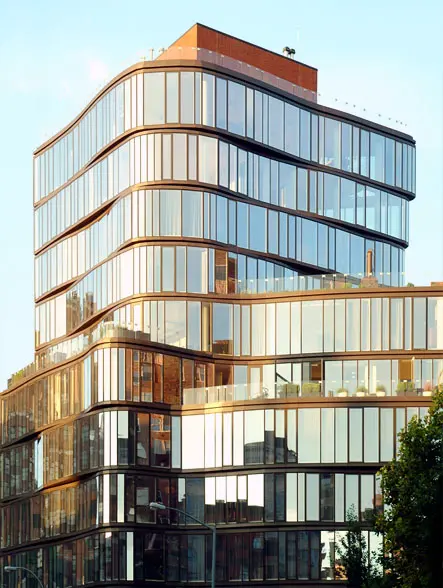 Review of 122 Greenwich Avenue by
Carter Horsley

Carter B. Horsley, a former journalist for The New York Times, The International Herald Tribune and The New York Post. Mr. Horsley is also the editorial director of CityRealty.com.
One Jackson Square is the undulating residential condominium building at 122 Greenwich Avenue just south of 14th Street. It faces Jackson Square and is one of the city's most dramatic and striking buildings.
One Jackson Square was designed by William Pedersen of Kohn Pedersen Fox for Hines Interests and Aby Rosen.
The 11-story building is distinguished by its rippling, multi-faceted, clear-glass façades with windows of different widths that appear to be randomly placed like ribbons in a gentle breeze. Each floor of the building is slightly different in plan.
The building contains 30 apartments.
The building's 11-story tower is at the north end of the site and the rest of the building is only five stories tall.
Bottom Line
Sensational looking inside and out, this knock-out structure is the best modern building in Greenwich Village and it is very convenient to Chelsea and public transportation. The building has many unusual apartment layouts.
Description
"The fluid form of One Jackson Square's glass façade is carried through to the lobby where the undulating glass is replaced with wood, lending a warm atmosphere to the space," according to the architects, who maintain that "the walls of the lobby are likened to the banks of a river."
There is a skylight at the end of the curved lobby and its lights are circular and randomly placed.
The architects also designed the public corridors and the kitchens and bathrooms and elevator cabs that have mirrored walls replicating the patterns of the lobby's ceiling and floor.
If the building has a flaw, it is that it is not big enough and does not extend to 14th Street. Its design is as daring and complex as Jean Nouvel's design of the taller 100 Eleventh Avenue nearby in Chelsea. Parts of this building are slightly cantilevered and the whole building shimmers like a jewel.
Amenities
The apartments have 10-foot ceilings, Molteni kitchens with walnut and warm white lacquer cabinetry and Miele kitchen appliances, Sub-zero refrigerators and wine coolers.
The bathrooms have Calacatta marble and walnut vanities and medicine cabinets and radiant floor heating and cast-iron tea-for-two soaking tubs.
The building has a 24-hour concierge, entertaining lounge, spa treatment room, valet parking, a gym and a garden courtyard. Some units have outdoor space.
Apartments
One Jackson Square building has many unusual apartment layouts.
One tower apartment has a 65-foot "great room" with a slightly curved wall of windows.
Another one on the second floor has an elongated "great room" with an open kitchen shaped almost like an elongated grand piano.
A three-bedroom apartment on the fourth floor at the south end of the building has four major rooms with angles.
A duplex at the south end of the building has 2,344 square feet of interior space and a 447 square foot terrace.
The triplex penthouse apartment has an outdoor swimming pool on its top floor.
Not all the apartments are large. There are three "open lofts" studios with an angled main room that measures almost 14 feet square.
Team
One Jackson Square was developed by Hines Interests and Aby Rosen and designed by Bill Pedersen.
Mr. Pedersen is the design partner of Kohn Pedersen Fox, one of the world's foremost architectural firms, whose masterworks include 333 Wacker Drive in Chicago, the Shanghai World Financial Center, and Roppongi Hills in Tokyo.
Hines Interests is one of the nation's major developers whose skyscrapers have revitalized many urban skylines in the United States.
Mr. Rosen is an owner of the Seagram Building and Lever House on Park Avenue and was a developer of the residential condominium at 40 Bond Street and the conversion to condominiums at 50 Gramercy Park North.
History
A revised design for One Jackson Square was unanimously approved in 2006 by the Landmarks Preservation Commission.
At the landmarks commission meeting, Commissioner Richard Olcott described the revised design as "a really wonderful and interesting building." Commissioner Jan Pokorny said it was "exciting and bold."
Numerous community and civic groups had opposed the project, arguing that its design was "inappropriate" to the character of the Greenwich Village Historic District and questioning whether the changing nature of new construction in the area is altering the "context" of "historic districts."
One Jackson Square won a variance from the Board of Standards & Appeals that permitted it to not conform to existing floor area, lot coverage, rear yard, height and setback, inner court, and elevator bulkhead requirements.
The zoning committee of Community Board 2 had voted against the granting of the variance. The board committee frowned at the design's undulating glass façade and the scale of its tower portion, concluding that the size and look of the design of the tower did not fit into the neighborhood's quaint, low-rise character.
Leonard Cecere of C.B. 2 laughed it off as a "God-awful, ugly looking building," which drew a raucous round of applause and cheers from the packed meeting.
"Everyone is entitled to their opinion but we did hire a world-class architect for the site," replied Steve Lefkowitz, a land-use lawyer representing Hines, to which Cecere shot back, "It should reflect a people's view and not simply a view of a cabal of architects," which also drew applause from the audience.
Cecere's cheeky characterization was amplified by Andrew Berman, executive director of the Greenwich Village Society for Historical Preservation, which had vigorously fought the development with a multitude of other community groups for many months.
Berman said that while some owners face genuine hardships and are entitled to variances, others, like Hines, falsely claim them.
"Almost every developer that comes forward claims they have some sort of hardship, that they need to make changes in order to turn a profit. In this case, there isn't any demonstrable evidence other than the fact they paid an arm and a leg for the site," he told the committee.
"This is a design that does not work and which the community does not want, and here they are asking for more of the same," Berman continued. "It's hard to imagine that there is no way to make a profit on this site unless they are allowed to build an extra-large building that will take more of our light and more of our air."
The building won an honor award from the AIA National Chapter in 2011.
Book a Tour or Get More Information on this Building
117 Buyers
are interested in buying at
122 Greenwich Avenue!
Interested in Selling?
We'll introduce you to the agents that
specialize in 122 Greenwich Avenue and are
experts in selling apartments there.

And they'll be able to contact all of the buyers interested in the building.
There's no obligation and your inquiry is confidential.
Call us at (212) 755-5544