The Archive at 666 Greenwich Street: Review and Ratings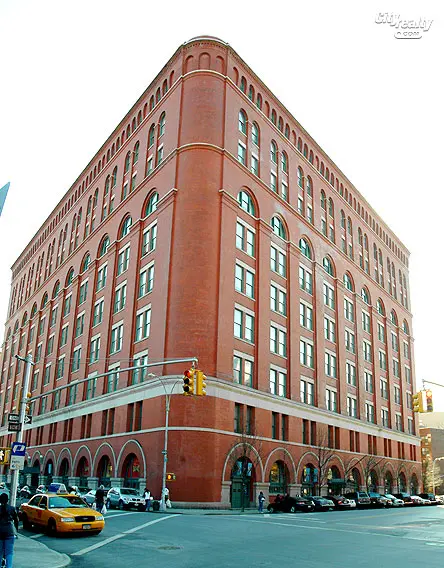 Review of 666 Greenwich Street by
Carter Horsley

Carter B. Horsley, a former journalist for The New York Times, The International Herald Tribune and The New York Post. Mr. Horsley is also the editorial director of CityRealty.com.
This massive, red-brick, Romanesque Revival-style rental apartment building was one of the city's early conversions of a landmark building. Completed in 1899, the building served as the U. S. Appraiser's Warehouse until it was converted by Rockrose Associates to rental apartments in 1988.
Rockrose carved out about 200 different layouts out of this impressive building, which has a large center court above the first floor.
The 10-story, full-block building is notable for its arched windows on the first and seventh floors.
It has 479 apartments.
The handsome and impressive building dominates its low-rise neighborhood in the West Village, commanding impressive views in all directions. It is directly to the west from the full-block complex of St. Luke's-in-the-Fields Episcopal Church and School, which fronts on Hudson Street.
Only a block from the Hudson River waterfront, it is also only half a block from the Christopher Street station of the PATH subway, which goes to New Jersey and Herald Square. Cross-town bus service is excellent on Christopher Street and 10th Street, one block to the north.
This is one of the more desirable sections of the popular West Village with many restaurants and antiques stores nearby on Hudson and Bleecker Streets and many boutiques along Christopher Street.
The building has a concierge and a doorman, a garage, a sundeck, laundries on every floor, valet service and video security. Many of the apartments have high ceilings and some have loft bedrooms.
Willoughby J. Edbrooke, William Martin Aiken and James Knox Taylor were the original architects and Avinash K. Malhotra designed the conversion.
Noting that the Romanesque style was inspired by H. H. Richardson, Elliot Willensky and Norval White observed in their book, "The A.I.A. Guide to New York City, Third Edition," (Harcourt Brace Jovanovich, 1988), that "great brick arches form a virile base, and arched corbel tables march across the cornice against the sky," adding that the conversion aided the New York Landmarks Conservancy.