250N10 in Williamsburg: Review and Ratings | CityRealty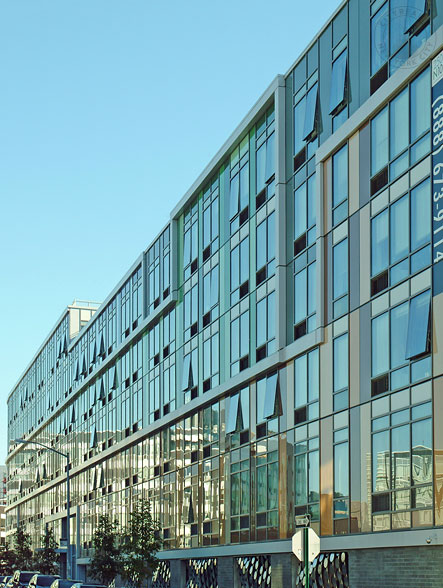 Review by
Carter Horsley

Carter B. Horsley, a former journalist for The New York Times, The International Herald Tribune and The New York Post. Mr. Horsley is also the editorial director of CityRealty.com.
The 6-story rental apartment building at 250 North 10th Street in Williamsburg, Brooklyn close to McCarren Park is one of the city's most colorful residential developments.
The project, which is also bounded by Roebling, Withers, North 9th Streets and Union Avenue, has 234 apartments and was completed in 2014.
It was developed by LCOR, which also built the attractive, pale-red paneled, apartment building at 34 Berry Street, also in Williamsburg.
SLCE is the architect and Me and General Design handled the interiors.
The building has a significant art program that includes an outdoor mural and large elevator landing paintings.
Bottom Line
A block from McCarren Park, this very handsome and extremely colorful building has many amenities and an outdoor mural in honor of the designer of the Brooklyn Bridge and 12 large paintings on the elevator landings.
Description
Designed by SLCE, it divides its façade into three sections: yellow-beige-brown at the base; dark green-green-pale green in the middle; and dark blue-pale blue-and palest blue at the top. Each section is separated by thin, gray bands and subtlely add a degree of randomness in their configurations as do the variations in spandrel colors beneath the windows.
The long building has about 39 apartments on each, double-loaded floor that is bent somewhat at its Union Avenue corner.
A July 16, 2014 article at blogs.wsj.com/metropolis by Carmel Melouney noted that the building will feature a large mural on Roebling Street that pays tribute to John Augustus Roebling, the designer of the Brooklyn Bridge, and his son, Charles Roebling. The mural has been created by Mr. Brainwash and the article said he is best known for the 2010 Banksy documentary "Exit through the Gift Shop." The French-born artist was commissioned by Madonna in 2009 to design the cover for her "Celebration" album.
An August 13, 2014 article by Zoe Rosenberg at ny.curbed.com said that the building has also "tapped Chilean Artist Sebastian Vargas to design individual canvases for its elevator landings," adding that "there are 12 in all that feature images of things that every proper new Brooklynite loves, like coffee, bikes, and McCarren Park."
Amenities
The building has a 24-hour attended lobby, an on-site resident manager, a landscaped roof deck with BBQ grill and seating, a club room with fireplace, billiards and WIFI, parking, storage, a fitness center and a café lounge with an outdoor terrace.
The building is pet friendly.
Apartments
Apartments have hardwood floors and washers and dryers and kitchens have quartz countertops, glass-tile backsplashes and stainless-steel appliances.
Apartment 7 on the 6th floor is a two-bedroom unit with a 17-foot-long living/dining area that opens onto a 48-foot-long terrace along Roebling Street and a wider, 49-foot-long terrace along North 10th Street.
Apartment 42 on the 6th floor is a two-bedroom unit that has a pass-through kitchen and an 18-foot-long living/dining room that opens onto a 31-foot-long terrace along Withers Street and a 16-foot-long terrace along Union Avenue.
Apartment 37 on floors 1 through 6 is a one-bedroom unit with an entry foyer that leads to a pass-through kitchen and a 18-foot-long living/dining area with an angled window wall.
Apartment 34 on floors 2 through 6 is a two-bedroom unit with an entry foyer that leads past a pass-through kitchen to a 19-foot-long living fining area with slightly angled walls.