34 Berry Street: Review and Ratings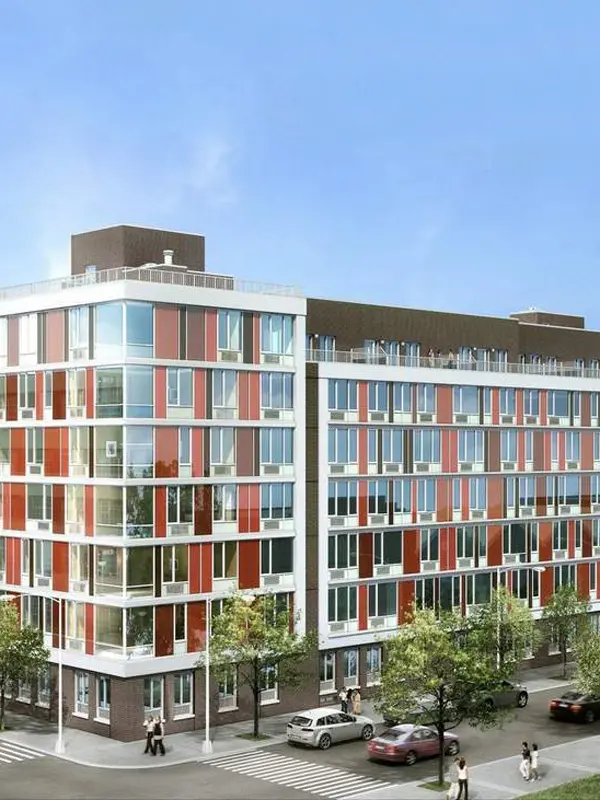 Review of 34 Berry Street by
Carter Horsley

Carter B. Horsley, a former journalist for The New York Times, The International Herald Tribune and The New York Post. Mr. Horsley is also the editorial director of CityRealty.com.
This bright and cheery, 7-story residential building at 34 Berry Street at North 12th Street across from the eastern side of McCarren Park in the Williamsburg section of Brooklyn began leasing its 142 rental apartments in early 2010. It is also five blocks from the waterfront East River State Park.
Developed by LCOR, it had originally been planned as a condominium.
With its dark red and brown façade panels, it is one of the more colorful new buildings in Brooklyn.
The building has corner windows but its first floor has a dark façade, which has the effect of "floating" the bulk of the building. Early designs showed that the first floor would be highlighted by angled supports but that "high-tech" design was subsequently changed for something more conventional.
It has a fitness center, a roof deck with communal grill, a garage with direct access to the attended lobby and the availability of Zipcars and secure bicycle racks, and a 24-hour computer lounge.
The large lobby is three steps up from the entrance and overlooks through large windows the "L-shaped development's large lawn.
Apartments have central air-conditioning, energy-saving louver blinds, and full-size washers and dryers. Kitchens have GE stainless steel appliance, Italian cabinetry, tile floors and quartz countertops. Many apartments have outdoor spaces.
In a May 1, 2010 article at therealdeal.com, C. J. Hughes wrote that "With quartz counters and oak-strip floors, 34 Berry's units are perhaps more polished than much of the current rental inventory in Williamsburg, though the prices on some of its units seem competitive."
"Studios will start at $1,700, while one-bedrooms are $2,150, according to David Sigman, a principal of LCOR. In contrast, in March, the average studio in Williamsburg, which has gentrified dramatically in the past decade, leased for $2,118, according to TREGNY. One-bedrooms, meanwhile, were $2,410, the firm's data shows." according to the article.
LCOR partnered on the project with the California State Teachers' Retirement System, a pension fund.
"Over the course of three days in April after its leasing office opened, the building received 40 applications," the article said, "though the deals were sweetened by a free month's rent," but "the incentive was necessary because construction is still underway at the building, said Bob Scaglion, a senior managing director of Rose Associates, which is marketing 34 Berry."
The building was asking $5,000 a month for its two-bedroom units with terraces and views of the Empire State Building.
"I think that price is a bit much," said Jamie Wiseman, a co-principal of Cayuga Capital Management, which developed next-door 44 Berry Street, a redbrick former quinine factory that was converted into 42 rentals, the article said.
Though 44 Berry was not really a competitor (it finished up leasing in August 2009), the largest apartments there are considerably cheaper: "The priciest apartment there is $4,500, but it is a three-bedroom, Wiseman said."
"Still, the units at 44 Berry, with airy loft-type layouts, have quite a different look than the ones at 34 Berry, which has comparably low eight-foot ceilings, plus engineered wood floors and traditional divisions of rooms. In that way, they likely will appeal to a different type of renter, who seeks a larger building with common areas 'where they can meet their neighbors,' said Scaglion," the article said.
"Atherton-Newport, the original developer, which is now defunct after bankruptcy, abandoned the project before LCOR closed on the site in 2007. But Atherton did clear some key hurdles first," the article maintained, "like buying out tenants who lived there and performing environmental studies. Atherton also hired Perkins Eastman, which drafted designs for the building."
LCOR, which was "in a rush to meet the June 2008 deadline to qualify for 421-a tax benefits, which it successfully did, a move that stabilized its rents for 15 years as a condition of the abatement," decided to keep the design rather than start from scratch, according to the article.
"Though the interiors were changed to make the building a rental - a peek through the window of a ground-floor unit...revealed a white-cabinet-lined kitchen that seemed more pedestrian than most condos' - LCOR kept the distinctive red-glass-checked exterior façade, which stands out on blocks marked by low-slung industrial structures," the article noted.
The building has a residents' lounge with billiards, "multiple flat screen TVs, a catering kitchen and Nintendo WII and a rooftop terrace with BBQ grill, dining tables and "intriguing retro-style pod seating."
The building has another lounge adjacent to the main lobby and in addition to seating and a flat screen TV it has a computer station with a printer and a coffee bar.