420 Kent Avenue in Williamsburg: Review and Ratings | CityRealty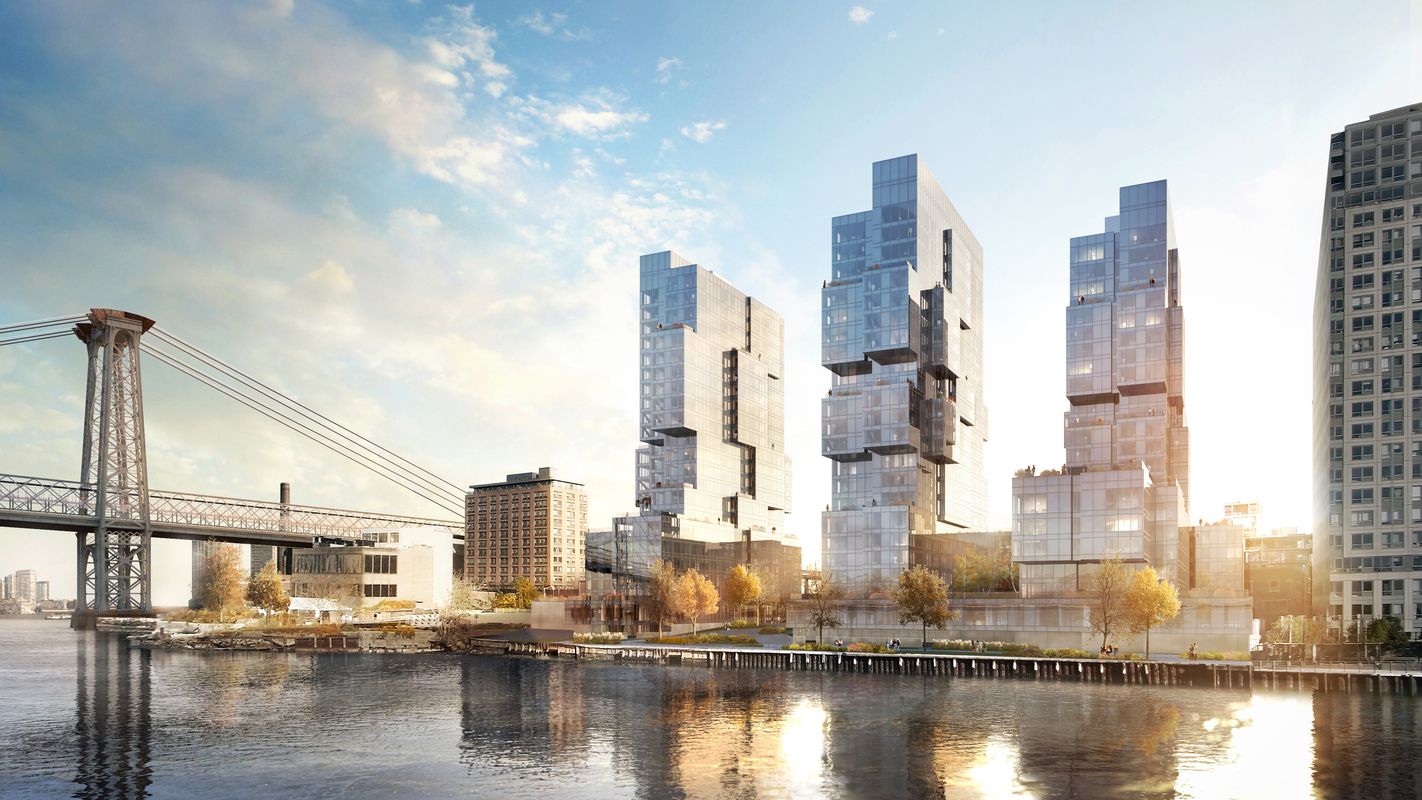 Review by
Carter Horsley

Carter B. Horsley, a former journalist for The New York Times, The International Herald Tribune and The New York Post. Mr. Horsley is also the editorial director of CityRealty.com.
One of the city's great craggy and chunky residential complexes, this three-tower development at 420 Kent Avenue in Williamsburg, Brooklyn, was erected by the Spitzer Enterprises in 2018 and contains 857 rental apartments, 80 percent of which are corner units. A fifth of the units are "affordable."
The development has been designed by ODA New York, which is headed by Eran Chen.
(Other ODA projects in the city include 101 Norfolk Street, 75 Nassau Street with a tree-topped pinnacle "capped like a natural version of the Woolworth peak," and 15 Union Square West.
It has also designed a very tall building with many garden floors at 305 East 44th Street for Triangle Assets, and "the Dragon Gate at the Canal Street Triangle" as a gateway and totem for Chinatown, and the mid-block Orbit Tower with multiple sky gardens on 42nd Street facing Bryant Park, with cable-suspended structural skin replacing traditional curtain walls.)
Each of the three jagged, glass-clad towers at 420 Kent Avenue are a relatively modest 22 floors but because of their unusual bulkiness, which is not unattractive, and location on their own 400-foot-long riverfront promenade south of the Williamsburg Bridge, this is a very distinctive development.
There is a considerably taller and more slender trio of towers under development in Jersey City whose "drunken" silhouette of tottering shafts takes its cute from Herzog & de Meuron's jaunty and jenjoesque obelisk at 56 Leonard Street in Lower Manhattan.
The crags of 420 Kent Avenue, however, impart a sense of movement, if not explosion, as if the buildings cannot contain themselves, probably because of their magnificent vistas of Lower Manhattan and bridges.
A February 3, 2017 article at cityrealty.com quoted Mr. Chen as describing these buildings as "molded icebergs, sculpted to create the maximum number of views and outdoor spaces." Another cityrealty.com article described his firm's "staggered-and-stacked design."
Spitzer Enterprises is headed by Eliot Spitzer, the former governor of New York State and was founded by his late father, Bernard, whose prominent buildings in the city included the Corinthian, 800 Fifth Avenue and 200 Central Park South.
Bottom Line
Like the monuments of Easter Island, these distinctive, compact and sculpted 22-story towers on the riverfront in Williamsburg proudly confront Lower Manhattan.
Description
The northernmost building is stand-alone and has an address of 416 Kent Avenue and the other two are connected at the base.
The buildings have a large courtyard with a crooked bath.
Amenities
The development has a 24/7 concierge, a "lifestyle concierge" for dry cleaning, laundry, dog walking etc., a beach volleyball court, two swimming pools, coffee bars, a private park, multiple terraces, landscaped roof gardens with bubble-style pergolas, a billiards and game room, a private events room with a piano, a garage, an on-site resident manager, bicycle storage, and 20,000-square-feet of "riverside retail."
Apartments
Apartments have floor-to-ceiling windows, washers and dryers, smokey oak floors, Caesarstone countertops and ceramic backsplashes in the kitchens, which has Bertazzoni gas ranges and Bosch dishwashers.
Apartment 511 is a two-bedroom unit with a long windowed foyer that leads past an open kitchen with a breakfast bar to a large living/dining area with two large and long window walls.
Apartment 516 is a two-bedroom unit with an entry foyer that leads to a bedroom and then to the living/dining area with a corner window and an open kitchen with a breakfast bar and the master bedroom with an angled wall.
Apartment 514 is a one-bedroom unit with an entry foyer next to a home office in one direction and an open kitchen with a breakfast bar leading to a living/dining area in the other.
Apartment 806 is a one-bedroom unit with an entry foyer next to a open kitchen with a breakfast bar and a living/dining room with a large corner window.