500 Metropolitan Avenue: Review and Ratings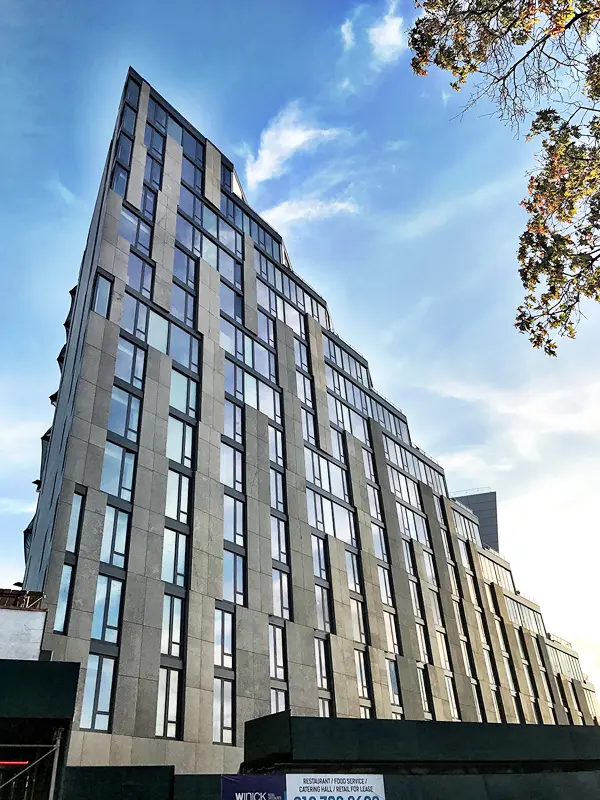 Review of 500 Metropolitan Avenue by
Carter Horsley
This 14-story, mixed-use building at 500 Metropolitan Avenue between Keap and Rodney streets in Williamsburg was erected in 2018 by The Chetrit Group and designed by Kutnicki Bernstein.
It has 52 rental units.
It also has a hotel on its lower 6 floors with about 180 rooms.
The building, which is also known as 491 Kemp Street, overlooks Macri Triangle Park and the Brooklyn-Queens Expressway. It is adjacent to Kellogg's Diner on Kemp Street and an entrance to the Metropolitan-Lorimer street G and L subway station. The J and M subway lines are a few blocks away.
The building is on a "V"-shaped site and there is ground-floor retail space.
Bottom Line
An imposing, 14-story mixed-use building on a V-shaped site next to a diner in Williamsburg with a cascading profile and irregular façades, including a narrow, three-story-high, slanted and centered protrusion at the base of its cascading terraces, has 52 rental apartments and a 180-room hotel. The odd protrusion has no gang plank....
Description
The building has blue-glass fenestration and cascades down seven floors from the top.
It has grey piers of different widths and heights that give the façades a complex appearance, and on the lower three of the seven cascading floors there is a slanted outwards, three-story-high, narrow central section.
Amenities
The building has a rooftop swimming pool, a fitness center, a courtyard, a virtual doorman, bicycle storage, basketball and tennis courts, and a garage.
Apartments
Apartments have washers and dryers, satin oak floors, and floor-to-ceiling windows.
Apartment 14A is a three-bedroom unit with an entry foyer that leads to an angled, 8-foot-wide dining room and an angled 18-foot-long living room with an open kitchen with a breakfast bar.
Apartment 12A is a two-bedroom unit with an entry foyer that leads to an angled, open kitchen and a 10-foot-long living room. One of the bedrooms is angled.
Apartment 11H is a two-bedroom unit with a 22-foot-long living room and a 10-foot-wide open kitchen with access to a large angled terrace.
Apartment 11G is a one-bedroom unit with an angled, 9-foot-long living room with an entrance to a very long terrace, and an open 12-foot-wide open kitchen.
Apartment 8N is a studio unit with an entrance into a 9-foot-wide, open kitchen that leads to a 15-foot-long living room.