LEVEL, 2 North 6th Place: Review and Ratings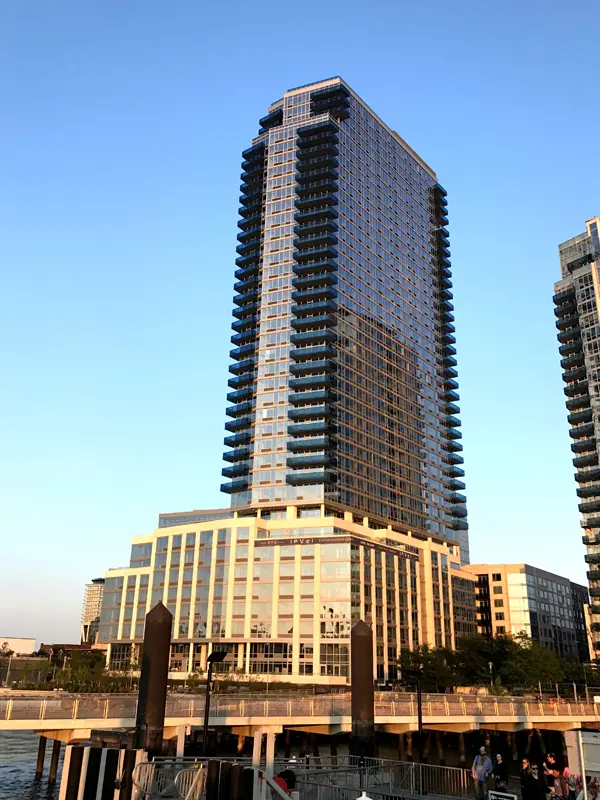 Review of 2 North 6th Place by
Carter Horsley
This impressive, 40-story rental residential apartment tower at 2 North 6th Place in Williamsburg is known as Level and is the tallest and final phase of the three-building complex known as The Edge that was developed by Douglaston Development.
Leasing of the tower's 554 rental units began in 2017.
The complex was designed by the Stephen B. Jacobs Group. Interiors are by Andi Pepper.
It abuts the East River State Park, a waterfront esplanade and ferry and water taxi stops. The project is provided complimentary shuttle service to the Greenpoint G and Marcy Avenue J, M and Z subways during the shutdown of the L subway.
The building has 678 square feet of retail space.
Bottom Line
The final phase of this important and large waterfront rental apartment development in Williamsburg is the tallest and most impressive tower with many blue-glass balconies that wrap around corners and many amenities.
Description
This building has a 9-story, cast-stone podium base with several setbacks and terraces and the blue-glass, 40-story rises from its southern side. The tower's façade has many balconies and relates stylistically to the project's earlier towers that are shorter. The top three floors of this tower are setback at its east and west ends.
Amenities
Most amenities are on the top floor of the building's 9-story podium base and include a swimming pool enclosure with large sliding doors. Other amenities include a concierge, a 160-car garage with flood-proofed underground levels, bicycle storage, a fitness center, a yoga studio, a party room and lounge with demonstration kitchen, a children's playroom, a business center, a terrace lounge with a fireplace, a landscaped courtyard, and a green roof deck.
Apartments
Apartments have floor-to-ceiling windows with solar shades and smoked walnut floors and stainless-steel kitchen appliances and glass kitchen cabinetry.