The Spire Lofts, 163 North 6th Street: Review and Ratings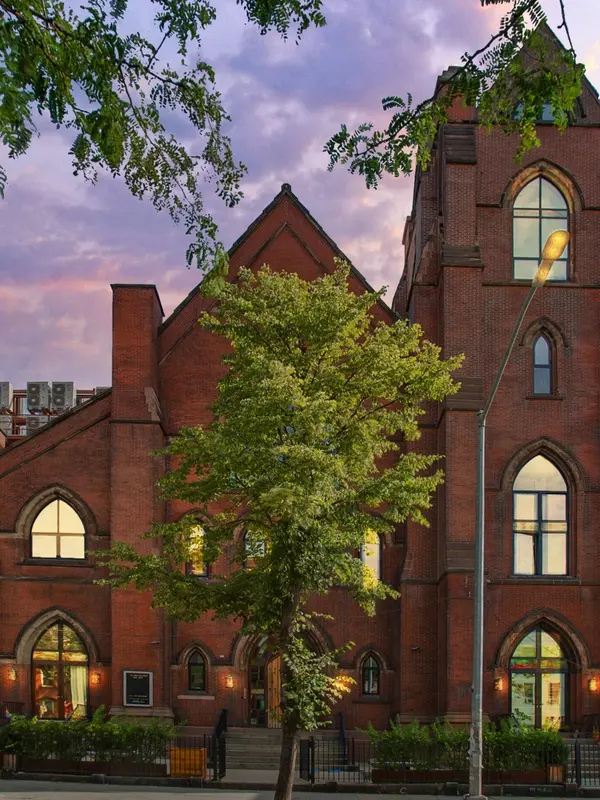 Review of 163 North 6th Street by
Carter Horsley
This 5-story, former St. Vincent de Paul Church property at 167 North 6th Street between Bedford and Driggs streets in Williamsburg was converted in 2014 to 40 rental apartments by Heritage Equity Partners.
It is known as The Spire Lofts.
The building was designed in 1869 by Patrick Keely and Anthony Morali was the architect for the conversion.
It is around the corner from the Bedford L subway station.
Bottom Line
A 19th Century brownstone church in Williamsburg that was converted in 2014 into 40 rental apartments "with exceptional quirks" including cast-iron catwalks, angled wooden beams, wooden sliding loft doors, and some kitchens have faucets high above sinks and wooden open shelves below cabinetry.
Description
The brownstone building has many arched windows.
An apartment listing noted that the building has "expertly salvaged materials, including original exposed brick, reclaimed Heart Pine pillars and beams, arched stained glass windows, custom steel work, and exceptional quirks around every corner."
Bathrooms have exposed brick walls and pressed tin ceilings.
One large room has two skylights in the angled ceiling, dramatically angled large wooden beams in one wall over a small arched window near the floor and close to sprinkler piping. Another has a built-in, seven-bottle wine rack beneath a cabinet and over a refrigerator.
A June 30, 2014 article by Choire Sicha at theawl.com, of which he is a co-founder noted that "they are apartments for people who will wake up and wonder: Where am I going? What am I doing here?"
Amenities
The building has a roof deck, a laundry, a virtual doorman and allows pets.
Apartments
Apartments have Bosch washers and dryers and stainless-steel Fisher-Paykel kitchen appliances.
Apartment A1 is a one-bedroom triplex with 1,490 square feet of internal space and 30 square feet of outdoor space with a double-height living room.
Apartment A17 is a three-bedroom triplex with 1,215 square feet with a living room with an open kitchen on the first level, 245 square feet on the second level and a 475-square-foot cellar.
Apartment A16 is a one-bedroom triplex with 850 square feet of internal space and 30 square feet of outdoor space with a double-height living room with an open kitchen on the floor with a staircase to an a 230-square-foot upstairs bedroom and a staircase to a 215-square-foot cellar.