170 East End Avenue: Review and Ratings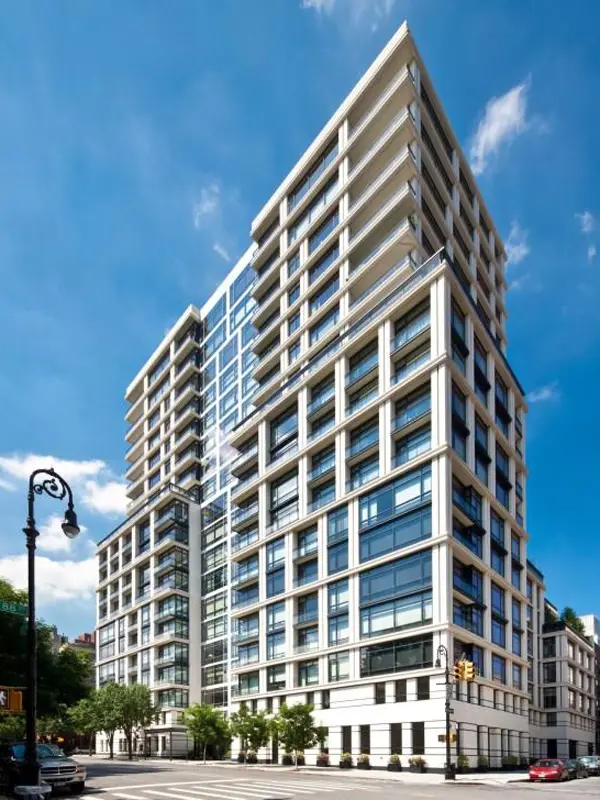 Review of 170 East End Avenue by
Carter Horsley

Carter B. Horsley, a former journalist for The New York Times, The International Herald Tribune and The New York Post. Mr. Horsley is also the editorial director of CityRealty.com.
170 East End Avenue is a 19-story, 110-unit residential condominium apartment building that replaced the 14-story, red-brick Beth Israel Hospital Singer Division Building that was torn down in 2005.
The new building, which extends from 87th to 88th Streets and overlooks Carl Schurz Park across the avenue, has a tower with two low-rise wings on the sidestreets and a large garden with a waterfall between them.
To the south, the building overlooks the very attractive townhouses that line Henderson Place from 86th to 87th Streets.
It was developed by Skyline Developers LLC, an affiliate of Garden Homes Development.
Peter P. Marino & Associates is the architect.
Bottom Line
This large residential condominium building across from Carl Schurz Park and Henderson Place offers very large apartments, great river views and many amenities.
Description
The lower two floors of the complex are faced with limestone and granite and the rest ise faced with limestone-colored, pre-cast concrete. The center section of the tower on East Avenue above the entrance is mostly glass.
The building's unusual façade is quite bold with deeply-inset, multipaned windows, many balconies with glass railings, and a center section facing East End Avenue clad only in glass. Vertically, the north and south wings on the avenue are broken into three sections with different pier arrangements in limestone-colored, pre-cast concrete. The two-story base on either side of the entrance is rusticated limestone.
Mr. Marino's design of the lobby, kitchens and bathrooms in the new building are extremely sleek and sumptuous and very, very beautiful.
The building has a very high fenestration ratio and a Mondrianesque-grid patterning.
A large waterfall in the building's garden will be visible through the lobby from East End Avenue.
Amenities
This building has a lot of amenities including a garage, a children's recreation zone that includes a toddler paint room, a computer area for preschoolers, and miniature golf, video games and billiards for older children. The building also has a squash court and an interactive driving range.
Some of the apartments have fireplaces and balconies.
The large garden has some sculptures of sheep, which Mr. Marino told a reporter was "a play on the rural and the urban."
Apartments
Apartment 2C is a one-bedroom unit that has an entry foyer that leads to a 23-foot-long living/dining room near a 9-foot-long kitchen.
Apartment 12A has a 12-foot-long entry foyer that leads to a 12-foot-long gallery that opens into a 24-foot-long living room and a 16-foot-long dining room off a 16-foot-long breakfast room next to a 19-foot-long family room with an open kitchen. The apartment also has four bedrooms and a library.
Apartment 12B has a 14-foot-long foyer that leads a 12-foot-square gallery that opens on one side to a 26-foot-long living room and on the other side to a 21-foot-long dining room that opens onto a 24-foot-long family room with an open 15-foot-long kitchen. The apartment has three bedrooms.
Apartment 12C has a 16-foot-long foyer that open onto a 17-foot-long dining room next to a 25-foot-long eat-in enclosed kitchen on one side and a 21-foot-long living room and 14-foot-long library on the other. The apartment has four bedrooms and long terraces on the buildings east and north sides.
Apartment 16C is a three-bedroom, U-shaped unit with a 15-foot-long entrance gallery that leads to a 24-foot-living room, a 16-foot-long dining room, a 15-foot-breakfast room and a 19-foot-long family room with an open 15-foot-long kitchen. The apartment has a 15-foot-long library and two narrow balconies.
Penthouse 1A is a five-bedroom unit that has a 18-foot-long foyer that leads to a long gallery that opens onto a 23-foot-long living room, a 14-foot-long library with a small balcony and a 19-foot-long dining room with a balcony next to a 15-foot-long kitchen that opens onto a 21-foot-long family room with a balcony.
Maisonette B is a duplex with three-bedrooms and a study/family room on the upper floor and a 28-foot-long gallery, a 30-foot-long living room, an 18-foot-long dining room, a breakfast room and a 13-foot-wide kitchen on the first floor.
History
In 2004, Beth Israel sold this building and two adjacent apartment buildings on 88th Street to Skyline Developers LLC, an affiliate of Garden Homes Development, which announced its intention to "create world-class, family-oriented luxury condominiums featuring spectacular views overlooking Carl Schurz, Gracie Mansion and the East River." The sales price was reported to be about $700 a buildable square foot, one of the highest on record at that time for a residential project.
Skyline Developers LLC is the corporate umbrella investment vehicle for much of the principal activities of Orin Wilf. Mr. Wilf is a third generation member of the Wilf organization whose business activities are commonly known as Garden Homes and Garden Commercial Properties.
In 1955, Harry and Joseph Wilf established Garden Homes when they began constructing single family homes in New Jersey. Since then, Garden Homes and numerous affiliated concerns and organizations have been developing single-family homes, condominiums, apartment complexes, shopping centers, office buildings and hotels. The organization continues to own and manage their own properties. While the geographic concentration of Garden Homes activity has been in New Jersey, development of residential and commercial properties has expanded to encompass New York City, New York State, California, Connecticut, Pennsylvania, Delaware, Maryland, Florida, Arizona and Israel.
Garden Homes Development is based in Short Hills, New Jersey and has operations in 37 states.
Its other activities in New York City include condominium apartment conversions of properties at 280 Park South and 75 West Street. It also converted 41 Broad Street for the Claremont Academy Preparatory School and converted 37 Wall Street to 350 rental apartments.
The former hospital building was erected in 1929 as Doctors' Hospital and was acquired by Beth Israel Medical Center in 1987.
Beth Israel is located on Stuyvesant Square at First Avenue and 16th Street and this facility was known as Beth Israel North and Beth Israel Herbert and Nell Singer Division and housed the Insall Scott Kelly Institute for Orthopaedics and Sports Medicine and the Hyman-Newman Institute for Neurology & Neurosurgery. In 2001, the medical facility had about 210 beds and more than 800 employees. Beth Israel is operated by Continuum Health Care System, a conglomerate of hospitals that also includes Roosevelt Hospital, St. Luke s Hospital, Long Island College Hospital and New York Eye & Ear Infirmary.
There is good cross-town bus service at 86th Street and York Avenue and two of the finest girls' schools in the city, Brearley and Chapin are a few blocks to the south.
Mr. Marino is well-known for interiors he created for Giorgio Armani, Stephen Schwarzman and David Martinez. He also designed a new Fifth Avenue store for Fendi.
In the spring of 2004, Orin Wilf, the developer, went to the 14th floor of the hospital building then on the site and looking out the window at the park and water views said "I will guarantee you I will buy this property." A few months later he bought the townhouses at 13-15
At the opening of the building's sales office at 530 East 88th Street, Mr. Wilf was asked by CityRealty.com why he decided not to retain the quite attractive, pre-war façade of the former hospital building on the site. "It was handsome," he conceded, but the site, he continued, deserved something more spectacular.
Book a Tour or Get More Information on this Building
410 Buyers
are interested in buying at
170 East End Avenue!
Interested in Selling?
We'll introduce you to the agents that
specialize in 170 East End Avenue and are
experts in selling apartments there.

And they'll be able to contact all of the buyers interested in the building.
There's no obligation and your inquiry is confidential.
Call us at (212) 755-5544