The Brompton in Yorkville: Review and Ratings | CityRealty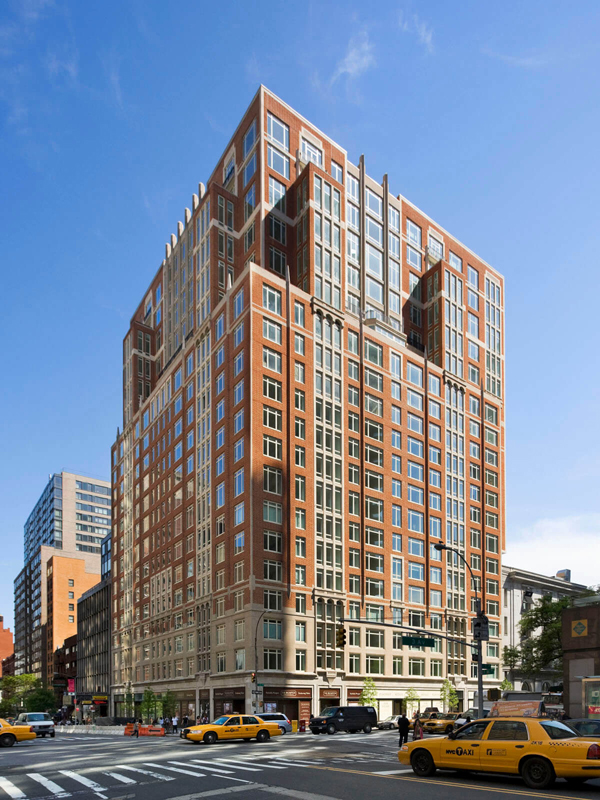 Review by
Carter Horsley

Carter B. Horsley, a former journalist for The New York Times, The International Herald Tribune and The New York Post. Mr. Horsley is also the editorial director of CityRealty.com.
The Brompton at 205 East 85th Street is the highly detailed, Post-Modern-style condominium apartment building designed by Robert A. M. Stern in the manner of numerous pre-war, red-brick-with-stone-trim apartment buildings on Park Avenue.
Mr. Stern designed this handsome 20-story building on the southeast corner of Third Avenue and 86th Street for the Related Companies.
He also designed 15 Central Park West for the Zeckendorfs, widely considered the most successful new luxury apartment building in the city in many years with its all-limestone façades. His other apartment buildings in Manhattan include the Chatham at 181 East 65th Street, the Westminster at 180 West 20th Street, and Superior Ink at 70 Bethune Street.
This building, which has 166 apartments, was completed in 2009.
The interior residences were the work of Ismael Leyva Architects P.C., a firm dedicated to efficient architectural design, using LEED certification and standards for their worldwide projects. The landscapes at The Brompton were designed by Mathews Nielsen Landscape Architects, an award-winning New York City-based firm.
Bottom Line
This is Robert A. M. Stern's best Post-Modern apartment design after 15 Central Park West, the most successful apartment building in the city's history. It is "stylishly proper" in dramatic contrast to the raucous dance halls that riotously existed in this area of Yorkville, once the city's most famous German neighborhood.
Description
Looking like an impressive and very solid transplant from England, this building has piers, arches, finials, battlements and a few arched windows that conjure fair maidens with very long hair and surrounding forests.
Its handsome façades hide two landscaped courtyards and a cherry wood-paneled lobby with marble floors. The façade details do much to lessen the visual sense of the building's bulkiness and almost disguise the fact that a southern portion is cantilevered over the handsome adjacent low-rise building on the northeast corner of Third Avenue and 85th Street, not far from a post office on the same block.
An environmentally-friendly building, it has received a LEED silver certification for its energy efficient systems, water conservation, air quality and sustainable materials.
A block from the Lexington Avenue subway, it is also close to shopping and many museums.
Amenities
The Equinox Fitness Club inside the Brompton has cardio and strength equipment and residents have access to a host of classes including yoga, pilates and cycling. There's a full-service spa, 24-hour doorman and concierge and a children's playroom accessorized by Dragons of Walton Street with an outdoor play area designed by Matthew Niesen landscape Architects.
The building has a roof deck, basement storage, and an event room.
The building also has a canopied entrance with a doorman and there is a residents' lounge with outdoor garden.
Apartments
Apartments range in size from a 550-foot square foot studio to a five-bedroom with over 4,500 square feet.
Kitchens have Viking stainless steel wall ovens and wine coolers, Sub-Zero refrigerators and Miele dishwashers.
As the building has a series on setbacks on two levels, there are a few terraces.
Six-foot soaking tubs and marble flooring are in some of the bathrooms and floor-to-ceiling windows provide fine vistas of the city.
Apartment M on floors 10 through 16 is a studio unit with a 15-foot-long living room with a 9-foot-long alcove. It has an open kitchen.
One of the nicest layouts is a two-bedroom apartment, 20B, which has a long entrance gallery leading to a large living room and a large dining room separated by a large enclosed kitchen. The master bedroom has two large walk-in closets.
A four-bedroom unit, 15CD, has a 24-foot-long gallery that leads to a dining area that opens into a 33-foot-long living room with open southern views. The apartment has an enclosed, eat-in kitchen.
Another four-bedroom apartment, 18D, has a foyer than opens into a very large living room with an adjacent dining room. It has also a long hall to leads to two of the bedrooms, one of which has a small terrace.
The four-bedroom Penthouse 1A has a 35-foot-long foyer that leads to a large, corner "great room" with a fireplace adjacent to a formal dining room that is next to a large eat-in kitchen with its own terrace. The apartment also has a master bedroom with a fireplace and a library/bedroom with its own terrace and there is also a 13-foot-long maid's room.
History
Several tenement buildings on the Third Avenue site were once owned by Henry Sturman, a real estate investor who died in 1973. His three sons were forced into bankruptcy in the 1980s after their unsuccessful takeover of a contact lens concern. Their sister, Donna Sturman Butler, tied to prevent bankruptcy but in 1998 Philip Pilevsky got a controlling interest in the buildings. In 2002, Related bought the handsome building on the northeast corner of Third Avenue and 86th street, which houses a Gap store and an Equinox gym. Mr. Pilevsky is the owner of the retail portion of the Brompton.
Judge R. Kelvin Castel of the U. S. District Court in Manhattan September 22, 2010 ordered the developer of the Brompton to return a $510,000 deposit plus interest to a Greek shipping executive and his wife, "in a sweeping decision that could expand the rights of condo buyers in New York," according to an article by Josh Barbanel in The Wall Street Journal.
The article maintained that "the ruling could allow hundreds of condo buyers to get deposits back, something many of them would like to do given the decline in apartment values caused by the economic downturn."
The case was the latest and broadest effort yet by the federal courts to take provisions of an obscure federal law - originally intended to prevent fraud in sales of large tracts of undeveloped land - and apply them to apartment deals in New York.
The suit was filed by Vasilis Bacolitsas and his wife, Sofia Nikolaidou, who in May, 2008 signed a contract to pay $3.4 million for a three-bedroom unit in the building and subsequently sought to get out of the deal and get back their deposit.
The office of New York Attorney General Andrew Cuomo rejected a claim by the buyers under state law for the return of the deposit, but the federal judge, the article said, "found that the standard sales contract given to the couple didn't meet the requirements of the Interstate Land Sales Full Disclosure Act, which was passed by Congress in 1968 to protect land buyers."
The case, which applied primarily to developments with 100 or more units, was closely followed in the industry and turned on whether or not a contract had to be "recorded" with county clerks even before the start of construction.
A November 3, 2011 article at therealdeal.com by David Jones said that the Related Cos., asked the U.S. Circuit Court to overturn Castel's ruling because for a contract to be recorded the unit must be ready for occupancy and also because banks might be prevented from securing the asset in the case of a default.
Location
The Brompton is within walking distance to the neighborhood's best schools, Central Park, and Museum Mile.
It is interesting that this building was erected at the same time as another, very similarly sized apartment building one block to the west on the southeast corner of 86th Street and Lexington Avenue. That building, developed by Extell, is known as the Lucida and was designed by Cook + Fox and is completely different from the Brompton as its façades are reflective glass. The Lucida is on the same block as a fire station that makes frequent stentorian use of its sirens.
Both buildings were significant upgrades to the ambiance of 86th Street, replacing run-down and not particularly attractive low-rise buildings. It is interesting that they are separated by a much taller and older apartment building at 185 East 85th Street that is notably for its rounded balconies and entrance marquee. It could be argued that the taller building, never considered an architectural gem, is the best looking of this trio at least from the viewpoint of form.
The building has about 14,000 square feet of retail space and takes advantage of an "inclusionary housing" bonus by providing some affordable housing units off-site within the boundaries of Community Board 8.
To the east of the Brompton on 86th Street is the large and extremely popular Fairway food store that opened in 2011.
Although the dance halls that made East 86th Street extremely popular and loud in the 1960s are gone as well as most of the German restaurants for which Yorkville was famous, this area remains an important shopping and entertainment mecca for the Upper East Side.
Book a Tour or Get More Information on this Building
1,591 Buyers
are interested in buying at
205 East 85th Street!
Interested in Selling?
We'll introduce you to the agents that
specialize in 205 East 85th Street and are
experts in selling apartments there.

And they'll be able to contact all of the buyers interested in the building.
There's no obligation and your inquiry is confidential.
Call us at (212) 755-5544