Hudson Tower at 350 Albany Street: Review and Ratings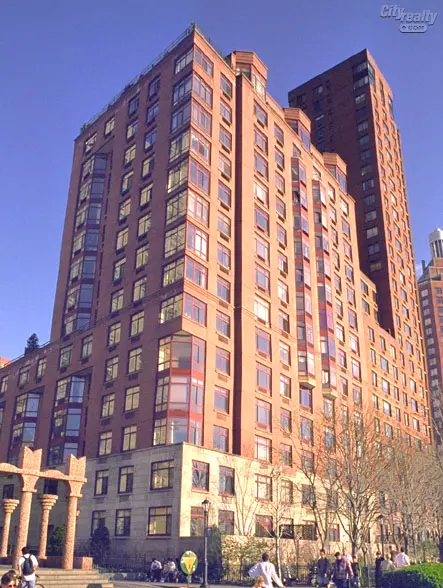 Review of 350 Albany Street by
Carter Horsley

Carter B. Horsley, a former journalist for The New York Times, The International Herald Tribune and The New York Post. Mr. Horsley is also the editorial director of CityRealty.com.
One of the more attractive, mid-rise apartment buildings at Battery Park City, Hudson Tower at 350 Albany Street, which commands many magnificent Hudson River views, was built as a condominium in 1986.
It was designed by Davis, Brody & Associates for the Zeckendorf Company and World-Wide Holdings Corporation.
The development consists of a 15-story tower known as Hudson Tower and 5 adjoining five-story buildings known as 320-340 Albany Street.
The project, which was erected in 1986, has 133 condominium apartments.
Bottom Line
A handsome mid-rise tower facing the riverfront esplanade at Battery Park City with an attractive low-rise wing on the sidestreet with multi-level apartments.
In their book, "The A.I.A. Guide to New York City," (Harcourt Brace Jovanovich, 1988), Elliot Willensky and Norval White gave this project one of their highest accolades: "A happy building."
Description
The rose-colored-brick tower has a two-story rusticated base and many corner windows. It top floor has two "turrets."
The building has a five-story wing that extends along the sidestreet and a canopied entrance.
The six 5-story buildings have paired 6-step-up entrance stoops with lush sidewalk landscaping.
In an August 31, 1986 column in The New York Times about "Battery Park city as a Triumph of Urban Desk," Paul Goldberger wrote that "the buildings are neither boringly simple nor distressingly different," adding that "The best is Hudson Towers…., which has a splendid set of townhouse-like row structures beside it…."
"Despite stoops and bay windows, these buildings seemed rather heavy-handed, although according to the editors of the AIA Guide, "the tiers of connected balconies at the rear lined with black ships' railings reveal a more masterful command of the problem." The 2010 edition of the guide, however, noted that "unlike much 1980s architecture, this has aged well."
The authors also noted that "the same firm's adjacent fifteen-story Hudson Tower, at 350 Albany Street, on the southeast corner of the esplanade, came off somewhat better, combing bay and corner windows that lightened the mass as they opened up apartments to the spectacular views. Thanks to their scale and materials, the combination of the two, according to Grace Anderson, writing in Architectural Record, evoked 'an ineluctable Manhattan streetscape,' which could as much be credited to the Cooper Eckstut master plan as to the work of the architects.'"
Amenities
The building has a doorman, a canopied entrance, a live-in superintendent and a garage.
Apartments
Apartments have 9-foot-high ceilings, parquet floors, marble bathrooms and individual apartment security systems.
Townhouse 2 is a triplex maisonette with a 20-foot-wide living room, a 13-foot-long den and a 12-foot-dining room with a bay window overlooking a 46-foot-patio. The first floor also has a 20-foot-long eat-in kitchen. There are two bedrooms with a small balcony on the second floor and two more bedrooms on the third level.
The townhouse maisonette at 328 Albany street has a five-foot-square entry foyer that opens onto a 19-foot-wide living room that leads to a 13-foot-wide dining room and a 13-foot-wide breakfast room adjacent to a 9-foot-square open kitchen overlooking a 40-foot-long terrace on the lower level and three bedrooms on the upper level.
Apartment 7C is a one-bedroom unit that has a 6-foot-wide entry foyer next to a 8-foot-long pass-through kitchen and a 24-foot-long living room with a bay window.
Apartment 12F is a one-bedroom unit with a 8-foot-wide foyer next to a 8-foot-long pass-through, windowed kitchen and it opens to a 20-foot-long living room with an angled corner window.
Apartment 50 is a two-bedroom unit that has an 8-foot-long entry foyer that opens into a 15-foot-long, angled, living room that is open to a 12-foot-long dining area with an 8-foot-long open, pass-through kitchen.
Apartment 10C is a two-bedroom unit with an enclosed kitchen and a large living room with two bay windows.
Apartment 4G is a two-bedroom unit that has a 8-foot-long entry foyer that leads to a 23-foot-long living dining room with an angled bay window and an open 10-foot-long kitchen and a 13-foot-long den.
Penthouse 1 is a one-bedroom unit that has a 15-foot-long entry foyer that opens onto a 31-foot-long living room with a bay window and a 17-foot-wide kitchen and a 60-foot-wide terrace.
Book a Tour or Get More Information on this Building
71 Buyers
are interested in buying at
350 Albany Street!
Interested in Selling?
We'll introduce you to the agents that
specialize in 350 Albany Street and are
experts in selling apartments there.

And they'll be able to contact all of the buyers interested in the building.
There's no obligation and your inquiry is confidential.
Call us at (212) 755-5544