212 West 72nd Street: Review and Ratings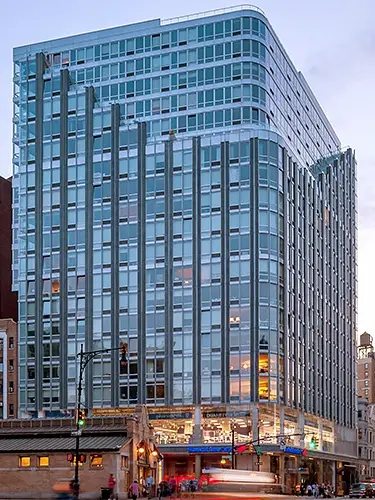 Review of 212 West 72nd Street by
Carter Horsley
This bulky, 19-story apartment building at 200 West 72nd Street has a rounded corner on the southwest corner of Broadway, one of the most important Upper West Side intersections.
It was erected in 2010 by the Gotham Organization, Philips International and Rhodes NY.
It contains 196 rental units.
It is called The Corner.
It was designed by Handel Architects. Andres Escobar was the interior designer.
It is across Broadway from an express subway station. It is also one block south of Verdi Square and two blocks south of the great Ansonia apartment building, one of the major landmarks of the Upper West Side.
The building is also across 72nd Street from the very handsome Alexandria apartment building
Bottom Line
Overlooking the two handsome subway station buildings at the center of this important Upper West Side intersection, this building has a Trader's Joe grocery, many amenities and some stepped terraces is on the former site of the handsome Colonial Club and very near such major landmarks as the Dorilton, Ansonia and Apple Bank buildings.
Description
The lobby has a chandelier with 1,754 crystals.
The building is LEED Silver Certified.
The building's lower two floors contain about 48,000-square-feet of retail space that includes a Trader Joe's food store.
This building, which is also known as 2075 Broadway, has a cutaway design that steps down five floors towards the 72nd Street corner where it is rounded.
The building has a landscaped garden.
Amenities
The building has a 24-hour doorman and a 24-hour concierge as well as a roof deck with a 12-foot-long misting wall, BBQ area, bar and sundeck, and a screening area. The building also has a fitness center, a residents' lounge with a fireplace, a children's playroom, bicycle storage, storage, and on-site valet services for cleaning and housekeeping.
Apartments
Every unit has a Bosch washer and a dryer and floor-to-ceiling medicine cabinets in the bathrooms with 10 glass shelves and reflective surfaces inside their doors that can be used as full-length mirrors.
Kitchens have wenge wood cabinetry and dishwashers have fronts of the same wood. They also have Ecologic stone countertops and Liebherr and Sub-Zero appliances.
Apartment 15E is a three-bedroom unit with a 26-foot-wide curved living/dining room with an open kitchen with an island and an entrance to the very large, 830-square-foot curved terrace that is also accessed at its ends from two of the bedrooms. The unit also has a home office.
Apartment H on the 3rd through the 14th floors is a two-bedroom unit with a 27-foot-wide, curved, living room with a dining area near the open kitchen with an island.
Apartment 18A is a two-bedroom unit on the rear of the building with a foyer that leads past an open, pass-through kitchen to the 20-foot-wide angled living room with an angled 50-square-foot terrace.
Apartment M is a one-bedroom unit on the 9th through the 14th floors with an angled, 21-foot-long, living/dining room with an open, pass-through kitchen at the southern rear end of the building.
Apartment D on the 4th and 5th floors is a one-bedroom unit at the western end of the building with an entry fallery that leads to a 11-foot-long loft kitchen and an 18-foot-long living room.
Apartment G on the 3rd through the 14th floors is a one-bedroom unit facing 72nd street with a 21-foot-long living/dining room and an open, pass-through kitchen.
Apartment N is a studio unit with a foyer that leads to an angled, 17-foot-long living/dining room with an open, pass-through kitchen.
History
In a November 6, 2006 article in The New York Times, David W. Dunlap wrote that "in the old sense of 'landmark' - a guidepost so conspicuous that it becomes the emblem of an area - the former Colonial Club at the southwest corner of Broadway and 72nd Street was certainly a landmark. Its turreted corner served for more than a century as a kind of gateway to the Upper West Side."
The Landmarks Preservation Commission, however, declined three times to consider landmark designation for the "ragtag six-story building," Mr. Dunlap wrote, adding that Henry F. Kilburn designed the clubhouse that opened in 1892 "with a billiard room overlooked by a cafe, a bowling alley, a dining room, wine cellars, a library and a ballroom."
"The club's real distinction," Mr. Dunlap observed, "was its relatively enlightened attitude about women. It was 'the third social club in the city to admit ladies to the privileges of its restaurant.'"
"This golden age was brief. The club foundered financially. Its home was sold at auction in 1903. The interior was transformed into a warren of offices. The monumental ground floor was stripped of limestone and cut up into storefronts. The main entryway was lost. Most of the grand arched windows and round windows, or oculi, were squared off. The delicate iron balcony was removed," the article maintained, adding that when the commission was approached a third time to consider it a spokesperson said that "'we found, as part of our assessment, that the owner already had obtained permits for the work.'"
Bowing to pressure from angry residents poised to march in the streets, Duane Reade agreed to take down a video billboard at its West 72nd Street and Broadway store, according to an article May 2, 2011 at DNAinfo.com by Leslie Albrecht.
The pharmacy agreed to remove the flashing billboard - which had sparked dozens of complaints from locals who said it was turning their neighborhood into a mini Times Square - on Friday night, just in time to avoid a sidewalk protest residents organized for Sunday, the article said.
The Duane Reade video billboard was dark on Sunday, and the company said it will remove the sign to a "more appropriate store location, perhaps in Times Square," according to a statement from Assemblywoman Linda Rosenthal, who led the charge to remove the sign, along with City Councilwoman Gale Brewer and State Senator Tom Duane.
Those officials and Borough President Scott Stringer met with executives from Walgreens, Duane Reade's parent company, on Friday night, the article said, adding that "by Sunday evening, the once-bright sign had been turned off, leaving a blank black square looking down on the busy intersection."
"The sign prompted angry phone calls and emails almost as soon as it was installed in mid-March on the second floor of the new Duane Reade at West 72nd Street and Broadway. Neighbors said the glare from the sign was so strong that it disrupted their sleep. The sign flashed ads and store specials for Duane Reade 24 hours a day, seven days a week. The sign wasn't just bright, it was also a building code violation, according to the Department of Buildings. The DOB issued several violations against Duane Reade and ordered the sign taken down, but that wasn't scheduled to happen until after a June 2 hearing," the article said.
Book a Tour or Get More Information on this Building
477 Buyers
are interested in buying at
212 West 72nd Street!
Interested in Selling?
We'll introduce you to the agents that
specialize in 212 West 72nd Street and are
experts in selling apartments there.

And they'll be able to contact all of the buyers interested in the building.
There's no obligation and your inquiry is confidential.
Call us at (212) 755-5544