222 W80, 222 West 80th Street: Review and Ratings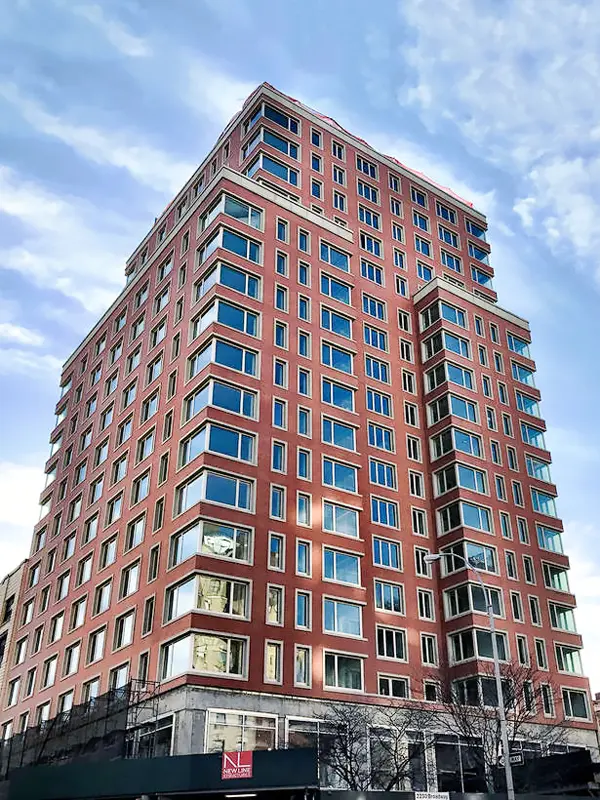 Review of 222 West 80th Street by
Carter Horsley
This attractive, 20-story, red-brick apartment building at 222 West 80th Street on the southeast corner at Broadway was erected in 2018 and has 72 rental apartments.
It was developed by Rose Associates and Friedland Properties, a group that also developed the similarly-sized Larstand several blocks to the south.
This mixed-use building was designed by Stephen B. Jacobs Group. Stephen Alton Architect is the interior designer.
The project replaces a Fox's department store, a Filene's Basement and a Circuit City, and once held a Syms department store.
It is directly across from another new residential building at 250 West 80th Street, an elegant luxury project designed by Robert A. M. Stern.
Both buildings are close to Zabar's and a subway station.
The three lowest levels - the ground floor and two cellar floors - hold more than 20,000 square feet of retail.
According to an April 3, 2018 article on the building at cityrealty.com, the building's "official website offers rentals starting from $10,000 per month though current listings on CityRealty.com show two-bedroom layouts priced between $11,755 to $12,170 per month, and three-bedroom layouts between $14,375 and $17,975 per month."
Bottom Line
An attractive, mid-rise, rental apartment building erected in 2018 with good amenities at a prime Upper West Side location very near Zabar's.
Description
The building's shape mirrors the zoning envelope designated for most of Broadway and the exterior has a faux-rusticated base with red-brick above.
The building has projecting window frames.
Amenities
The building has a 24-hour attended lobby, a two-lane bowling alley and a basketball half-court, a fitness center with Peloton bikes, a golf simulator, a children's room, a residents' lounge, a wine cellar and tasting room, and a rooftop with a bar and grilling stations.
Apartments
Apartments have Miele paneled-refrigerators and dishwashers, Viking Ranges, filtered water, walk-in closets, washers and dryers and solar shades.
Penthouse B is a three-bedroom unit with an entry foyer that leads past an enclosed kitchen to the 28-foot-long living room with a fireplace.
Apartment 3A is a three-bedroom unit with an entry foyer that leads past an enclosed kitchen to a 20-foot-long living/dining room. Two of the bedrooms open onto a 25-foot-wide terrace.
Apartment 15D is a two-bedroom unit with an entry foyer next to the kitchen with a breakfast bar next to a 18-foot-long master bedroom. The 13-foot-square living/dining room is down a hall way.
Apartment 15E is a three-bedroom unit with an entry foyer that leads to a kitchen with a breakfast table facing the 20-foot-long living/dining room.