Majestic Towers at 215 West 75th Street: Review and Ratings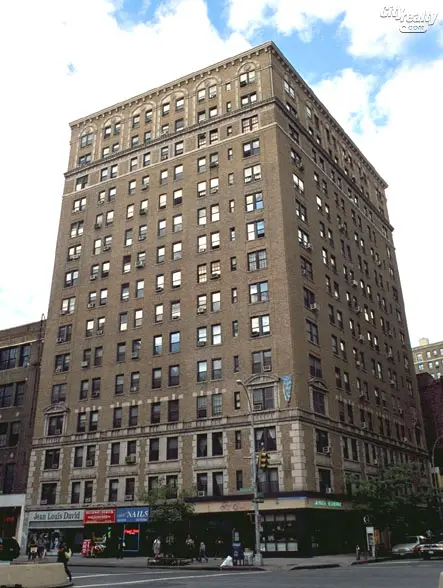 Review of 215 West 75th Street by
Carter Horsley

Carter B. Horsley, a former journalist for The New York Times, The International Herald Tribune and The New York Post. Mr. Horsley is also the editorial director of CityRealty.com.
This handsome, 15-story apartment building at 215 West 75th Street on the northeast corner of Broadway and 75th Street was erected in 1924 and converted to a cooperative in 1989.
It is known as Majestic Towers and has 110 apartments. Residential amenities and staff include a part-time doorman, live-in superintendent, laundry room, storage, and furnished roof deck.
The brown-brick building was designed by Schwartz & Gross. It is in a prime Upper West Side location near Central Park, Beacon Theatre, the American Museum of Natural History, and prime dining and shopping.
Bottom Line
An attractive pre-war with a colorful history, a nice entrance surround and an attractive rooftop watertank at a central Upper West Side location.
Description
The beige-brick building has a bandcourse above the ground floor, a balustraded bandcourse above the 3rd floor and a plain bandcourse above the 14th floor.
It also quoins at its corners and the sides of its windows on the second and third floors.
The building also has a cornice and arched window surrounds on is top floor and decorative elements above windows on the fourth floor.
The canopied entrance is flanked on each side by a pair of fluted pilasters topped with gilded decoration.
The building has no sidewalk landscaping.
It has a handsome rooftop watertank enclosure with double arches on each façade.
Amenities
The building has a part-time doorman, a roof deck and a bicycle storage room and windowed baths and kitchens. It is pet friendly.
Apartments
The penthouse is a four-bedroom unit that has an 18-foot-long living room with a 38-foot long terrace and a 16-foot-long dining area with a 57-foot-long terrace and an open 11-foot-long kitchen.
Apartment 2G is a three-bedroom unit with a 21-foot-long great room with a dining alcove and an open kitchen with an island. It also has a 13-foot-long study off the great room.
Apartment 15A is a two-bedroom unit with a 15-foot-long living room next to an enclosed 13-foot-long kitchen.
Apartment 15F is a one-bedroom unit with an entry foyer that leads to a 20-foot-long living room next to an enclosed 18-foot-long, eat-in kitchen.
Apartment 7B is a one-bedroom unit with a 17-foot-long living/dining room adjacent to an enclosed 10-foot-long kitchen.
Apartment7H is a one-bedroom unit with an entry hall that leads to a 17-foot-long living room with a separate dining area next to an enclosed kitchen.
Apartment 15F is a one-bedroom unit that has an entry foyer that leads to a 20-foot-long living/dining room next to an 18-foot-long, eat-in kitchen.
History
According to the building's website, it was "well-known in its early days as a second home to gangsters, writers, politicians and others who frequented its bordellos," adding that "In fact, that 'life of sin' has much to do with the building's labyrinth of front and back apartment entrances and the multiple interior staircases."
The website has an article by Lisa Jacobs on the building's "dirty little secret":
"If these walls could talk, today's residents would be spellbound by tales of Majestic Towers' dark past and fascinating history. Imagine the Roaring Twenties with its ladies of the night, gangsters, important political and literary figures, bootleggers, police raids, all night soirees, and a portrait of our building, formerly a house of sin, snaps into place like pieces of a puzzle....'The building was designed as a bordello,' said long-time resident Professor James Nassy, who first moved in during the early 60s when a few ladies of the night still lived here. Behind the discreet elegant façade, the most spectacular features of the building lay cached. Multiple hidden stairways and secret doorways give the building an air of mystery and double identity. Its layout was conceived for clandestine behavior and was exactly what attracted one of the most notorious tenants, Polly Adler. Adler ran the most popular brothel in the 20s from a succession of rented apartments on the Upper East and Upper West Sides. The full-fledged madam set up shop at 215 West 75th Street in the late 20s and ran a club-like business where the women were an attraction, but not always the main course. 'Polly's' was more than a brothel. It was a clubhouse. Adler decked out her establishments in luxurious decor, with Persian carpets, expensive furniture, paintings, and walls lined with books. Elite writers and intellectuals who were members of the famous Algonquin Round Table were frequent patrons. Vanity Fair writes Robert Benchley and Dorothy Parker (who went for the ambience of the place) even suggested titles for Adler's library. Benchley was known to spend the night, and reportedly even did some of his magazine writing in the company of her prostitutes. Patrons, including the immensely charming mayor Jimmy Walker as well as mob boss Dutch Schultz, came by for drinks, backgammon and card games as much as for the prostitutes."
According to her entry at wikipedia.org, Ms. Adler opened her first bordello in 1920 and retired in 1944. She attended college when she was 50 and wrote a book, "A House is Not A Home" in 1953 that was made into a movie two years later with Shelley Winters.
She died in 1962.
Book a Tour or Get More Information on this Building
106 Buyers
are interested in buying at
215 West 75th Street!
Interested in Selling?
We'll introduce you to the agents that
specialize in 215 West 75th Street and are
experts in selling apartments there.

And they'll be able to contact all of the buyers interested in the building.
There's no obligation and your inquiry is confidential.
Call us at (212) 755-5544