The Ansonia at 2109 Broadway: Review and Ratings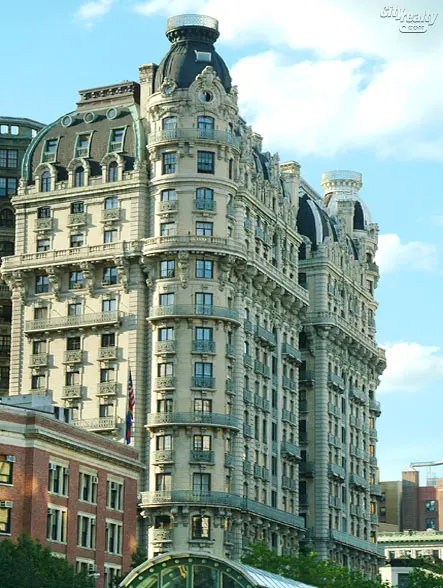 Review of 2109 Broadway by
Carter Horsley

Carter B. Horsley, a former journalist for The New York Times, The International Herald Tribune and The New York Post. Mr. Horsley is also the editorial director of CityRealty.com.
Located at a major bend in Broadway between 73rd and 74th Streets, the Ansonia at 2109 Broadway is highly visible up and down the famous boulevard.
It is the second most famous building on the Upper West Side after the Dakota at 1 West 72nd Street.
Designed as the city's largest and grandest apartment hotel for William Earle Dodge Stokes by the architectural firm of Graves and Duboy, the 2,500-room building was built between 1899 and 1904 and its elaborate and elegant design suggests what a mid-rise Paris might be.
The 17-story building was converted to a residential condominium in 1992 with about 430 apartments.
Bottom Line
If you are looking for romance, history, exuberant architecture, convenience and legends, look no further.
The Dakota may have Central Park and the ghost of John Lennon, but the Ansonia is still a very attractive architectural dowager despite missing her finials, decorative architectural elements that emphasize the peak of a gable, and central tower.
After all, it's got a Medici-like "palace" the Apple Bank and residential condominium across Broadway, one of the city's great grocery stores, Fairway, across 73rd Street, Verdi Square with its elegant subway stations, and, two-and-a-half blocks south, a Pinkberry yogurt store.
Description
The very ornate and impressive building is missing the tall, lantern-like finials on its corner turrets, and, more importantly, its elaborate, 10-story central tower that was never built.
With its rounded corners, the filigree of its handsome balconies and widow's walks, the Ansonia conjures the fancies of the Belle Epoque.
The plan of the Ansonia is quite unusual as it is asymmetrical, because of the angle of Broadway, and indented by two light courts on its north and south façades and one each on its east and west façades.
The Ansonia's enormous bulk is somewhat reduced by its complex massing and its intricate ornamentation. Light courts break up the monumental façade and allow the maximum amount of light and air to penetrate the interior.
Despite the proliferation of ornamentation, the overall effect is one of lightness and grace. The interiors were equally startling with impressive oval and circular rooms in the apartments and a very large lobby.
Amenities
The building has a landscaped roofdeck, high ceilings, a garage with 24-hour valet service, 24-hour doorman, a concierge, and private storage bins.
It allows pets and has a laundry room on each floor.
It has huge, windowed, public stairways with very ornate banisters.
It is one block away from an express subway station and cross-town bus service.
Apartments
There are more than 100 floorplans.
One apartment has large foyer leading to a semi-circular kitchen across from a large dining room that opens onto a circular living room. Not to be overlooked, of course, is the trapezoidal library/convertible fourth bedroom with a semi-circular bathroom.
A smaller, two-bedroom apartment also has a living room with a 20-foot diameter that connects to a 14-foot-diameter circular kitchen. The large master bedroom has a large bathroom with a large curved wall.
Another two-bedroom unit has a circular foyer.
Another apartment offers the grandeur of a 24-foot-long foyer leading to an almost circular gallery with that leads to a large circular living room. Naturally there are some closets with curves, a large staff hall, a laundry, a pantry and a large, trapezoidal kitchen.
History
The building's site was formerly occupied by the New York Orphan Asylum.
Mr. Stokes planned to build the grandest hotel in the world and after it opened in 1904 for several years he kept farm animals on the roof so that a bellhop could deliver fresh eggs, free, to residents every day. There were "serving" kitchens on every floor and also a "cattle elevator" to get dairy cows to the roof. In 1907, however, the roof farm was closed by the city's Department of Health.
In an excellent article in New York magazine, Steven Gaines wrote that Stokes believed that the Grand Boulevard, then the name for Broadway, "would eventually become the most important street in Manhattan, eclipsing Fifth Avenue to become the Champs-Elysees of New York."
When it opened "a maze of pneumatic tubing snaked through the walls," according to Mr. Gaines, and "in the summer freezing brine was pumped through steel flues in the walls that, Stokes claimed, kept the building at a uniform 70 degrees. Each suite had double-width mahogany doors." "The Ansonia even had its own curator, Joseph Gill-Martin, who collected 600 paintings for the hotel to display. In one of Stokes's outrageous touches, each suite's lush inventory of towels, napkins, table linen, soap, and stationery was refreshed three times a day," Mr. Gaines wrote.
The Ansonia, which was named after the town in Connecticut where the developer's grandfather, Anson Greene Phelps, founded the Ansonia Brass & Copper Company, was built solidly: "the walls are so massive you could shoot yourself there, as one poor fellow did in 1910, and the sound wouldn't even reach your family in the other room," author Peter Selwen once observed, adding that a lobby fountain was "filled with live seals."
The building's guests and residents over the years included opera stars Geraldine Farrar, Feodor Chaliapin, Lauritz Melchior, (who Selwen maintained "practiced archery in the 110-foot corridors"), Ezio Pinza, Lily Pons, and musicians such as Arturo Toscanini, Igor Stravinsky, Mischa Elman, Yehudi Menuhin, impresarios Florenz Ziegfeld and Sol Hurok, authors Theodore Dreiser, Cornell Woolrich, and Elmer Rice, athletes Jack Dempsey and Babe Ruth, among others.
The building's original, elaborate copper cornices were removed during World War II and melted down for the war effort.
Keene's Chop House, which moved to a midtown location, was on the ground floor as was the Child's Restaurant where famed bank robber Willie Sutton was arrested.
The building was declared an official city landmark in 1972.
Also in the 1970s, the building's owner, Jake Starr, the owner of Artkraft Straus, the sign maker, frustrated that he could not raise rents, threatened to demolish the building and replace it with a 40-story residential tower. The demolition was averted after considerable efforts by many of the residents.
Book a Tour or Get More Information on this Building
2,544 Buyers
are interested in buying at
2109 Broadway!
Interested in Selling?
We'll introduce you to the agents that
specialize in 2109 Broadway and are
experts in selling apartments there.

And they'll be able to contact all of the buyers interested in the building.
There's no obligation and your inquiry is confidential.
Call us at (212) 755-5544