The Dorilton at 171 West 71st Street: Review and Ratings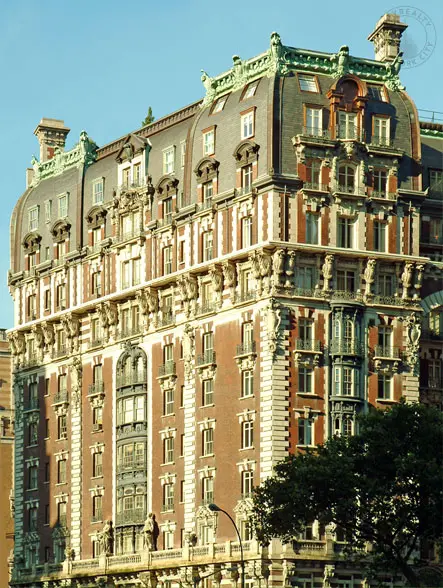 Review of 171 West 71st Street by
Carter Horsley

Carter B. Horsley, a former journalist for The New York Times, The International Herald Tribune and The New York Post. Mr. Horsley is also the editorial director of CityRealty.com.
Although the Dorilton at 171 West 71st Street on the northeast corner at Broadway has not always been one of the city's most prestigious residential addresses, it is one of the most spectacular architecturally.
The highly ornamental, 12-floor building was erected in 1902.
The building originally had 48 apartments. It was converted to a cooperative in 1984 and now has 59 apartments.
It was developed by Hamilton M. Weed, and designed by Elisha Harris Janes and Richard Leopold Leo, who also had earlier designed a similar but smaller building, the Alimar, at 925 West End Avenue.
Bottom Line
The Dorilton is one of the city's most flamboyant, exuberant and romantic apartment buildings and is located at the heart of the Upper Side very close to an express subway station at 72nd Street.
Description
Its boasts the most attractive entrance gate in the city, one that surpasses that of the Frick Collection on Fifth Avenue. Two putti gracefully surmount a very substantial entranceway flanked by very ornate cast-iron fences all joined by globe-topped columns. The sidestreet entrance is particularly impressive because it leads into a courtyard "light-well" that is bridged at the ninth story by an arch.
The building's Beaux-Arts, Parisian grandeur abounds: there are balustraded continuous balconies at the fourth and tenth floors; there are marvelous sculptures supporting other balconies; the limestone base is finely banded, the three-story, copper and slate mansard roofs, that once contained artists' studios, have chateau-style chimneys and pointed roofline accents.
The building has a one-step-up entrance and a one-step-up vestibule.
Amenities
The building has a doorman, a roof deck and basement storage, but it has neither a health club nor a garage.
Apartments
Apartment 2D is a two-bedroom unit that has a long foyer that leads to a 22-foot-long living room with a decorative fireplace and a bay window adjacent to a 18-foot-long bedroom with a corner decorative fireplace and to a 16-foot-long dining room with a corner decorative fireplace and a bay window adjacent to a 11-foot-long windowed enclosed kitchen.
Apartment 3C is a one-bedroom unit with an 11-foot-wide foyer with a bay window that leads to a 19-foot-long living room with a fireplace that leads through sliding doors to a 15-foot-long dining room with a fireplace flanked by window seats. The apartment also has a 9-foot-long windowed kitchen with sliding doors to an 8-foot-long family room.
Apartment 11C is a one-bedroom unit with a 11-foot-wide foyer withy a bay0widnow that leads to a 20-foot-long living room with a fireplace next to a 14-foot-long dining room with a fireplace, a 12-foot-llong enclosed windowed kitchen and a 10-foot-loog windowed office.
Apartment 10B is a two-bedroom unit with a 19-foot-long entry foyer that leads to a 15-foot-long hall between a 20-foot-long angled living room with a fireplace, a 12-floot-long library, and a 18-foot-wide dining room with a corner fireplace and a bay window next to a 15-foot-long enclosed kitchen and a 9-foot-long windowed maid's room.
Apartment 8B is a duplex unit with a long foyer that leads to a 24-foot-wide living room with a fireplace and a bay window next to a 9-sided, 18-foot-wide dining room and a 15-foot-long butler's pantry, an office, and two bedrooms on the upper level and a two more bedrooms on the lower level with a 18-foot-wide family room, a 15-foot-wide kitchen, a 16-foot-wide library and a maid's room.
History
In his book, "Historic Manhattan Apartment Houses," (Dover Publications, Inc., 1996), Andrew Alpern illustrates the building on his cover and remarks on its "overblown ostentation," quoting a cynical review by famed critic Montgomery Schuyler,
Alpern noted that Schuyler was upset at the "stone balls on the gate posts of the entrance, two feet in diameter, left there for titans to roll at ten pins."
Indeed, in his 1979 book, "The City Observed, New York, A Guide To The Architecture of Manhattan," (Vintage Books, a division of Random House) Paul Goldberger wrote that "Now the building seems more to be pitied than censored, a rather too eager-to-please piece of Second Empire foppery. Once, some thought that a mansard roof and a lot of sculpture and cartouches make a building French; now we know better. Still, it is sad to see this building, for all its foolishness, in the sorry state of decay it has descended to, with unsympathetic storefronts along the Broadway side and a façade that clearly has not been cared for in years."
"In its day," Christopher Gray observed in his September 30, 1990 "Streetscapes" article in The New York Times, "it was considered the architectural equivalent of a fist fight," adding that "over the years large hunks of its blowsy decoration have been removed, leaving it more curiosity than contretemps."
Mr. Gray noted that the building's "limestone lower stories are voluptuous in their deep carving," adding that "the middle section is an epidemic of quoining, ironwork, brackets, cartouches, oriels and other details." When it opened, it had "separate servant and passenger elevators, filtered water, separate tenant storerooms and a provision for charging electric automobiles," according to Mr. Gray.
"In 1902," Mr. Gray continued, "the critic Montgomery Schuyler chose the Dorilton for his Architectural Aberrations column in Architecture Record. He remarked on 'the wild yell with which the fronts exclaim, 'Look at me,' as if somebody were going to miss seeing a building of this 12-stories area.' 'The incendiary qualities of the edifice may be referred, first to violence of color, then to violence of scale, then to violence of 'thinginess,' to the multiplicity and importunity of the details.' 'Motley elements,' he said, 'set the sensitive spectator's teeth on edge.'"
Goodness gracious. Presumably the renowned Mr. Schuyler never stepped foot into a full-blown Baroque masterpiece in Europe! His sanctity might not have survived intact!
By 1974, the city's Landmarks Preservation Commission had the good graces to declare the building a landmark, noting that it was "exceptionally handsome."
About a decade later, the mansard roof was re-slated and some of the dormers were rebuilt but a 10th floor cornice could not be rebuilt, according to Mr. Gray, because of cost, and for "a lesser cornice at the 11th floor level, also missing, the bare wall was painted in trompe l'oeil to imitate the banding and shadows of the original. Designed by John Wright Stephens and Jonathan Williams it is an amusing deception."
One of the building's early residents was William Zeckendorf.
In August, 1938, the building was sold at auction under foreclosure by the Dry Dock Savings Institution.
"It was only with conversion as a cooperative in 1984 that the depredations of decades began to be turned along....and with patience, imagination and a large amount of money, the Dorilton may yet recover its lost outrageous glory," Alpern wrote.
"Particularly distinctive are the two Brobdingnagian, classically draped maidens serenely surveying the passing scene from their perch overlooking Broadway at the balustraded fourth floor. Comparably unusual, along West 71st Street, are the two pairs of near-nude muscular men supporting (with great effort) iron-railed balconies at the sixth floor," Mr. Alpern observed.
A fairer assessment of the building can be found in "New York 1900, Metropolitan Architecture and Urbanism 1890-1915," (Rizzoli International Publications, 1983). In it, authors Robert A. M. Stern, Gregory Gilmartin and John Montague Massengale wrote that "The Dorilton's bold massing dominated Sherman Square....The Dorilton was distinguished by the astonishing voluptuousness of its details....It was precisely the intricacy and the burly swagger of the Dorilton which was the source of its drama and expressed the optimism of the new century."
Over the years, the Dorilton was overshadowed by the high visibility of the nearby Ansonia, the celebrated legends of the Dakota and the skyscraping glories of the multi-towered apartment buildings of Central Park West.
Despite decades of neglect, the Dorilton has survived, thank goodness, a masterpiece of urban architecture, a lively, enriching edifice that Paris would love to have.
Book a Tour or Get More Information on this Building
483 Buyers
are interested in buying at
171 West 71st Street!
Interested in Selling?
We'll introduce you to the agents that
specialize in 171 West 71st Street and are
experts in selling apartments there.

And they'll be able to contact all of the buyers interested in the building.
There's no obligation and your inquiry is confidential.
Call us at (212) 755-5544