The Level Club at 253 West 73rd Street: Review and Ratings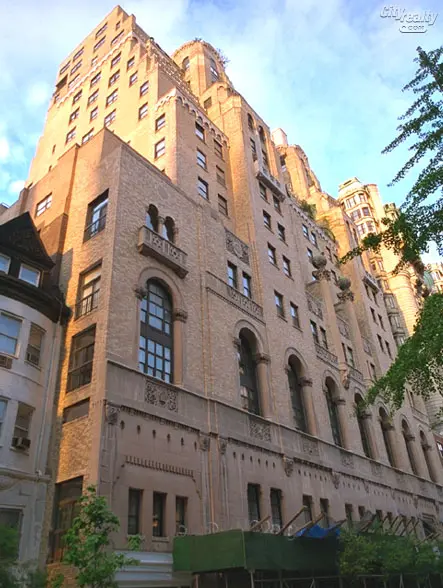 Review of 253 West 73rd Street by
Carter Horsley

Carter B. Horsley, a former journalist for The New York Times, The International Herald Tribune and The New York Post. Mr. Horsley is also the editorial director of CityRealty.com.
The Level Club at 253 West 73rd Street is one of the city's most striking buildings, a place at the end of rainbows for the city's Ozs.
The 19-story building is just to the west of the famous Ansonia that fronts on Broadway. It was built in 1927. It was originally the Level Club of the Masonic order and the club had been founded in Harlem in 1919.
The Neo-Romanesque structure was designed by Clinton & Russell with elaborate and flamboyant decoration that was typical of the Masonic "temples."
The "temple" went into bankruptcy three years after it was completed and subsequently became home to Phoenix House, a drug rehabilitation center, until it was converted to 160 residential condominiums in 1984 by Harold Thurman, Patrick Consalvas and Jacques de Roquancourt. Wechsler, Grasso & Menziuso was the architectural firm for the conversion. The building now has 144 apartments.
Bottom Line
Like the great older Ansonia building on Broadway between 73rd and 74th Streets but with the stuff and ghosts of its own legends, The Level Club is a flamboyant and romantic high-rise castle sturdy enough for a Rapunzel to unfurl her golden tresses out a window to her admirer and rescuer below. Rapunzel was featured in the 1812 Fairy Tales of the Brothers Grimm. Wikipedia notes that her story is similar to the 10th Century A.D. Persian tale of Rudaba in the epic poem Shahnameh by Ferdowsi, all of which nicely fits with the exotic Masonic symbolism.
Description
The neo-Romanesque structure was typical of the Masonic "temples" in its decoration, which included secret symbols. This building also has bronze filigreed globes atop its two very tall ornamental columns in the center of its façade and these globes are illuminated at night.
The building has a very large entrance marquee and the second floor windows are slightly angled at their tops and the larger third floor windows are arched.
The building is setback at the sides and in the center and has 2 two-window-wide piers that extend from the fourth to the 10th floors with balconies on the eighth floor and arched windows on the tenth where the piers set back. Beginning at the ninth floor, each level next to the protruding piers has setback terraces.
The side-street composition is further enhanced by the smaller piers that extend from the third to the sixth floors and are topped with the perforated bronze globes that are illuminated at night. The bases of the piers are on statues of crouching bearded men.
Decorative panels beneath the third floor windows bear the initials "L" and "C" for Level Club and they are above a denticulated stringcourse with ram's head supports over a row of small incised and curved openings.
Amenities
The building has a 24-hour doorman, a resident superintendent, a children's playroom, a central laundry and a bicycle room. Pets are welcome.
The building also has a very impressive lobby.
It is a very close to Verdi Park and the 72nd Street subway station and not far from Riverside Park and Central Park.
Apartments
Some of the apartments have working wood-burning fireplaces and others have gas fireplaces and Diane Marie Rocca, a broker who lives in the building, notes that there is a non-working fireplace in the hallway on the 6th floor.
A penthouse triplex has a 27-foot-long living room with an 11-foot-wide kitchen and a 15-foot-wide bedroom on the third level, a 13-foot-wide sitting room and a 12-foot-wide bedroom on the second level and an entry foyer and an 11-foot-square bedroom and a 33-foot-long terrace on the first level.
Penthouse C on the 17th and 18th floors has a 23-foot-wide living room adjacent to an 8-foot-wide dining area next to a pass-through kitchen and a very large terrace on the lower level and three bedrooms on the upper level.
Apartment 17H has a 9-foot-wide dining room next to a 11-foot-wide kitchen that opens onto a very large wrap-around terrace on the lower level that also has a double-height, 18-foot-long, 12-sided living room. The upper level has a 13-foot-wide sleeping area and a very large terrace.
Apartment 10AB is a two-bedroom unit with a 13-foot-wide entry foyer that leads to a 24-foot-long kitchen/dining area with an island and a 16-foot-wide living area with an 11-foot-wide terrace. The apartment also has a 12-foot-long office and an 11-foot-long gym.
Apartment 13D is a two-bedroom unit that has an entry into a 13-foot-long dining area near an open, pass-through kitchen and a 19-foot-wide living room with a large terrace.
Apartment 2D has a 15-foot-dining area across from a pass-through kitchen and is up several steps from a 27-foot-long, double-height living room and a 13-foot-long bedroom on the lower level and a large angled bedroom on the mezzanine level.
Apartment 12A has a 15-foot-long entry foyer adjacent to a 10-foot-wide home office that opens onto an 18-foot-wide living room with a pass-through kitchen and a 16-foot-wide bedroom with a 3-foot-long dogleg.
Apartment 5JK has a long entry foyer past an 11-foot-wide library to a 21-foot-wide dining area next to a 10-foot-kitchen and a 15-foot-wide home office and up four steps to a 30-foot-wide living room. Two 19-foot-long bedrooms with separate staircase access are on the upper level.
Apartment 7B has a three-step-down entry foyer that opens onto a 14-foot-wide dining area and an open, pass-through kitchen and a 14-foot-wide living room with a terrace and an angled, four-sided sleeping area.
Apartment A on the fourth floor has an angled 25-foot-wide living room with a pass-through kitchen.
History
A December 25, 1994 article by Jesse McKinley in The New York Times said that the building "is actually a kind of glorified clubhouse, one of several built in the area during the 1920s and 30s," adding that "Called the Level club, it was commissioned by a Masonic fraternal club called the Levellers, which was waging a friendly competition with the Shriners over who would built the nicer fort."
When it opened in 1927, the building had, according to the article, "an enormous banquet room, an Olympic-sized pool, a gymnasium, a 1,500-seat theater and a roof garden."
The article noted that "Masonic symbolism fills its architecture" and "Bruno Bertuccioli, author of 'The Level Club: A New York Story of the Twenties' (1991, Watermark Press), writes that the front façade was designed in the image of King Solomon's Temple, a central symbol in Masonic tradition, and that the Bronx globes (actually planets adored with water lilies) are supposed to symbolize earthly love."
The November 13, 1927 edition of The New York Times reported that "two thousand men with a dozen bands, a couple of billygoats and three elephants paraded up Fifth Avenue yesterday afternoon to mark the official opening of the Level Club's new $4,300,000 building….The parade started at the Seventy-First Regiment Armory, Park Avenue and Thirty-fourth Street, swung west to Fifth Avenue, up to Fifty-ninth Street, west to Broadway and up to Seventy-third Street."
A January 25, 2008 article in The Times observed that "filled with nooks and crannies and ancient symbols carved into the building's exterior façade and interior hallways, The Level Club…could be Manhattan's most mystical and intriguing condominium."
Book a Tour or Get More Information on this Building
343 Buyers
are interested in buying at
253 West 73rd Street!
Interested in Selling?
We'll introduce you to the agents that
specialize in 253 West 73rd Street and are
experts in selling apartments there.

And they'll be able to contact all of the buyers interested in the building.
There's no obligation and your inquiry is confidential.
Call us at (212) 755-5544