1020 Fifth Avenue: Review and Ratings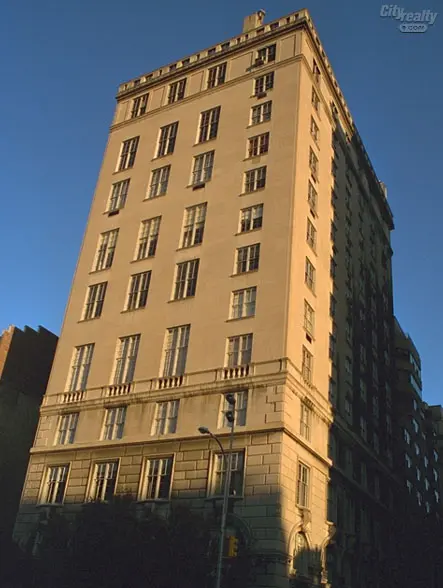 Review of 1020 Fifth Avenue by
Carter Horsley
One of the supreme residential buildings of New York, this limestone-clad apartment building at 1020 Fifth Avenue on the northeast corner at 83rd Street has an unusual fenestration pattern that hints at its unusual and dramatic apartment layouts.
Designed by Warren & Wetmore, the main architects of Grand Central Terminal who also designed the elegant apartment building at 927 Fifth Avenue, this 14-story building was completed in 1925.
It has only 13 apartments including 6 duplexes.
The building is across from the Metropolitan Museum of Art, but one block north of its main entrance. It is also one block south of the busy exit of a Central Park transverse road so that it is relatively quiet for its busy location.
Bottom Line
One of the city's grandest pre-war apartment buildings, it features very large apartments with fireplaces on a quiet street across from the Metropolitan Museum of Art.
Description
Its base is one of the finest in the city as it has four two-story arches on Fifth Avenue and six on the sidestreet, where it has its entrance.
The fifth-floor windows have balustraded decorative railings at their base and instead of a large cornice the building had a large balustraded railing around its top, which has been altered by the replacement of much of the balustraded columns with attractive iron railings.
The lower four floors of the building are faced with rusticated limestone.
The building has a very impressive maisonette apartment with its own entrance on the avenue and extensive sidewalk landscaping on the avenue.
Apartments facing the avenue between the fifth floor and the next to the top floor have extremely tall windows in their living rooms.
Amenities
The building has a doorman and a concierge, a canopied entrance and sidewalk landscaping.
It has no garage, no health club, no roof deck, no terraces and no balconies.
Apartments
Apartments are very large with high ceilings and fireplaces.
There is a duplex maisonette with an entrance on Fifth Avenue and arched windows on the second floor.
A similar duplex faces the sidestreet but without its own street entrance.
The apartments on the third and fourth floors each occupy a full floor.
The top duplex, for example, was taken by a member of the Kress family, whose incredible collection of Italian Renaissance paintings, the largest ever assembled by an American, was largely given to 21 American museums including the National Gallery of Art in Washington and whose fortune came from a discount store of the same name that competed with Woolworth's.
In 2011, it was sold for $26.5 million to Stephen Cyrus Freidheim, the senior managing partner of Cyrus Capital Partners and the son of Cyrus Foster Freidheim, the former CEO of the Sun-Times Media Group. The apartment had once been priced at $150,000 and had been listed in September 2008 for $46,500,000.
On its lower level, the apartment has a sunken 40-foot-long living room with 13-foot-high ceilings and a fireplace, a grand foyer, a dining room with a fireplace, a library with a fireplace, an enclosed kitchen, a gym, two bedrooms, a servants' hall and two maids' rooms.
At one point, a hall way was decorated with about a dozen drawings by Albrecht Durer and one of the bedrooms had flanking vertical oil paintings by Goya of young girls tossing mannequins in the air.
The serious major art was on display in the living room.
History
The site was formerly occupied by the mansion of William A. Salomon, the founder of William A. Salomon & Co., an investment banking house. The fenced mansion was large with many quoins and pediments and boasted exquisite and very lavish interiors.
Mr. Salmon worked for many years for Speyer & Co., and when he retired from it he became the chairman of the board of directors of the Baltimore & Ohio Railroad before establishing his own banking house in 1920.
His father had been a banker in Philadelphia and his mother, Rosalie Alice Levy, was a granddaughter of Captain James De Leon of Charleston, S.C., who served General Washington and she was also a great granddaughter of Hayman Levy who employed John Jacob Astor in New York.
Mr. Salomon bought the property from Richard Arnold, a founder of the Arnold & Constable dry goods store that was the country's oldest department store.
According to Tom Miller's excellent website, daytonianinmanhattan.blogspot.com, the Arnold house sat for nearly 14 years before being purchased by Mr. Salomon and "the long period of neglect since Arnold's death left resulted in a near-eyesore in the highly-exclusive neighborhood."
Two months after purchasing the house, the bought the two adjoining plots on the avenue, giving him a massive building site 102.2 by 100 feet. In 1906, after six years of construction, the Salomons moved into their new home next door to the Frederick W. Vanderbilt mansion. "The Salomon's 'bric-a-brac' included fifteen Italian old masters, antique XVI furniture and a Beauvais tapestry woven for Marie Antoinette, according to Mr. Miller, who added that "overdoors of great beauty" painted by the 18th Century Italian artist Giovanni Battista Tiepolo were installed in the new house. His website includes pictures of the extremely impressive "sweeping grand staircase under an ornate domed skylight."
Mr. Salomon died in 1923 and the contents of the house, including four Fragonard paintings, were auctioned as was the house. No one bought the house, but a year later it was sold to Michael E. Paterno for $2.5 million. Mr. Paterno announced that he and Louis Gordon Hamersley would erect a modern apartment house on the site with each floor having a 14-room apartment.
Book a Tour or Get More Information on this Building
207 Buyers
are interested in buying at
1020 Fifth Avenue!
Interested in Selling?
We'll introduce you to the agents that
specialize in 1020 Fifth Avenue and are
experts in selling apartments there.

And they'll be able to contact all of the buyers interested in the building.
There's no obligation and your inquiry is confidential.
Call us at (212) 755-5544