1025 Park Avenue in Carnegie Hill: Review and Ratings | CityRealty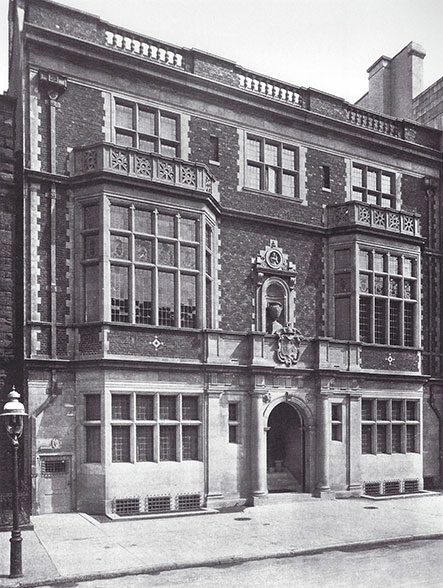 Review by
Carter Horsley

Carter B. Horsley, a former journalist for The New York Times, The International Herald Tribune and The New York Post. Mr. Horsley is also the editorial director of CityRealty.com.
There are not too many townhouses left on Park Avenue and this handsome, Jacobean-style mansion at 1025 Park Avenue between 85th and 86th Streets is one of the most impressive, although it has been subdivided, nicely, into 11 cooperative apartments.
It is also only half a block north from another attractive former mansion, the former Lewis Gouverneur Morris house designed by Ernest Flagg at 100 East 85th Street that has a short frontage on the avenue and had been used for many years as the headquarters of the New World Foundation.
While the Morris/New World building is quite eclectic and charming, this building, which was designed in 1912 by John Russell Pope, is quite formal and impressive. It was designed for Reginald DeKoven, a composer who wrote "Robin Hood," a light opera in 1890 that featured a song, "O Promise Me," that Daytonianinmanhattan.blogspot.com said "became a staple at weddings, resulting in many dampened hankies." Mr. DeKoven also helped build the Lyric Theater on West 42nd Street and his wife, Anna, was an authoress.
The building is a designated city landmark.
Bottom Line
An impressive Jacobean-style mansion converted into 11 co-operative apartments, two of which have double-height bay windows.
Description
It is notable for its great two-story-high bay windows, its wrought-iron fence and its bent drain pipes at its north and south ends.
The five-story building has a three-story-story limestone base with an arched entrance beneath an escutcheon in the center of a red-brick bandcourse above the first floor. There are six-section, double-height bay windows on the second floor on either side of a center section with two stories.
The red-brick fourth floor has two handsome angled stone balconies beneath large windows with stone surrounds.
The fifth floor is setback behind a balustraded roofline.
It has a two-step-up entrance and no garage.
According to DaytonianinManhattan.blogspot.com, "the plaster ceiling of the music room (which doubled as a ballroom) was a copy of that in Haddon hall." "Pope used the magnificent Hatfield House in Hertfordshire as inspiration for the minstrel gallery, the stone doorways and the great carved stone mantle," the website's article on the house continued, adding that George Beldock purchased the building on April 30, 1921 and "tenderly subdivided" it.
Apartments
Apartment 5BC is a four-bedroom, duplex unit that has a 24-foot-wide living room with a wet bar next to a 20-foot-wide dining room, two bedrooms and a 25-foot-long terrace on the lower level and two bedrooms and a 55-foot-long terrace on the upper level.
A duplex on the second floor has a 23-foot-long living room with a large bay window next to a kitchen on the lower level and two bedrooms on the upper level.
Apartment 4C is a one-bedroom unit that has a 24-foot-square living/dining room with a wood-burning fireplace and is next to the kitchen. The apartment also has a 10-foot-long guest room.
History
Mr. de Koven had bought its 60-foot-wide plot from Amos Pinchot who had acquired it to protect his own house at the corner at 1021 from potential commercial development.
In his excellent book, "Park Avenue, Street of Dreams," (Atheneum, 1990), James Trager provides the following account of the history of Pinchot's real estate activity at this location:
"Quite a few Park Avenue houses went up in the years before World War I. A private residence designed by Hunt & Hunt for Amos R. E. Pinchot was finished in 1910 at the northeast corner of 85th Street. Pinchot, a lawyer, was the brother of Gifford, the conservationist who superintended the 119,000 acres of forest that surrounded Biltmore House, designed by Richard Morris Hunt for William Henry Vanderbilt's youngest son, George Washington, and completed in 1896. Gifford headed the U.S. Forest Service but was fired by President Taft after joining others in charging the Secretary of the Interior, Richard A. Ballinger, with conflict of interest - a cause celebre in 1910.
The Pinchot house was later occupied under lease by Mrs. Alfred Gwynne Vanderbilt, Vincent Astor, and Joseph C. Baldwin before being purchased by Edward R. Stettinus, a J. P. Morgan partner, who occupied it until his death in the late 1920's."
Me. Trager also noted that Amos Pinchot had sold Lewis Gouverneur Morris the lot on the southeast corner at this intersection, directly across from the side-street entrance of 1021 Park Avenue (see The City Review article). Morris had the building on it razed and replaced with a building designed by Ernest Flagg that he moved into from his former residence at 77 Madison Avenue. The new, gable, dark red-brick house had hip-roofed dormer windows, a cupola over its elevator tower, and a garage in its east wing. Trager wrote that the daughters of Morris sold the townhouse in 1967 to the New World Foundation, "established in 1954 to carry out the testamentary wishes of the reaper heiress, Anita McCormick Blaine."
The building at 1021 Park Avenue, which was erected in 1929 as a cooperative and has a doorman, but no garage, adjoined the garden of Mrs. Reginald de Koven, widow of the composer, and also backed up on the garden of the Park Avenue Methodist Church on 86th Street. The 14-story building was designed by Rosario Candela and Kenneth M. Murchison and erected by John and Joseph Campagna, the son of Anthony Campagna, one of the city's most important developers of luxury residential buildings. Candela was the leading architect of luxury apartment buildings of his era.
This building is not far from to the Metropolitan Museum of Art on Fifth Avenue and there are numerous schools and religious institutions nearby. Cross-town buses run on 86th Street and an express subway station is at Lexington Avenue and 86th Street as well as major stores such as Barnes & Noble. The area also has several movie theaters.
In their excellent book, "New York 1900, Metropolitan Architecture and Urbanism, 1890-1915" (Rizzoli International Publications Inc., 1883), Robert A. M. Stern, Gregory Gilmartin and John Massengale, provide the following commentary about this building:
"John Russell Pope designed a more characteristic Elizabethan style house for Reginald DeKoven....Two large bay windows on Park Avenue marked the room de Koven called the Great Hall, which had at one end a double-storied stone mantel and a replica of a plaster ceiling from the Reindeer Inn at Banbury, England, and at the other a carved oak screen and minstrel gallery modeled on the Great Hall at Hatfield House. The stair hall was carved and painted in the manner of the staircase at Knowle Park, but some rooms came from later periods. Woodwork in the style of Sir Christopher Wren was used in the library, connected with a dining room with woodwork adapted to frame a set of French paintings owned by deKoven."
Book a Tour or Get More Information on this Building
4 Buyers
are interested in buying at
1025 Park Avenue!
Interested in Selling?
We'll introduce you to the agents that
specialize in 1025 Park Avenue and are
experts in selling apartments there.

And they'll be able to contact all of the buyers interested in the building.
There's no obligation and your inquiry is confidential.
Call us at (212) 755-5544