1105 Park Avenue: Review and Ratings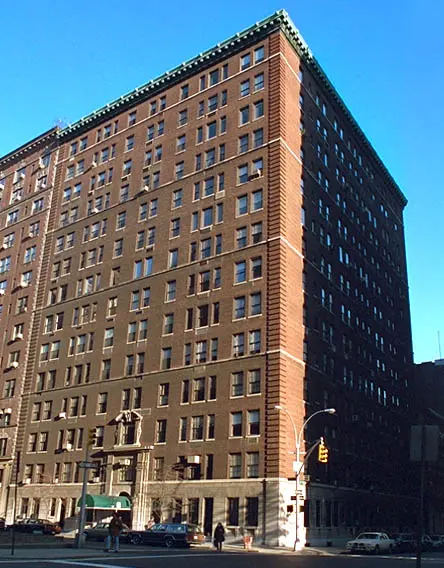 Review of 1105 Park Avenue by
Carter Horsley
Designed by Rosario Candela, this pleasant, red-brick apartment building at 1105 Park Avenue on the northeast corner at 89th Street in the heart of the desirable Carnegie Hill neighborhood was erected in 1923 and converted to a cooperative in 1951.
The 15-story edifice has 61 apartments.
Widely considered to have been the country's greatest designer of luxury apartment buildings, Candela collaborated with many of the city's most famous architectural firms.
Bottom Line
An early building by Candela, it is a pleasant pre-war with a handsome entrance surround with female figures "suggestive of expectant caryatids."
Description
The building has a one-story rusticated limestone base and a canopied entrance beneath an attractive, rusticated limestone window reveal on the second floor and a very impressive and ornate limestone window reveal on the third floor flanked by female figures that the "Carnegie Hill Architectural Guide," which was published by Carnegie Hill Neighbors, observed were "suggestive of expectant caryatids," adding that they support a broken pediment, in the center of which is a shield bearing the letter P, for Michael Paterno, the developer.
The building, which also has four stringcourses and nice masonry quoins, has inconsistent fenestration and protruding air-conditioners. It has no sidewalk landscaping.
The first floor windows sills have nice, curved limestone brackets.
In his November 5, 2006 "Streetscapes" column in The New York Times, Christopher Gray noted that "relative to Candela's later superluxury work, it [1105] was a modest achievement, with lightly variegated brick and abbreviated trim, except for the three-story carved limestone decoration around the main entrance, Paterno's "P" in the shield at the top," adding that the "window openings have a deadening regularity."
"The lobby, though, is of some note," he added, "an elegantly reserved space: polished marble and plain plaster walls, much more tasteful than average at the time."
Amenities
The building has a doorman, a gym, a bicycle room, a live-in superintendent and it permits pets.
Apartments
Apartment 9B is a three-bedroom unit that has an entry foyer that leads to a 29-foot-long gallery that opens onto a 25-foot-long living room with fireplace that opens onto an 18-foot-long dining room next to a pantry and 17-foot-long kitchen and an 11-foot-long servant's quarters.
Apartment 12D is a two-bedroom unit with a 22-foot-long entrance gallery that leads to a 22-foot-wide living room with fireplace that opens onto a windowed 19-foot-long formal dining room next to a 12-foot-long kitchen and a 13-foot-wide breakfast room.
Apartment 2A is a four-bedroom unit with an entry foyer that leads to a 24-foot-long living room with a fireplace and an 18-foot-long dining room next to a large kitchen and a maid's room.
Apartment 10C is a three-bedroom unit with a entry hall leading to a center, 13-foot-wide foyer that opens onto a 24-foot-long living room with a fireplace next to a 16-foot-long dining room next to a pantry/wet bar and a 15-foot-long kitchen and an 11-foot-wide maid's room.
History
Candela collaborated with Cross & Cross on the design of 720 Park Avenue and with Arthur Loomis Harmon on the design of 740 Park Avenue, two of the boulevard's most prestigious structures.
He also worked with Cross & Cross on the design of 1 Sutton Place South and his other Park Avenue buildings include 765, 770, 778, 1021, 1172, 1192 and 1220.
His other famous buildings include 834 and 960 Fifth Avenue and 19 East 72nd Street.
Candela's buildings, "it is said, were the grandest of the decade that was itself the greatest," wrote Elizabeth Hawes in her book, "New York, New York, How The Apartment House Transformed The Life Of The City (1869-1930)", published by Henry Holt in 1993.
"He had a respect for privacy and an eye for significant detail. He was a complete thinker. He added duplicate water connections to street mains and multiple switches for ceiling lights as well as beautifully turned staircases and separate wine cellars. More significantly, he designed buildings from the inside out. He placed windows where they received light, balanced a room, or allowed a graceful arrangement of furniture.... Candela also invested unusual energy in the entry hall. In a typical apartment, he made it a full-sized room with rich views into the interior because he thought it was important to greet a visitor with a full sense of a home.... Candela liked puzzles. During the Depression, he took up cryptography, and during World War II, he broke the Japanese code," Hawes wrote.
Born in Sicily, Candela came to the United States in 1909 and graduated from the Columbia school of architecture in 1915.
In his fine book, "The New York Apartment Houses of Rosario Candela and James Carpenter," Andrew Alpern noted that "a seven-room 'roof garden apartment' was…constructed – an early appearance of a penthouse for Park Avenue," adding that "less than a year after the building was completed, the second floor rear six-room apartment was converted to maids' rooms, probably in response to complaints of early renters of the larger apartments that the pair of maids' rooms in each unit was insufficient.
A former resident of the building was Hugh D. Auchincloss Jr., a stepbrother of the late Mrs. John F. Kennedy.
Location
There are many fine private schools in this neighborhood as well as many cultural and religious institutions. The building is not far from public transportation and excellent retail.
Book a Tour or Get More Information on this Building
Multiple Buyers
are interested in buying at
1105 Park Avenue!
Interested in Selling?
We'll introduce you to the agents that
specialize in 1105 Park Avenue and are
experts in selling apartments there.

And they'll be able to contact all of the buyers interested in the building.
There's no obligation and your inquiry is confidential.
Call us at (212) 755-5544