Park Avenue Court at 120 East 87th Street: Review and Ratings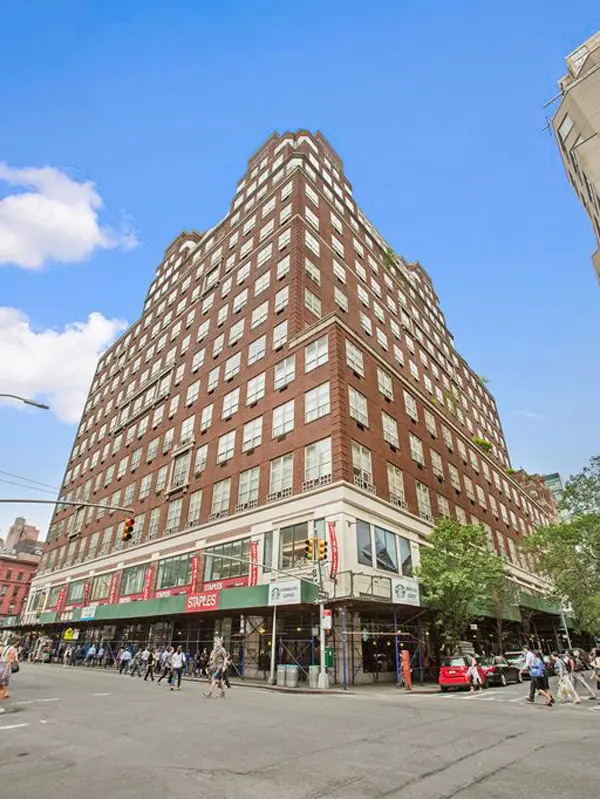 Review of 120 East 87th Street by
Carter Horsley

Carter B. Horsley, a former journalist for The New York Times, The International Herald Tribune and The New York Post. Mr. Horsley is also the editorial director of CityRealty.com.
The very large, red-brick condominium apartment building at Park Avenue Court at 120 East 87th Street occupies the Lexington Avenue frontage between 87th and 86th streets and has two subway entrances on the northwest corner at 86th Street.
It was converted by SZS Associates, a partnership of Silverstein Properties, the Zeckendorf Company and Melvin Simon Associates, in 1989 from the former Gimbel's East, a satellite store of the famous Herald Square department store that had been built in 1972.
That 12-story building had been designed by Abbott, Merkt & Co., with no windows and had been erected around some movie theaters on the site. The Gimbel's chair was dissolved in 1986.
The present, 17-story apartment building was designed by David Childs of Skidmore, Owings & Merrill. It has 223 apartments.
SZS Associates, a partnership of Silverstein Properties, the Zeckendorf Company and Melvin Simon Associates, soon commissioned Skidmore, Owings & Merrill in 1989 to convert the abandoned store into a condominium apartment building.
Bottom Line
The mid-block entrance on 87th Street is very quiet and elegant in comparison with the very heavy automobile and pedestrian traffic on Lexington Avenue at 86th Street. Carnegie Hill location means plenty of churches, schools and museums. Best Buy, Stables and Starbucks are tenants in the building and Fairway is close by as well Gristedes.
Description
The building only has 17 stories, but it is quite tall as the ceilings are very high. At the same time, other new projects in the vicinity advanced, further upgrading the immediate neighborhood.
The building has a very large and attractive entrance and lobby on the much quieter sidestreet. Its red-brick and handsomely detailed façade made it one of the more distinguished looking buildings of its period, reminiscent stylistically, but not in scale, of many 1920's buildings on nearby Park Avenue.
"One designer apartment house proved surprisingly successful at capturing what had come to be known in real estate circles as the 'prewar style," Robert A. M. Stern, David Fishman and Jacob Tilove remarked about the building in their book, "New York 2000, Architecture and Urbanism Between The Bicentennial and the Millennium" (The Monacelli Press, 2006).
"SOM's design partner David Childs headed up the design effort, which called for the demolition of the top floor of the Gimbel's building, the removal of a portion of the building to provide a courtyard, and the addition of six new set-back stories that split into two towers rising to 291 feet. Because of the sixteen-foot floor-to-floor heights of the original department store and the provision of fourteen-foot floor-to-floor heights in the new construction, 200 apartments on seventeen floors eschewed a loft-like aesthetic in favor of one rooted in the traditional Park Avenue apartments of the 1920s and 1930s: an entire new Georgianesque red brick, limestone-trimmed skin was set atop a limestone and glass-clad two-story base housing 75,000 square feet of retail space. Large-paned mullioned windows for the apartments were appropriately scaled to the interior room heights, helping to break down the sense of the building's mass, while a twenty-eight-foot-high, two-story rotunda lobby with mahogany walls and marble floors conveyed a sense of hotel-like grand luxury to residents and their guests," the authors continued.
While the masonry and fenestration are very nice, there is no disguising the huge mass of the building.
Amenities
The building has a doorman, a gym with a swimming pool, a bicycle room, a children's playroom, and a garage. It is pet friendly.
Apartments
Apartment R10J has a 7-foot-long foyer that leads into a 15-foot-long living room with an 8-foot-long alcove, both with ceilings of more than 13 feet.
Apartment R14A is a two-bedroom, duplex unit with a 9-foot-wide entry foyer that leads to a 14-foot-long gallery that opens into a 33-foot-long living room with dining banquettes next to an enclosed kitchen. The master bedroom has an small office and the second bedroom has very high ceilings and the upper level as a 15-foot-long sleep loft and a 9-foot-long storage room.
Apartment R16A is a two-bedroom unit with a 15-foot-square entry foyer that opens onto an 8-foot-long home office, and enclosed kitchen and a 24-foot-long living room that opens onto a 15-foot-long media room.
Apartment R12C is a one-bedroom duplex with a 22-foot-long, double-height living room, an enclosed kitchen, a 12-foot-long guest/dining room, and, one the upper level a 10-foot-long den/media room with a 10-foot-long home office.
Apartment R8AB is a three-bedroom unit that has a foyer that leads to an angled, open kitchen that opens into a 16-foot-long dining room with a curved wall that opens onto a 22-foot-long living room.
Apartment R28D is a three-bedroom unit with an entry into a 27-foot-long living/dining room adjacent to an 11-foot-long, open kitchen. The duplex unit also has a 40-foot-long loft on a separate level.
Apartment R18C is a three-bedroom duplex unit with a foyer that opens onto a 22-foot-long living room and a 12-foot-long dining room past an enclosed kitchen. The upper level has two mezzanines and a 13-foot-long study.
Apartment R12E is a three-bedroom unit with a 28-foot-long living/dining room with a 10-foot-long kitchen. The unit also has an upper level with an 11-foot-long "super teen" lounge and a 14-foot-long sleeping area, and a a 14-foot-long family room.
Apartment RPH2B is a five-bedroom unit with an entry foyer that opens into a 23-foot-long corner living room that opens onto a 15-foot-long dining room next to an enclosed 11-foot-long kitchen. The apartment also has a 12-foot-long laundry room and a 10-foot-long terrace off a 23-foot-long bedroom.
Apartment R6AK is a four-bedroom unit with a 40-foot-long living room with a dining area across from an enclosed 11-foot-wide kitchen. The unit also has a 11-foot-long study next to the master bedroom.
History
In the fifth edition of "The A. I. A. Guide to New York City," authors Norval White, Elliott Willensky and Fran Leadon noted that Skidmore, Owings & Merrill "tailored a neo-1920's apartment to the existing steel frame, crowning it with twinned wannabe towers that say 'wish we were on Central Park West.'"
The "Carnegie Hill Architecture Guide" observed that the "blasting needed for the taller building's foundations was strong enough to cause the collapse of many stained-glass windows in the Immanuel Lutheran Church one block north."
"Its high ceilings, detailed façade in a restrained Modern idiom, unusual six-pane windows, and quiet 87th Street entrance have assured its continuing popularity as a residence," it added.
Book a Tour or Get More Information on this Building
205 Buyers
are interested in buying at
120 East 87th Street!
Interested in Selling?
We'll introduce you to the agents that
specialize in 120 East 87th Street and are
experts in selling apartments there.

And they'll be able to contact all of the buyers interested in the building.
There's no obligation and your inquiry is confidential.
Call us at (212) 755-5544