44 West 77th Street: Review and Ratings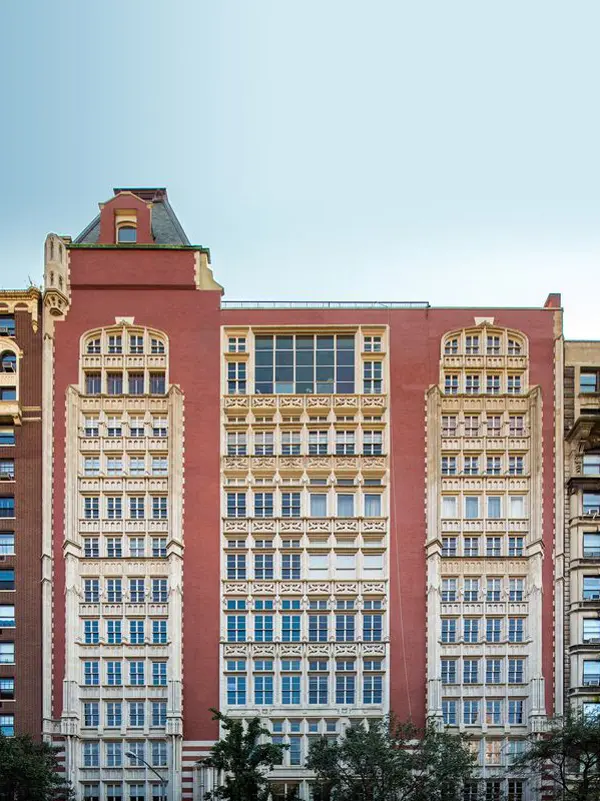 Review of 44 West 77th Street by
Carter Horsley

Carter B. Horsley, a former journalist for The New York Times, The International Herald Tribune and The New York Post. Mr. Horsley is also the editorial director of CityRealty.com.
The design of Manhattan apartment buildings has been dominated by relatively few architects.
Schwartz & Gross were known for many Riverside Drive buildings; George Blum for many West End Avenue Buildings; Emery Roth & Sons for many Central Park West buildings, J. E. R. Carpenter and Rosario Candela were noted for their Italian-Renaissance-palazzo-style buildings of the 1920's and 1930's on Fifth and Park Avenues; Philip Birnbaum for many of the city's "white-brick" buildings; Costas Kondylis for many glitzy "modern" towers; Davis Brody for their many interesting large chamfered towers; and Harde & Short for a few masterpieces such as the highly decorative Alwyn Court on West 58th Street and this building.
Herbert Spencer Harde and R. Thomas Short first came to fame for The Red House at 350 West 85th Street, a lovely, low-rise Elizabethan-style apartment building that was completed in 1903 and was followed three years later from the much larger building at 45 East 66th Street in a related style.
They designed this once magnificent building in a Gothic-style in 1909 the year after they did the Alwyn Court in a profusion of Fran¿¿ois I-style ornamentation the following year.
This building was developed by Walter Russell who had been erected apartment buildings with large studio units on West 67th Street. The design here calls for a mix of traditional and "studio" (the very high-ceiling kind for artists) apartments, including one double-height unit 44 feet long on the 13th floor that was created for Karl Bitter, the sculptor.
In his fine book, "Luxury Apartment Houses of Manhattan, An Illustrated History," (Dover Publications, Inc., 1992), Andrew Alpern devotes a chapter, entitled "Gotham Gothic," to this building and observes that "the more visible aspect of the building's design, however, was the astounding façade." "Drawing freely from fifteenth Century Belgian civic architecture and from French church precedents, Harde & Short's building elevation was likened by one contemporary critic to a Gothic window in a Brobdingnagian cathedral. Encrusted with ornament that appeared to have been squeezed out of a pastry tube, there were Gothic and Tudor arches. There wee crockets, finials, trefoils, quatrefoils and pinnacles. And there was enough tracery to satisfy even the Gothic historian-architect Viollet-le-Duc."
The building is clad mostly in terracotta and Alpern noted that the original façade needed major restoration within a couple of years. Sadly, very sadly, much of the façade's great ornamental was removed in the 1940s, especially several major elements of its once spectacular roofline.
All apartments had four bedrooms, a library and three baths and many had wood paneling, Venetian-style lanterns, bronze-framed and leaded-glass doors and Caen stone fireplace mantels.
The building originally had a restaurant that was serviced by an adjoining hotel but the dining room was subsequently converted to professional offices on the first floor. The building originally opened as a cooperative in which about half the units were rentals, but after the building's mortgaged was foreclosed during the Depression all the units became rental until it was converted to a cooperative in 1965. It has 32 apartments.
The building's façade is symmetrical except for its roofline, which was a bold amalgam of different styles and treatments. The eastern part remains but a minaret and a very large triangular Gothic screen have been removed as has much of the façade's tracery.
The façade was brilliant. Despite a very high fenestration ratio, the building conveyed a monumental sense of solidity because of all the decoration and the fact that the windows are multipaned and inset behind very strong ornamental tracery and balconies and arches and piers.
The building still retains its impressive groin-vaulted lobby and its largely stripped façade is a grim reminder that New York City can never boast too loudly about historic preservation.
It also retains, of course, its considerable "light and air" as it faces Manhattan Square, the park that is the site of the American Museum of Natural History whose south façade, directly across from this building, is its best.
There are many restaurants and boutiques nearby along Columbus Avenue and there is cross-town bus service at 81st Street where there is also a subway station at Central Park West. Central Park, of course, is half a block away. The building has a doorman, but no garage, no health club and no sidewalk landscaping.
Carter B. Horsley
Book a Tour or Get More Information on this Building
Multiple Buyers
are interested in buying at
44 West 77th Street!
Interested in Selling?
We'll introduce you to the agents that
specialize in 44 West 77th Street and are
experts in selling apartments there.

And they'll be able to contact all of the buyers interested in the building.
There's no obligation and your inquiry is confidential.
Call us at (212) 755-5544