Harperley Hall at 41 Central Park West: Review and Ratings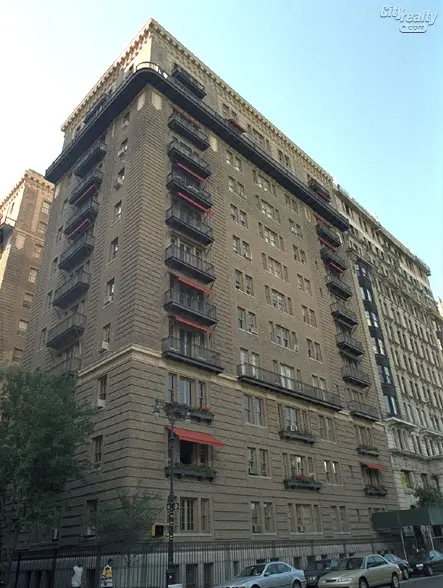 Review of 41 Central Park West by
Carter Horsley

Carter B. Horsley, a former journalist for The New York Times, The International Herald Tribune and The New York Post. Mr. Horsley is also the editorial director of CityRealty.com.
This handsome, pre-war, 12-story apartment building at 41 Central Park West on the northwest corner at 64th Street is a cooperative and has 85 apartments.
The building was completed in 1911 and was designed in Arts and Crafts style by Henry W. Wilkinson and named Harperley Hall after a manor house in Northumberland, England that was reportedly his ancestral home.
The building is also known as 1 West 64th Street and its side-street entrance has a guardhouse.
Bottom Line
For several years, this impressive pre-war apartment building which is a surrounded by a fence and has a guardhouse and has wood-burning fireplaces, was home to Madonna, the singer.
Description
Like the Dakota, its famous neighbor eight blocks to the north on Central Park West, this building has its entrance on the sidestreet with a manned gatehouse. The Dakota has an arched entrance that leads to a large courtyard with entrances at each of its four corners. Harperley Hall has an open court in the shape of a "T" with three entrances along the top of the "T." While many buildings have deep "light courts" such as this, most are not as "finished" as the façades here facing the court.
The brown-brick building is surrounded by an attractive and tall wrought-iron fence in front of a "moat." There are four light stanchions and a broad bandcourse above the third floor.
The building, which has sidewalk landscaping, has many wrought-iron balconies and one continuous balcony that curves round the building's Central Park West corner two floors down from its cornice. There are also numerous window surrounds with pilasters.
Amenities
The building has a doorman, a garage for 11 cars and two lushly landscaped roof decks, one for each wing.
It has no health club.
Apartments
The apartments have high ceilings and large windows.
Apartment 3A is a three bedroom unit that has a 8-foot-wide entrance foyer that leads to a 20-foot-long gallery that opens onto a 17-foot-long library and a 24-foot-long living room with a wood-burning fireplace next to a 19-foot-long dining room across from a 17-foor-long angled, eat-in kitchen.
Apartment 11C is a three-bedroom unit with a 14-foot-long entrance foyer that leads to a 20-foot-wide drawing room adjacent to a 20-foot-long dining room near a 13-foot-long kitchen and a 12-foot-long maid's room.
Apartment 11AFG has a 19-foot-long entrance gallery that leads past a 14-foot-wide dining room next to a large, open angled kitchen to a 24-foot-square living room with a wood-burning fireplace. The apartment has 5 bedrooms, two of which also have wood-burning fireplaces.
History
According to a November 13, 1994 "Streetscapes" column by Christopher Gray in The New York Times that architect bought the property with a group of investors that included the excellent Tonalist painter Dwight Tryon to erect a coop "suitable for artists' studios."
The building opened with 76 apartments and was, according to Mr. Gray "in every way distinct from the usual cookie-cutter design."
"The rough, mottled bricks are laid in undulating lozenges up the façade, forming a carpet-like texture with a handmade character. At various points, glazed times burst out in gold, turquoise and green, probably the work of the ceramicist Henry Mercer. Instead of the usual showy lobby, Wilkinson organized the apartments in a U shape with wide central courtyard. This space is much broader than building laws required, and fences along the sidewalk and fountains at the rear successfully make a protected space out of what is in lesser buildings often just a barren walkway." Mr. Gray wrote.
His article noted that the building co-op failed in 1941 and it was converted to a rental only to be reconverted in 1983.
One of its residents for several years is Madonna, the rock diva.
A September 7, 2011 article by Andrew Keshner in The New York Law Journal said that New York State Supreme Court Justice Louis York ruled that Madonna's upstairs neighbor at her Central Park West building who complained about blaring music that shook her walls and floor can proceed with claims against the pop icon and against the cooperative building's board and manager.
"One of the most basic functions of a residence is to provide shelter from the outside world for its occupants to think, interact and relax in peace," the judge maintained, adding that "if the noise caused by Madonna's activities prevented Plaintiff from being able to use her apartment for these purposes, then the warranty of habitability has been breached," the article said.
Karen George had alleged that music coming from Madonna's apartment, which was used for dance training and exercise routines, was loud enough to force her to leave several times and greatly hampered her own entertaining, the article said, adding that "she claims that in June 2008 she alerted the board and management of 1 W. 64th St. in addition to Madonna's representatives, but no one took sufficient steps to fix the problem."
The article said that "Ms. George sued the board and Midboro Management for breach of the warranty of habitability, private nuisance, attorney's fees and injunctive relief that would have forced Madonna to comply with building rules preventing unreasonable noise. She also sued Madonna for nuisance and injunctive relief."
The defendants responded that the music was only played during the day, never longer than three hours and never at volumes prohibited by the city noise code, the article said, adding that "they argued Ms. George denied access to her apartment in September 2009 and other times, which made sound assessment impossible." "Ms. George said she did allow access, and any denials were made for good reason," the article said.
"Madonna submitted an affidavit this past March saying she no longer used the apartment to exercise or dance but constructed a studio in one of her other New York City properties. In June 2011, the parties stipulated that Ms. George would drop her injunctive relief claims. Justice York narrowed the claims in an Aug. 19 decision, but - noting a dispute about the music's volume - let Ms. George proceed with her nuisance allegation against Madonna and the breach of warranty allegation against the building defendants," the article said.
Madonna subsequently purchased a two-garage townhouse on the Upper East Side.
Location
The very handsome building is across 64th Street from the distinguished, low-rise building of the New York Society for Ethical Culture, which affords many of its apartments better views and more "light and air."
It is very close to the Lincoln Center for the Performing Arts, and many restaurants and stores.
It is also very convenient to excellent bus service and subway stations are a few blocks away.
Book a Tour or Get More Information on this Building
437 Buyers
are interested in buying at
41 Central Park West!
Interested in Selling?
We'll introduce you to the agents that
specialize in 41 Central Park West and are
experts in selling apartments there.

And they'll be able to contact all of the buyers interested in the building.
There's no obligation and your inquiry is confidential.
Call us at (212) 755-5544