La Rochele, 57 West 75th Street: Review and Ratings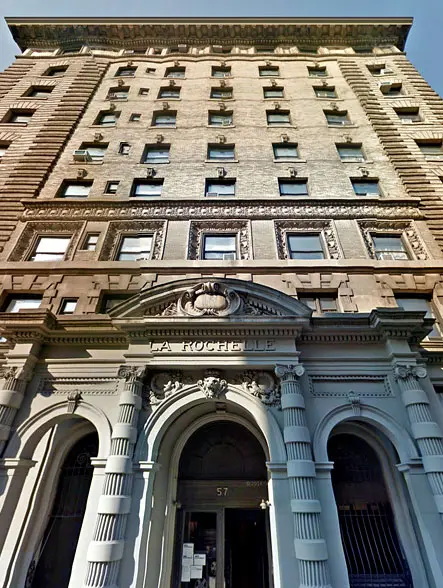 Review of 57 West 75th Street by
Carter Horsley
One of the most attractive late 19th Century apartment buildings on the Upper West Side, the 11-story building at 57 West 75th Street on the northeast corner at Columbus Avenue.
It has 91 rental apartments.
It was designed by Lamb & Rich and erected in 1896 by Christopher R. Robert who occupied an apartment on the second floor where he shot himself two years later. The architects were best known for their picturesque houses on Henderson Place on East 86th Street.
In his December 3, 2006 "Streetscapes" column in The New York Times Christopher Gray noted that "La Rochelle is a grander, more cosmopolitan design, its expansive Renaissance façade in cream and buff brick and limestone."
Costas Kondylis recently design some interiors.
Bottom Line
An extremely handsome, late 19th Century apartment building near Manhattan Square and the American Museum of Natural History and Central Park.
Description
The building is notable for its robust and very elegant design that includes a triple-arched entrance with four banded and fluted entrance columns beneath a dentilled bandcourse and a curved pediment with center escutcheon.
The second floor windows have banded window surrounds beneath a narrow bandcourse.
The corners of the building above the second floor are rusticated and the end bays are flanked by quoins. The center of the third floor façade above the side-street entrance have broad window surrounds beneath a very broad and attractive center bandcourse.
The tenth floor has large decorative panels between the windows that are beneath a large and handsome cornice.
The building has a two-step-up entrance that leads to a double-height lobby with a large fireplace and a very handsome marble staircase. The lobby once was domed.
The avenue frontage has four-double-height banded columns and is very similar to the side-street elevation.
The building permits window air-conditioners.
Amenities
The building has a 24-hour doorman, a live-in superintendent, a roof deck, a fitness center and a bicycle room. It permits pets.
Apartments
Apartments have 11-foot-high ceilings.
Apartment 10P is a four-bedroom unit with a 10-foot-wide entry foyer that leads past an enclosed kitchen to the corner living room with fireplace next to the enclosed dining room. The unit also has a study with its own bathroom.
Apartment 11B is a two-bedroom unit with a 17-foot-long living room with an open kitchen with an island and a large roof terrace off the master bedroom.
Apartment 9K is a four-bedroom unit with a large entry foyer next to an enclosed kitchen and the corner living room with a fireplace.
Apartment 10B is a one-bedroom unit with a 20-foot-long living room with a fireplace and a 19-foot-long bedroom.
Apartment 10E is a one-bedroom unit with a large entrance hall that leads to an open kitchen and an 18-foot-long living room.
Apartment 10D is a studio unit with a long entry foyer that leads to an 18-foot-long living room and an enclosed, windowed kitchen.