1 Central Park West: Review and Ratings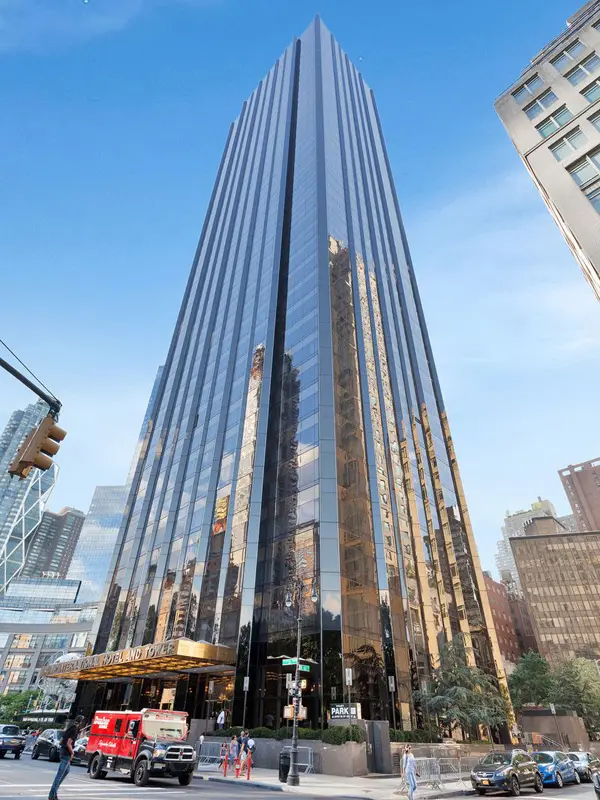 Review of 1 Central Park West by
Carter Horsley
Located at one of the city's premier gateway sites at the southwestern corner of Central Park, Trump International Hotel and Tower is a sparkling and impressive 44-story mixed-use tower that, in 1997, was converted from a rather drab office building.
Donald J. Trump and his partners, Daniel M. Galbreath and the G. E. Pension Trust, oversaw the conversion.
Located at 1 Central Park West on the north side of Columbus Circle, the building has 168 hotel units on the lower 17 floors and 156 condominium apartments from floors 18 to 44.
Bottom Line
Donald Trump took justifiable pride in putting a large sign on the "back" of the sparkling Trump International Hotel & Tower sticking it to the mid-level residents of the Time Warner Center on Columbus Circle that his building had better and unobstructed vistas of Central Park. Time Warner Center is, of course, considerably higher than this tower, and Mr. Trump eventually stopped laughing so hard about his better views, especially when the city finally got around to "beautifying" Columbus Circle.
It is the sleekest building on the park and it has unobstructed park views!
Description
The new building was designed by Costas Kondylis with Philip Johnson Ritchie & Fiore as the design architect. Johnson's new and very sleek glass curtain wall is magnificent and ranks with the sloping façade at 9 West 57th Street designed by Gordon Bunshaft of Skidmore, Owings & Merrill, and the curved reflective glass façade at 17 State Street designed by Emery Roth & Sons, as the best in the city.
The Trump building's massing was altered slightly by projecting angled piers that gleam in the light and add considerable visual interest to the slab tower.
A huge stainless steel, skeletal globe of the world was placed at the prow of the site, fronting Columbus Circle. It glistens appropriately, but the hammered metal of the continents diminishes the flare somewhat, and it is not as effective as a smoothly polished surface might have been. Furthermore, one expects the globe to rotate on its axis, which it does not and the view, therefore, from the south side of Columbus Circle, is always of Africa tilted upwards. At first glance, one thinks the globe was taken from the site of the 1964 World's Fair in Flushing Meadows Park, but that very similar but larger and better one was not moved here.
The globe, of course, is a symbol of internationality, and Trump has always recognized that his typical "luxury" project is well marketed internationally. (Some of the apartments have bidets, for example.)
This building is not as interesting as Trump Tower on the northeast corner of 56th Street and Fifth Avenue because of its simpler form and its lack of spectacular interior public spaces.
Nevertheless, Trump and his designers managed to achieve a very substantial upgrading of this long forlorn gateway to the Upper West Side and one of the two major southern entrances to Central Park.
Trump has enlivened the streetscape by devoting a very visible and large, double-height section of the building's first floor facing Columbus Circle to a highly-rated restaurant. Furthermore, the separate entrances to the hotel and the apartments are brightly lit, spacious and visible, even though they are a few steps up from the sidewalk. With its golden sheen and the busy intersection, the building radiates activity and the sense of money.
Amenities
The building has doormen and concierges, of course, as well as room service, a garage with valet parking, maid service, a health club, a full-service spa, a pool, a sundeck and a major restaurant.
Apartments
All the residences feature floor-to-ceiling windows and top-of-the-line appliances throughout.
Apartments range widely in sizes and layouts from #304, a studio with an open kitchen and an 18-foot-long guest room, to Penthouse 52A, which has a 50-foot-wide living/dining room overlooking Columbus Circle and five bedrooms, three of which overlook Central Park.
The 512 studio unit has a very long gallery, two walk-in closets and an open kitchen.
A small one-bedroom, #1218, has an enclosed kitchen.
Apartment 28G has a 32-foot-long living/dining room with a large kitchen, a long gallery and two bedrooms.
Apartment 26D has an entrance foyer that leads to a 40-foot-long living/library space with an alcove dining room and an enclosed kitchen. The apartment has two bedrooms.
Apartment 33D has an entrance foyer that leads to a 32-foot-long living room with a dining alcove and three bedrooms and a very large enclosed kitchen.
Apartment 41G is a three-bedroom unit with a 19-foot-long gallery that leads to a 44-foot-long living/dining room.
Apartment A on the 48th floor has four bedrooms, a large foyer, a 29-foot living room, a 20-foot-long library and a 22-foot-long dining room adjacent to an eat-in kitchen. The master bedroom is 28 feet long.
History
The office building that had been on the site was the Gulf & Western Building, which was designed by Thomas E. Stanley and erected in 1969 in a style that could best be described as a bargain basement General Motors Building. The only real similarity between the two towers that straddle Central Park South is that they were mostly white and had unusual plazas. While the General Motors Building, which replaced the elegant and glorious Savoy Plaza Hotel, had a sunken plaza, the Gulf & Western Building had a triangular plaza facing Columbus Circle, with an open subway entrance, as well as a circular sunken plaza entrance to a Paramount movie theater, on its Broadway frontage.
The Gulf & Western Building, for several years, had a restaurant at its top that offered great vistas of Central Park and Central Park South, but it never really became successful.
The building was best known for structural problems that kept its base in scaffolding for years on end. To its credit, Gulf & Western bought the former Gallery of Modern Art building, which housed Huntington Hartford's art collection before it became the New York Cultural Center. Gulf & Western then gave it to the city as headquarters for its department of cultural affairs. That building was subsequently reclad by the Museum of Arts and Design over the protests of many preservationists.
By general consensus, the Gulf & Western Building ranked not far behind the General Motors Building in public contempt for its uninspired and non-contextual design. Perhaps because of that perception, and also because of the intense controversy over the proposed redevelopment of the New York Coliseum at Columbus Circle, there was somewhat less than the normal fanfare that accompanies a Donald Trump project.
Trump's timing here, however, was on target as the reclad Gulf & Western building opened in late 1997 to a bustling city economy and a heated residential and hotel real estate market.
Trump, needless to say, sought to become the developer of the New York Coliseum site. That site eventually was developed into the twin-towered, mixed-use Time Warner Center.
Given the existing structure they had to work with, the developers and designers at Trump International squeezed in a few more floors than the office tower had, which is normal since hotels and apartments generally have lower ceilings than offices. They also did quite an admirable job in turning an eyesore into a pretty dazzling monument.
Perhaps they should have carved the roof up a bit and added some beacons to pay homage to the great architectural heritage of the famous towers of Central Park West. Such a scheme might sound nice in principle, but is not a guaranteed success in its execution. It might also have cost more, and this was not an inexpensive project.
Up close, the tower is very dazzling. From a distance, however, its luster gets lost and it still reads as a large slab under most conditions. This is not the Sherry Netherland Hotel by a long shot. Still, it set a new post-war standard for the Upper West Side until the Zeckendorfs erected their luxury two-building apartment complex at 15 Central Park West on the full block directly north of Trump's tower. The Zeckendorf project was designed by Robert A. M. Stern and is a Post-Modern fusion of pre-war, limestone-clad apartment buildings, but on a large and tall scale. It is a few feet shorter than the Trump building.
The Zeckendorf project sold out quickly at extremely high prices, which, of course, didn't hurt the Trump International's values.
In March of 2010 the hotel went through a total renovation, updating the overall style and bringing the technology found in the rooms up-to-date with the modern traveler.
Book a Tour or Get More Information on this Building
3,907 Buyers
are interested in buying at
1 Central Park West!
Interested in Selling?
We'll introduce you to the agents that
specialize in 1 Central Park West and are
experts in selling apartments there.

And they'll be able to contact all of the buyers interested in the building.
There's no obligation and your inquiry is confidential.
Call us at (212) 755-5544