The Braender at 418 Central Park West: Review and Ratings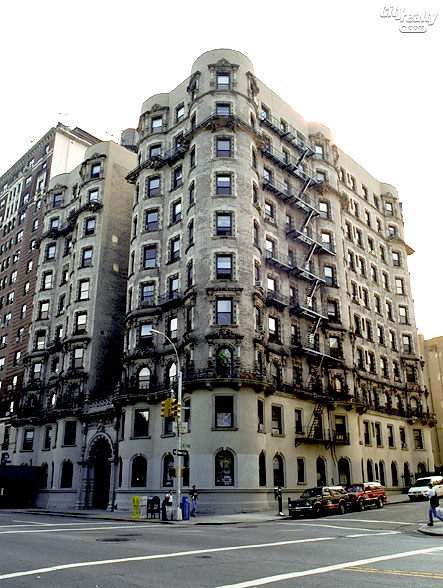 Review of 418 Central Park West by
Carter Horsley

Carter B. Horsley, a former journalist for The New York Times, The International Herald Tribune and The New York Post. Mr. Horsley is also the editorial director of CityRealty.com.
This curvaceous, pre-war apartment building at 418 Central Park West, on the southwest corner of 102nd Street, was erected in 1902 by Philip Braender, a builder who also had a tire company. The 10-story building has 88 apartments and was converted to a condominium in the 1980s, when many of its apartments were subdivided. It was designed by Frederick C. Browne.
Bottom Line
An eclectic mid-rise, pre-war building that is missing its elaborate cornice but retains its interesting entrance court and grand lobby and views of Central Park.
Description
It was erected by Philip Braender in 1902 and was the subject of a fine "Streetscapes" column by Christopher Gray in The New York Times on September 3, 2006 that was called "The Ungainly Duckling That Alighted Along the Park." The article noted that the building's architect, Frederick C. Browne, 'was still working in the 'long hall' period of apartment design', adding that one apartment had 'a corridor 60 feet long and 4 feet wide'. Gray also wrote: "The exterior of the Braender - residents pronounce the name to rhyme with gander - is a complicated, even chaotic mix of French Renaissance, Spanish and Baroque styles, all in light-colored stone, brick and terra cotta. A peculiar set of tile-roofed balconies at the ninth-floor level were long ago stripped of their red tiles and columns… The lobby was sumptuous, or at least showy. The 17-foot-wide courtyard off Central Park was ringed with box hedges and gravel paths, with a fountain set between stone benches. An iron and glass marquee - this was before the canvas canopy - sheltered the main entrance." This building has a Moorish-style entrance court, with an 11-scalloped arch and double columns; a tempietto at the rear of the light court; and a three-step-up entrance on the north side. The building has four large curved bays on Central Park West, but its elaborate, dentilated cornice has been removed. There is now a fire-escape on its side-street façade. There are arched windows on the first and third floors. There are balconies, without curves, on its rounded bays on the ninth floor. The large, elegant lobby is paneled white marble with gray-blue veining and set off by marble with swirls of gray and brown. As Gray noted, the room also has 'a coffered ceiling, but in patterns of six-pointed stars'. Mr. Gray pointed out that Montgomery Schuyler, a critic, observed in 1902 that the building's narrow light court plan was quite popular at the time but described it as hopelessly awkward because its walls were plain brick creating 'a very grim and gloomy slot', and that the building had many masonry problems and required graffiti and paint to be sloughed off its exterior: "In the mid-1900s most of the large apartments in the Braender were cut up into smaller ones, and by the 1980s, when it was converted to condominiums, the building was in poor shape: its stone was battered and defaced, and the cornice and much of its ornament had been removed. The vestibule had been stripped, the striking ceiling in the reception hall covered or removed." Six-foot-wide terra-cotta griffins supporting the balconies were removed for safety reasons and subsequently were recreated for the entrance court. In an earlier column, Mr. Gray noted that "at the time the Braender was completed, there were perhaps a dozen very similar buildings on Central Park West, and in January 1902 the critic Mongtomery Schuyler wrote in The Architectural Record: 'One of these things makes you yawn. A mile of them gets on your nerves.'" Obviously Mr. Schuyler did not live long enough to watch the television show, Monsters, and did not realize that great cities need creepy, if not creaking, structures and that idiosyncrasy and arbitrary dreams are the stuff of which architectural dreams are made of.
Amenities
The building has a bicycle, storage and a laundry room.
Apartments
Apartments have 10-foot ceilings.
Apartment 2 is a two-bedroom unit with a 12-foot-long entry foyer that leads to a 16-foot-wide, curved living room with an 11-foot-wide open, windowed, pass-through kitchen. One of the bedrooms has a large bay window.
Apartment 32 is a two-bedroom unit with a 15-foot-long entry foyer that leads past an open kitchen to a 22-foot-wide curved living room. A one-bedroom unit has a 9-foot-wide entry foyer that leads past an enclosed and windowed 10-foot-long kitchen to a 21-foot-long living/dining area with a bay window.
Apartment 1A is a one-bedroom unit with a 22-foot-long entry foyer that leads to a 16-foot-long curved living room with a 13-foot-wide, open and windowed kitchen with an island.
Apartment 8D is a one-bedroom apartment with a 13-foot-wide living room.
Book a Tour or Get More Information on this Building
251 Buyers
are interested in buying at
418 Central Park West!
Interested in Selling?
We'll introduce you to the agents that
specialize in 418 Central Park West and are
experts in selling apartments there.

And they'll be able to contact all of the buyers interested in the building.
There's no obligation and your inquiry is confidential.
Call us at (212) 755-5544