The Dakota at 1 West 72nd Street: Review and Ratings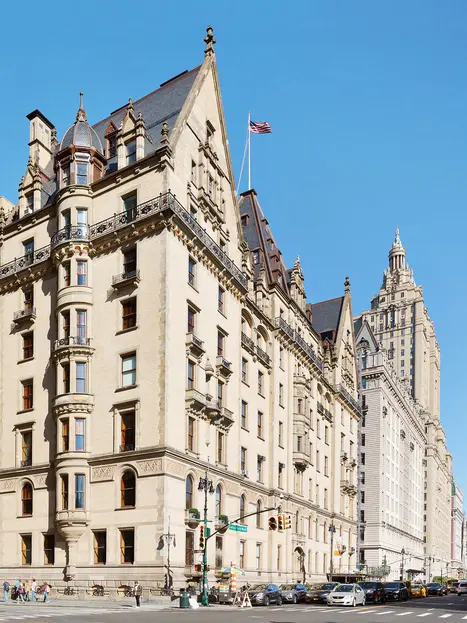 Review of 1 West 72nd Street by
Carter Horsley

Carter B. Horsley, a former journalist for The New York Times, The International Herald Tribune and The New York Post. Mr. Horsley is also the editorial director of CityRealty.com.
The Dakota at 1 West 72nd Street at Central Park West is the city's most legendary apartment building, a massive, fortress-like building with a large center courtyard, very large apartments with very high ceilings and very high profile residents.
When it was built in 1884, it towered over the Upper West Side and was an immediate success with all its apartments rented on opening day.
Its developer, Edward Cabot Clark, an heir to a sewing machine fortune, died two years before it opened.
The building's name allegedly reflected the fact that the building was so far removed from the city's established luxury residential areas that it might as well be in the Dakota territory. Its 72nd Street façade, indeed, has an image of a Native American carved on its façade.
Designed by Henry J. Hardenbergh, who would later design the Plaza Hotel, the building had tennis courts and a croquet field on the adjoining 175-foot-long lot on West 72nd Street that was later developed after World War II as a separate apartment building.
The Dakota now has 93 cooperative apartments.
Bottom Line
A forbidding haunt, the Dakota is perhaps the most impressive residential building in the city because of its intriguing history and alluring presence that sparks anyone's imagination. Intruders are warded off by the very fine dragon fence around its moat and its prominent sentry box on the side-street. Inside, the city's princes and princesses do romp.
Description
The building exudes solidity as well it should since its bottom walls are 28 inches thick, but its profusion of architectural elements and pale yellow brickwork that contrasts with dark brown masonry at the corners produce a lively and graceful appearance of considerable visual interest because of the mix of gables, arches, balconies, oriel windows, dormers, finials and other ornamentation including a flagpole at the top of its park façade.
The four corners of the courtyard, which has a fountain, lead to separate lobbies and passenger elevators. (Service elevators run up the middle of each side of the building.)
Apartments
All apartments have wood-burning fireplaces and tall ceilings.
Apartment 35 has a 15-foot-wide "ante-room" that leads into a 19-foot-long "parlor" with a fireplace that is connected to a 18-foot-long library with a fireplace. The two-bedroom unit has a 24-foot-long dining room next to an enclosed larger eat-in kitchen.
Apartment 37 has a 22-foot-long entry foyer that leads to a 23-foot-long living room with a bay window and also opens onto a 22-foot-long library. The four-bedroom apartment has a 24-foot-long dining room next to an enclosed 23-foot-long kitchen that also leads to an 18-foot-long family room.
Apartment 66 has four bedrooms and a small vestibule leading to a 16-foot-wide gallery that opens onto a 16-foot-square library adjacent to a 29-foot-long living room. A 24-foot-long dining room is next to a 10-foot-long pantry that adjoins the 30-foot-long kitchen and family room.
Apartment 63 has a small vestibule opening onto a 70-foot-long gallery with a fireplace that opens onto a 24-foot-long library, a 29-foot-long living room with two balconies, and a 24-foot-long dining room, all with fireplaces. The kitchen is 24-feet long and adjoins a 19-foot-long family room and there are two bedrooms, both with fireplaces, and one with a balcony, next to a 15-foot-long study with a fireplace. Although the apartment has seven fireplaces, it only has three bathrooms.
History
"The Dakota," Elizabeth Hawes wrote in her excellent book, "New York, New York, How the Apartment House Transformed the Life of the City (1869-1930)," (An Owl Book, Henry Holt and Company, 1993), "was a daring building and a daring venture."
"Although its situation seemed enviable - the peace and quiet, the unobstructed light, the country air, the boundless vista - many New Yorkers thought the view to a vast greensward was a lonely prospect. Others condemned the intrusion of a bulky nine-story silhouette into the precious arcadian landscape of the park. There was, in fact, no other significant shape on the western horizon. The Upper West Side was still a patchwork of small sleepy settlements and vacant lots, interrupted here and there by a country house, an inn, an asylum or a saloon. In 1880, the Sixth Avenue Elevated had been extended up Ninth Avenue to 155th Street, which Clark hoped would spur development in the area. That year, Riverside Drive had been officially opened too."
"The most daring aspect of Clark's scheme was the extravagance of his building," Ms. Hawes wrote, adding that "Behind a façade described as Brewery Brick Victorian neo-Gothic Eclectic, the building was shaped like a huge hollow square, with a large open courtyard, 55 by 90 feet, planned as a carriage drive at center, and separate entryways to its apartments at the corners. Inside, the building was immense and contained 65 suites and 623 rooms in all....The largest room was the public dining room on the ground floor, which was fashioned after an example in an English manor house, with a baronial fifteen-foot fireplace, an inlaid marble floor, and an elaborately carved, quartered-oak ceiling. Adjacent...was a smaller private dining room, fitted with mahogany and large beveled-glass windows, and a ladies' reception room, which...featured a frieze of clematis painted by the famous Greatorex sisters."
Because elevators were quite new at the time and as was the concept of apartment living for the well-to-do, the eighth and ninth floors of the building were originally used for servants' quarters and laundry and storage rooms, although they would eventually be converted to apartments, and the tenth floor included a roof garden and a children's playroom.
The building's Victorian and Gothic architectural details and ambiance were featured in the popular spooky movie, "Rosemary's Baby," but it is famed more now for its spectacular apartments.
Many of residents of its cooperative apartments have been celebrities including John Lennon, the Beatle who was slain in 1980, Leonard Bernstein, the composer and conductor, Rudolph Nureyev, the danzer, Lauren Bacall, the actress, Boris Karloff, the actor, Judy Garland, the singer, William Inge, the playwright, Jo Mielziner, the stage designer, Warner LeRoy, the restaurateur, Gilda Radner, the comedienne, Rex Reed, the columnist and John Madden, the football commentator.
An article by Peter Lattman and Christine Haughney in the February 2, 2011 edition of The New York Times reported on a racial discrimination and defamation suit brought against the building by Alphonse Fletcher Jr., a former president of its board of directors.
Mr. Fletcher, 45, a prominent Wall Street investor, according to the article, had lived in the building since 1992 and filed the lawsuit after the board denied his application to buy an adjacent unit to accommodate his family.
The lawsuit's allegations included claims that board members made ethnic slurs against prospective residents, including describing one couple as part of the "Jewish mafia" and suggesting that a Hispanic applicant was interested in a first-floor apartment so that he could more easily buy drugs on the street. The applicant, who was rejected, was married to a "prominent financially well-qualified white woman," according to the suit, and though neither is named, the timing and circumstances suggest that it was Antonio Banderas, according to the article.
"The suit accuses the board of several other instances of treating minorities unfairly," the article continued, "including repeatedly denying another black owner - the singer Roberta Flack - permission to install a new bathtub and then joking about it. Mr. Fletcher also accuses the board of self-dealing: shortly after his request was denied last year, a member of the board who lives on the same floor put her own apartment up for sale, offering it as a package deal with the apartment Mr. Fletcher wanted to buy.
"Although such conduct by a co-op board on the Upper West Side of Manhattan at the beginning of the 21st century may seem surprising, this behavior was consistent with the defendants' extensive pattern of hostility toward nonwhite residents of the building," said the lawsuit, which was filed…in State Supreme Court in Manhattan.
In a statement, the Dakota's board said that it had not yet reviewed the lawsuit, but that "Mr. Fletcher's application to purchase an additional apartment in the Dakota was rejected based on financial materials he provided."
"Mr. Fletcher...grew up in Waterford, Conn., and he and his two younger brothers all earned their undergraduate degrees from Harvard. Geoffrey Fletcher, the youngest, won an Academy Award last year for his screenplay for the movie "Precious." Todd Fletcher is an accomplished composer. In 1991, Alphonse Fletcher, then 25, sued Kidder, Peabody & Company, his employer, accusing the Wall Street bank of paying him only half of the $5 million in annual compensation that he said he was due. He claimed the bank considered the amount 'simply too much money to pay a young black man.' An arbitration panel eventually awarded Mr. Fletcher $1.3 million. Mr. Fletcher founded Fletcher Asset Management in 1991.
Mr. Fletcher currently lives in an eight-room, 2,600-square-foot apartment with three bedrooms, three and a half baths, two maid's rooms and Central Park views.
"When Mr. Fletcher tried to buy another apartment for his mother in 2002," the article continued, "the building approved the deal on condition that no one else ever stay in her apartment, even overnight, without board approval, a requirement that the suit said had never been imposed on the unit before. Mr. Fletcher decided to sue because he said he had been blocked from buying a neighboring two-bedroom apartment he planned to use to accommodate his growing family; he is married and has a 2-year-old daughter. He signed a contract to buy the unit for $5.7 million, without a mortgage, from the estate of its former owner, Ruth Proskauer Smith. Mr. Fletcher said that the board began questioning his finances, and that it unfairly concluded he was overleveraged with business loans even though he provided documentation that his net worth was $80 million. It also questioned whether he had made good on his philanthropic commitments and, according to the lawsuit, began spreading rumors that his finances were shaky."
Mr. Fletcher's wife, Ellen Pao, was the subject of a very long June 2, 2012 article by David Streitfeld in The New York Times entitled "Lawsuit Shakes Foundation of a Man's World of Tech."
It was about a sexual discrimination lawsuit filed by her against Kleiner Perkins Caufield & Byers, a venture capital firm that had hired her as chief of staff to John Doerr, a partner at the firm.
Book a Tour or Get More Information on this Building
5,831 Buyers
are interested in buying at
1 West 72nd Street!
Interested in Selling?
We'll introduce you to the agents that
specialize in 1 West 72nd Street and are
experts in selling apartments there.

And they'll be able to contact all of the buyers interested in the building.
There's no obligation and your inquiry is confidential.
Call us at (212) 755-5544