Chelsea House at 130 West 19th Street: Review and Ratings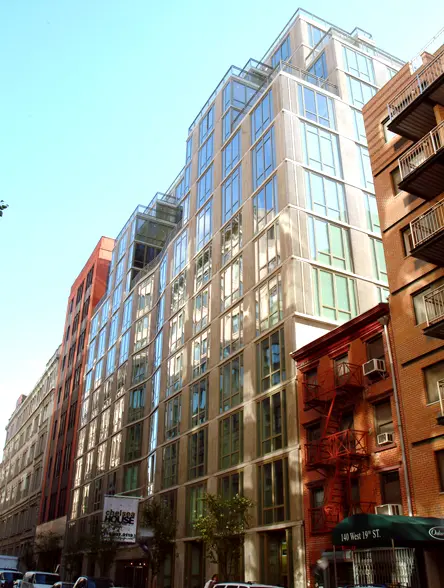 Review of 130 West 19th Street by
Carter Horsley

Carter B. Horsley, a former journalist for The New York Times, The International Herald Tribune and The New York Post. Mr. Horsley is also the editorial director of CityRealty.com.
This mid-block, 13-story apartment building at 130 West 19th Street was erected in 2005 by The Clarett Group and designed by GKV Architects.
It is known as Chelsea House.
It has 64 condominium apartments.
Bottom Line
At first glance, a long gray blur, upon closer examination this mid-block Chelsea apartment building is very subtle and has the allure of a Giacometti painting or Henri Matisse's series of large sculptural reliefs of the backs of nude women at the Museum of Modern Art.
Description
This cast-in-place concrete frame of the building, which has a setback at the 10th floor, is distinguished by three fine, artistic "touches."
The most important and obvious is its off-center "dip" where the façade bends slightly inward as if taking a deep breath.
It is not so much a gulp but a sigh and it does not set off ripples to its flanks.
The depth of the dip is not sufficient to open up major new vistas or significantly expand the architectural notion of bay windows.
It is more of an external gesture to catch passersby unawares, like a fly fishing lure.
What's that? What's this? Why?
Such important questions often are missed by passersby and even some architecture critics.
It's a modest version of Dustin Hoffman's car slap in "Midnight Cowboy": "I'm walking here!"
The second most important "touch" is the columns that vertically ripple from their center in what seems like rapid succession. These are not traditional Greek fluted cylindrical columns or late Art Deco pilasters, but very energetic and modern stanchions of vibration. They gently add considerable texture to the façade. Whereas most passersby are attuned to horizontal rustication at the base of some pre-war buildings, and sometimes to even vertical striations, these bumpy façade variations are rhythmic feedback, pistons of creation/construction. These columns soften the "flat" façades as their slight curvatures are observable at the top and bottom of each column where they are met by the straight-line stringcourses between the floors.
The third "touch" are the decorative gray-metal grills beneath the ground-floor windows that are different from those on the higher floors because their middle elements are substantially indented to accommodate modest flowerboxes. The grills have six perforated sections with four different patterns in the middle. The end panels have identical patterns, different from those in the middle, and they resemble cobwebs. These panels conjure, in a very understated way, Islamic geometric art and their motifs are not repeated elsewhere on the façade although they could be quite pyrotechnical and bold in their design in different, more colorful material.
Amenities
The building has a 24-hour concierge, central air-conditioning, a cinema room, a doorman, a fireplace, a landscaped courtyard, a fitness center, a nursery, a recreation room, storage, and a roof deck with cabanas.
Apartments
Apartment 10A is a three-bedroom apartment with an entry next to the open kitchen with an island next to the 21-foot-wide living room that has a 19-foot-long angled terrace.
Apartment 12A is a two-bedroom unit with an entry foyer that leads to a 25-foot-wide living room with an open kitchen with a bent angle pass-through and the smaller bedroom has a slightly angled wall.
Apartment 3A is a two-bedroom unit with an entry foyer that leads to a 23-foot-long reception room with an open kitchen with a bent angle pass-through.
Apartment 12D is a two-bedroom unit with an entry foyer that opens onto a 26-foot-long living room with an open, pass-through kitchen.
Apartment 10C is a two-bedroom apartment with an 11-foot-long entry foyer next to a 13-foot-wide open kitchen with a bent angled pass-through to the 26-foot-long living room with a 61-foot-long terrace.
Book a Tour or Get More Information on this Building
42 Buyers
are interested in buying at
130 West 19th Street!
Interested in Selling?
We'll introduce you to the agents that
specialize in 130 West 19th Street and are
experts in selling apartments there.

And they'll be able to contact all of the buyers interested in the building.
There's no obligation and your inquiry is confidential.
Call us at (212) 755-5544