Navy Green at 8 Vanderbilt Avenue: Review and Ratings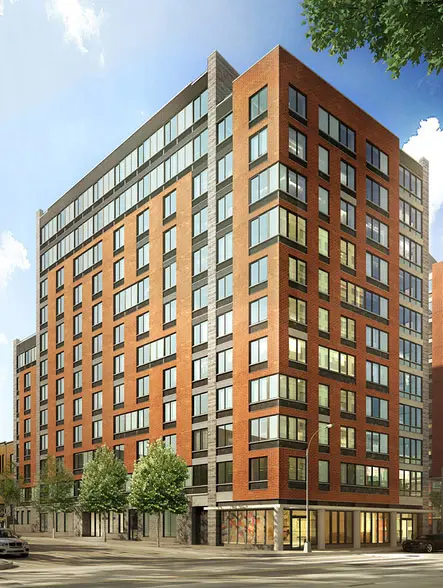 Review of 8 Vanderbilt Avenue by
Carter Horsley

Carter B. Horsley, a former journalist for The New York Times, The International Herald Tribune and The New York Post. Mr. Horsley is also the editorial director of CityRealty.com.
Navy Green is a very handsome residential complex across from the Brooklyn Navy Yard that combines 433 market-rate and affordable apartments in a mix of four high-rise buildings and 23 single-family buildings on the nearly full-block site of a former brig.
The development is by Dunn Development and L and M Development and the architect is Fox Fowle. It is located on Vanderbilt, Flushing and Clinton avenues in the Wallabout section near the north edges of the Clinton Hill and Fort Greene neighborhoods.
99 of the apartments are condominiums but only 24 of those are market-rate.
It is scheduled for completion in 2016.
An article by Kim Velsey in the September 18, 2015 edition of The New York Observer noted that "the affordable housing component of the condo development, the lottery for which closed earlier this year, will provide condos ranging from $230,000 to $440,000 for households earning up to $175,000," adding that "there is little to no other new residential development in the neighborhood."
There is a lot of other activity, however, in the neighborhood. The Navy Yard has attracted Steiner Studios, Brooklyn Grange and a rooftop Vineyard and this summer it was announced that Wegman's, a very popular supermarket chain, was coming to the area, and "a food court and the first ground-up WeWork building are also in the works," the article said.
Bottom Line
A very nice and attractive, mostly "affordable" residential development on nearly a full block across from the Brooklyn Navy Yard with four mid-rise towers and 23 townhouses that will be near the city's first Wegman's supermarket.
Description
Navy Green 1 at 7 Clermont Avenue is a 12-story building with 112 apartments that was designed by FXFowle Architects and erected in 2012 for L&M Development and the Housing Partnership Development Corporation.
Navy Green 3 at 45 Clermont Avenue is an 8-story building with 101 apartments that was erected in 2012 by L&M Development and the Housing Partnership Development Corporation. It was designed by Curtis & Ginsberg Architects LLP.
Navy Green 2 is a 12-story building at 9 Vanderbilt Avenue with 99 apartments that was designed by FXFowle Architects for L&M Development and the Housing Partnership Development Corporation. It is scheduled for completion in 2016.
The first phase of the 23, mid-block, four-story townhouses were completed by L&M Development and the Pratt Area Community Council in the summer of 2015 and the remainder will be completed in 2016. They have been designed by Curtis Ginsburg Architects and FXFowle.
The townhouses have three-story residents and a ground floor rental unit are faced with orange and gray brick and have three- to four-bedrooms, two-step-stoops, balconies, and slightly recessed and thin cornices and sidewalk landscaping.
The handsomest building in the colorful complex is a 95-unit SRO building with 57 units for chronically homeless singled adults and 37 units for low-income single adult community residents. This building has a bright red façade and an attractive fenestration pattern as well as a 24-hour, 7-day-a-week lobby security, a fitness room and a computer training room, a laundry and a community room.
Amenities
The tower buildings have landscaped roof decks, gyms, laundry room, children's playrooms and large bicycle rooms.
There is no off-street parking and no doormen.
In the summer of 2015, it was announced that Wegman's, the very popular supermarket chain, is coming to a 74,000-square-foot facility at Navy Street and Flushing Avenue in an area known as Admiral's Row.
Steiner Studios controls 30 acres at the Navy Yard and plans to develop another 20 acres nearby in Williamsburg including what the article described as a "ghostly hospital complex" that will be converted into offices.
JJ's Navy Yard Cocktail Lounge on Washington Avenue, a strip club that was closed in 2010, has been "remade as an outpost of the Brooklyn Roasting Company, whose headquarters is inside the Navy yard, according to the article.
Apartments
There are 99 condos on the 12-story building at 8 Vanderbilt Avenue where there are 24 market-rate units that started at $625,000 for one-bedrooms. The other towers are at 7 and 45 Clermont Avenue and 40 Vanderbilt Avenue and they have "affordable" rentals.
History
A November 1, 2015 article in The New York Times by C. J. Hughes that the 300-acre Navy Yard that wraps around Wallabout Bay now has 7,000 people working in more than 300 companies, down dramatically from about 70,000 during World War II but up substantially from the early 1980s when only about 100 worked there.
New York City is investing about $143 million, according to the article, into remodeling Building 77, an 18-story building across from Navy Green and its bottom floor will come the Yard Commons, a food hall modeled on the Reading Terminal Market in Philadelphia.
Book a Tour or Get More Information on this Building
64 Buyers
are interested in buying at
8 Vanderbilt Avenue!
Interested in Selling?
We'll introduce you to the agents that
specialize in 8 Vanderbilt Avenue and are
experts in selling apartments there.

And they'll be able to contact all of the buyers interested in the building.
There's no obligation and your inquiry is confidential.
Call us at (212) 755-5544