The Dean in Crown Heights: Review and Ratings | CityRealty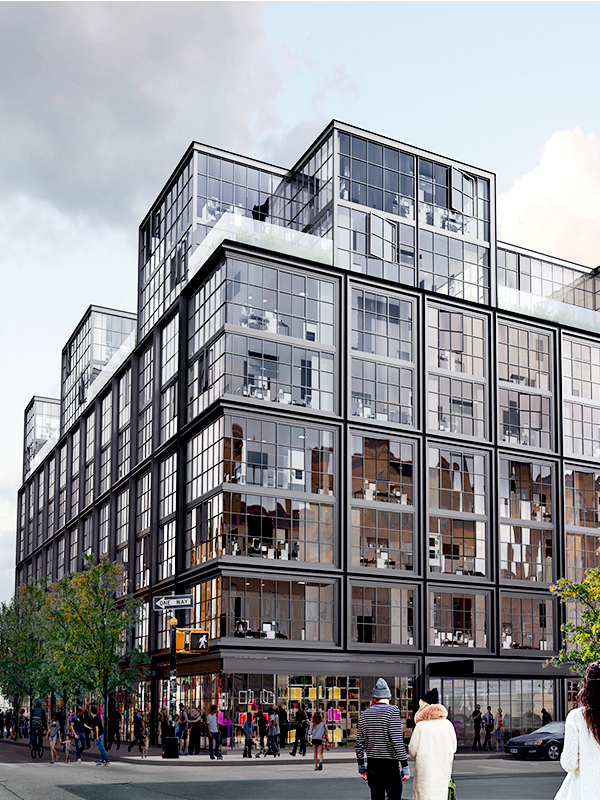 Review by
Carter Horsley

Carter B. Horsley, a former journalist for The New York Times, The International Herald Tribune and The New York Post. Mr. Horsley is also the editorial director of CityRealty.com.
This very striking and very handsome, 8-story rental apartment building at 608 Franklin Avenue at Dean Street in the Crown Heights section of Brooklyn is known as The Dean and was completed in 2017.
It contains 120 apartments and was developed by Brooklyn GC.
ODA Architecture designed the building, which is also known as 1040 Dean Street.
Bottom Line
A large, dark, gridded base that blossoms with two-story-high tops spaced apart with low glass railings gives no hint of its angular and partially sloped courtyard with asymmetrical balcony spacing nor its stepped wooden lobby staircase of varying masses. Ah….
Description
The 6-story base of this building is a very fine articulation of classic industrial aesthetic with large, inset, multi-pane windows maximizing the black grid façades above the one-story retail base and marquee entrance.
The building then blossoms with two-story-high tops, also with multi-pane grids, that are spaced apart, three to a side. The tops leave "open" one side of the window's framing to create corner windows, whose affect is mitigated somewhat by the fact that there is a large, rounded column in that corner very close to the windows.
The spaces between the "tops" are terraces that have low glass railings flush with the base's façade that would be more attractive if the railings were setback somewhat to "liberate" the "tops."
The rear of the building is not as "clean" as its front as it has many balconies that are irregularly spaced. Furthermore, the development's crisp "gridness" is not followed in the large, landscaped courtyard where there are angled planters and some sloping wooded berms.
In addition, the lobby abounds in light-colored wood furnishings with a very tall staircase to a second-level lounge and the staircase is adjacent to a stepped expanse of varying widths of wood seats that are reminiscent of Rem Koolhaas's fine tiered showroom at Prada on Broadway in SoHo that is sloped down on one side and up on the other.
Amenities
The building has a doorman, fitness center, a landscaped courtyard, a greenhouse, a screening room, a business lounge, a refrigerated package room, and a roof deck with a kitchen. Every floor has a laundry.
Apartments
Apartments have floor-to-ceiling windows, recessed lighting, walk-in closets and wine racks, Bluetooth speaks and bathrooms have stone-clad tubs and rainfall shower heads.