80 Flatbush Avenue: Review and Ratings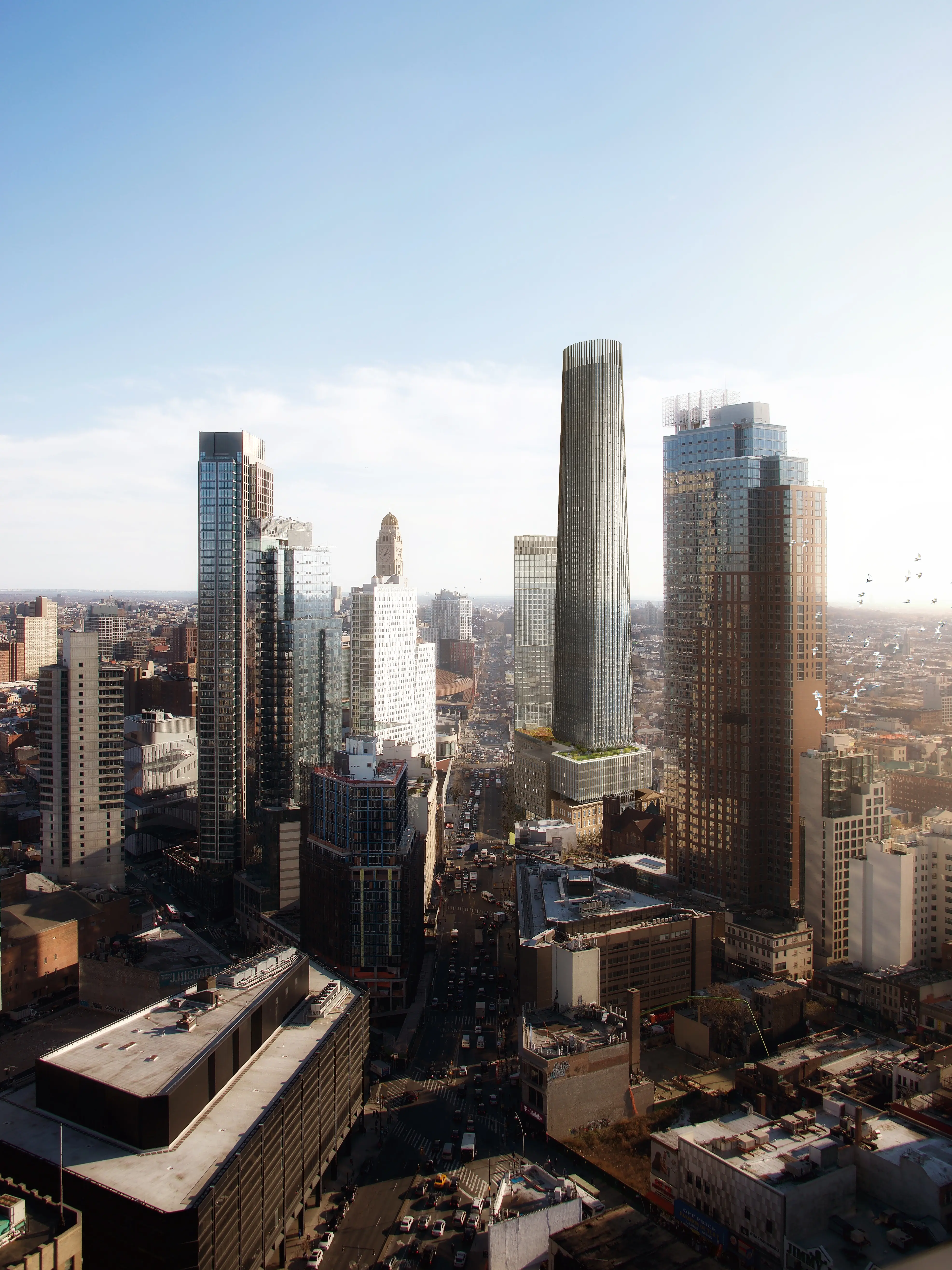 Review of 80 Flatbush Avenue by
Carter Horsley
This large mixed-use development at 80 Flatbush Avenue on a triangular block also bounded by Third Avenue and Schermerhorn Street in the Boerum Hill section of Brooklyn was approved by the City Council in September 2018.
It is about a block from the Atlantic Terminal transit hub and near the Williamsburg Savings Bank tower and the Brooklyn Academy of Music.
That 48 to 2 vote authorized the reduction of the heights of the project's two towers from 980 to 840 feet and from 560 to 510 feet and reduced its total of residential units from 900 to 875 but its number of "affordable housing units" was unchanged at 200. The floor-to-area ratio was reduced from 18 to 15.75.
The project is being erected by Alloy Development, which is headed by Jared Della Valle, an architect, and will include office space, a 350-seat Khalil Gibran International Academy elementary and high school, and community facilities.
A previous design for the tallest tower was rakishly angled and the approved design is not.
About 23 percent of the site was owned by the Educational Construction Fund.
The lower tower is not expected to be completed until 2025.
According to an article at the bridgebk.com, the redesign was described by Chairperson Francisco Moya of the council's subcommittee on zoning and franchises "as lessening the impact of shadows on the nearby Rockwell Place Brooklyn Bear's Community Garden...whose members have protested the projects."
Bottom Line
At this prominent site near the Barclays Center and the Williamsburg Savings Bank tower, the tallest of a two-tower development arises with a Darth Varder cloak over some attractive low-rise components buildings.
Description
The taller of the two towers in this prominent, mixed-use project sports a dark façade a la Darth Vader with a tucked-in hemline over two handsome low-rise components.