Brooklyner, 111 Lawrence Street: Review and Ratings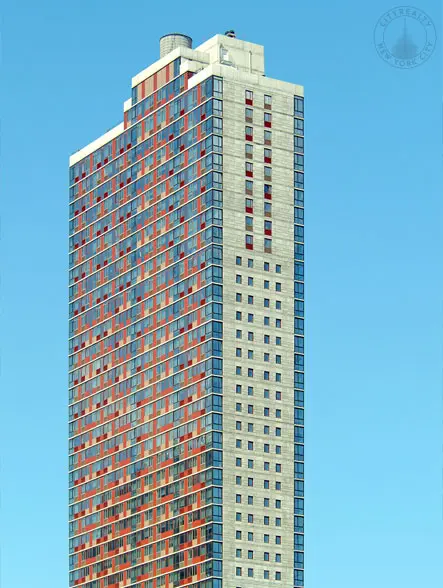 Review of 111 Lawrence Street by
Carter Horsley
Raising the roof is a noble Brooklyn custom, if you were a Brooklyn Dodger fan, so it's no surprise that the Brooklyner at 111 Lawrence Street in Downtown Brooklyn is not shy about being tall.
This 51-story residential condominium tower beat out One Hanson Place by two feet to earn the title of tallest building in Brooklyn when it was completed in 2009.
It's got chutzpah, too, for it has donned a bright red uniform, the better to attract residential bulls.
Designed by Gerner Kronick + Valcarel, the rental tower was developed by the Clarett Group and has 491 apartments
Bottom Line
When it was erected, it was the tallest building and one of the most colorful apartment towers in Brooklyn and many subways are available within three blocks.
Description
The slab tower has two small setbacks near its base.
The 2010 "Fifth" edition of "The A.I.A. Guide to New York City by Norval White, Elliot Willensky and Fran Leadon called the Brooklyner "a non-descript slab fastened to the hip of Daus' New York and New Jersey Telephone Building," a reference to the 1898 "grand Beaux Arts Renaissance Revival palace designed by Rudolph L. Daus."
The tower is a simple, thin slab form but unlike the great dark and mysterious black monoliths of Stanley Kubrick's masterpiece, "2001," it actually tries to make some contextual gestures to its surroundings. A mid-block building, its long sides are not only not monochromatic but also a colorful, complex pattern of brown and red paneling and windows.
In a November 16, 2009 article by Gersh Kuntzman in the New York Daily News, the architect said that "It's a handsome building that relates nicely to the cityscape," adding that "if you look closely, you'll notice that the building gets lighter in color as it rises from the street." "It gives the sense that the sun is shining, like looking at a mountain from far away," he said, adding that "We did a pattern of different colors so that the façade would feel as it was woven together."
Its broad west façade is smooth but its façade has a light-colored slightly projecting bay in its center that carries though to its rooftop watertank enclosure.
There are corner windows at the edges and there short north and south façades have a light-colored center façade.
The west and east façades have alternating fenestration bands with two thin piers of dark windows in the center.
Amenities
The building has a 24-hour doorman, a concierge, a live-in superintendent, a health center, valet parking, a roof deck, a residents' lounge, a backyard with cooking grills and a fire pit, a private dining room and a gaming/screening room.
The building is pet-friendly.
Apartments
Apartment G on floors 42 through 50 is a two-bedroom unit with an entry that opens onto an 11-foot-long, pass-through kitchen and a 17-foot-long living room.
Apartment 6H is a two-bedroom unit that has an entry foyer that leads to a 12-foot-long living room with a 12-foot-long open kitchen and a 548-square-foot terrace.
Apartment B on floors 5 through 50 is a studio unit with an entry that opens onto a pass-through, 11-foot-wide kitchen and a 13-foot-wide living room.
Apartment 7C is a studio unit with an entry that leads to an 11-foot-wide, pass-through kitchen across from an angled closet and a 20-foot-long living room with angled wall.
History
Architect Randy Gerner also designed two other major buildings for Clarett; the 22-story residential condominium at 2770 Broadway on the southeast corner at 107th Street; and Chelsea House at 130 West 19th Street, a mid-block, mid-rise residential condominium.
The Clarett group is best known for Sky House, the 55-story residential condominium at 11 East 29th Street on the grounds of the Little Church Around the Corner designed by FXFowle, and that team also created the Forte at 230 Ashland Place near the Brooklyn Academy of Music.
Other major Clarett projects include Place 57, a 36-story, angled, reflective glass residential condominium tower designed by Ismael Levy at 207 East 57th Street, and 200 West End Avenue at 70th Street, a 29-story residential condominium designed by Costas Kondylis.