HAP Five at 329 Pleasant Avenue: Review and Ratings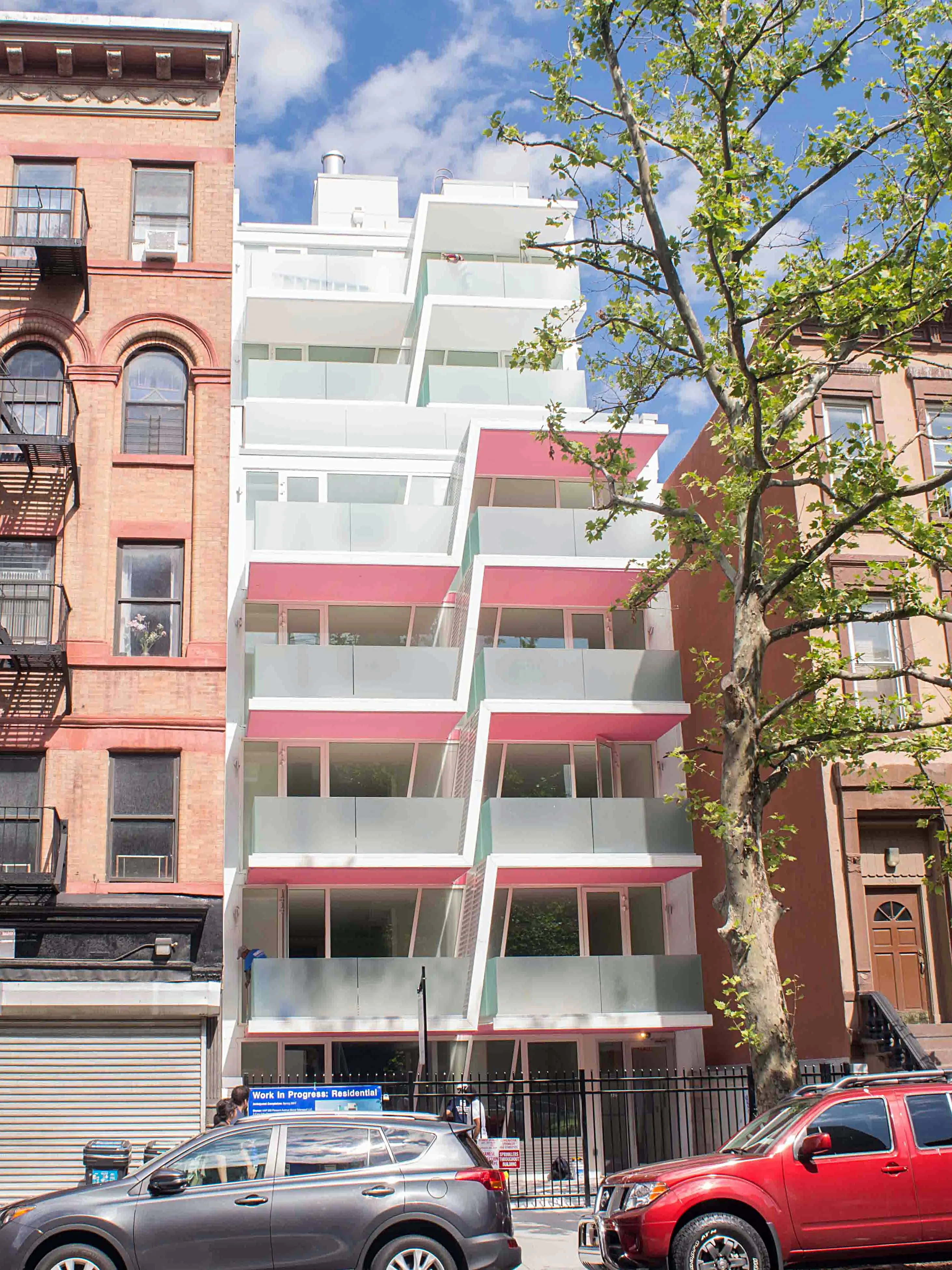 Review of 329 Pleasant Avenue by
Carter Horsley

Carter B. Horsley, a former journalist for The New York Times, The International Herald Tribune and The New York Post. Mr. Horsley is also the editorial director of CityRealty.com.
This 8-story, mid-block building at 329 Pleasant Avenue in East Harlem was completed in 2017 and has 20 rental apartments.
This project is known as HAP 5.
It was developed by Hap Investments LLC, which is headed by Eran Polack and is also developing a 9-story HAP Two project at 2338 Second Avenue, a 10-story, HAP 10 project at 2211 Third Avenue.
It has been designed by Karem Rashid, Karl Fisher, and Wank, Adams, Slavin Associates LLP (WASA).
Karem is the brother of Hani Rashid, a partner in the architectural firm of Asymptote, and he studied with Ettore Sottsass whose eclectic and very colorful designs were marketed under the Memphis imprimatur.
Karem Rashid is known for his designs for Alessi, Kenzo, Davidoff, Issey Miyake and Veuve Cliquot.
Bottom Line
Even though its façade has been "toned down," this mid-block, East Harlem rental building is startling and "edgy" for its angled balcony screens, its criss-crossed marquee supports and its "hot pink" balcony edges.
Description
The mid-block building is setback considerably in a plaza with a long marquee supported by criss-crossed supports.
It is also setback above the sixth floor.
The building is distinguished by its balconies that are flamboyantly angled slightly in the middle with perforated screens and whose bottom edges are outlined in "hot pink," giving the building a stand-out, "strawberry" flavor that is considerably toned down from an earlier scheme that alternated the magenta highlights with bright light blue ones, creating a "kool-aid," or "day-glow" effect that did not win the hearts and minds of polled residents who insisted that the color scheme be toned down.
On his website, Mr. Rashid provides the following commentary about this project:
"Here, we used the balcony as a design feature to generate dynamic play and variety along the façade of the building. The colored glass railing gives character and playfulness to the façade while producing beautifully colored light that penetrates into the living space behind. Each unit receives this large, yet intimate space that extends the senses beyond the interior, making the apartment feel bigger and brighter than it actually is. Due to the dynamic shift of the geometric play along the façade, each balcony partition is formed at a skew from the floor below. By offsetting this connection of alternating connecting balconies above and to one side, we are left with strong angular 'S' geometry that is further detailed with beautiful pattern work. This pattern allows light and shade to play through the form and converts the enclosure into a soft, permeable trellis. In the interior, we've maximized the use of open space by concentrating the programmatic infrastructure (Kitchens and Closets) into compressed areas that delimit space but do not obstruct it from natural light. This allows for light to travel deep into the space and keep the apartments bright and well lit."
Amenities
The building has a roof garden, a virtual doorman, a laundry room, and an outdoor entertainment space.
Apartments
Each apartment has a washer and dryer.
Renderings indicate that the apartment spaces are whitish with psychedelic accents and boldly patterned rugs.
Apartment 6B is a one-bedroom unit with a large living/dining room with an open kitchen and a large terrace.
Apartment 4C is a studio unit with a large living/dining/sleeping area with an open kitchen and a terrace.