Tapestry, 245 East 124th Street: Review and Ratings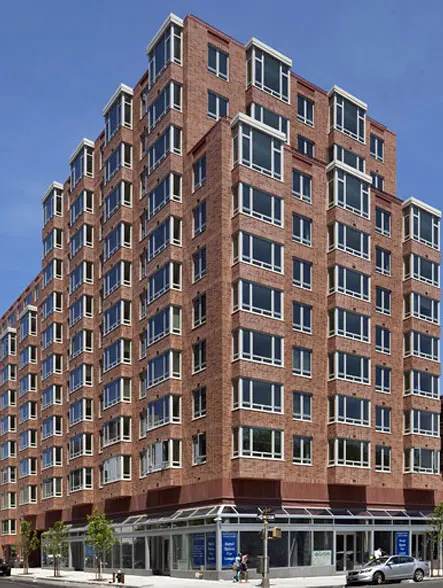 Review of 245 East 124th Street by
Carter Horsley
Tapestry is a very handsome, 12-story rental apartment building at 245 East 124th Street at Second Avenue in East Harlem that was designed by Pei Cobb Freed & Partners and MHG Architects, the successor firm to Herbert L. Mandel P.C.
It has 185 apartments and was completed in 2010.
It was developed by Jonathan Rose Companies and Lettire Construction Corporation, which is headed by Nicholas and Gerard Lettire.
The building is close to the TriBorough Bridge and calls itself "The Gateway to Manhattan."
It anticipates LEED Gold designation as a U. S. Green Building Council Leadership in Energy and Environmental Design New Construction certified green building. It also meets the criteria established by NYSERDA Multifamily Performance Program and Enterprise Green Communities Guidelines for environmental responsibility.
The developers anticipate that the building's energy costs will be about 20 percent less than other buildings, saving both the residents, who pay for the electricity, and the landlord, which pays for hot water and heat, money.
According to Mr. Rose, "making buildings greener does not have to cost significantly more," and he added that his company can build them for only about one percent more than traditional buildings.
Bottom Line
A very attractive, red-brick rental building with many large, rectilinear bay windows,
Tapestry anticipates a LEED Gold designation and has many services and amenities and a central East Harlem location convenient to transportation.
The building, which is between Third and Second Avenues, is very close to the transportation hub at 125th Street - where Metro North trains meet the subway - and that will offer a shorter commute to the urban population in the city that works in southern parts of Westchester and Fairfield counties.
Description
The red-brick building has floor-to-ceiling windows and on the 9th and 12th floors the large bay windows have glass tops.
The protruding, rectilinear bay windows give the building prominent rhythm and a very attractive, multi-faceted appearance.
The lobby has a wall hanging over the concierge desk by Ivan Chermayeff.
Amenities
The building has a 24-hour concierge, a 24-hour attended garage, and an on-site resident manager.
Valet and housekeeping services are available and there is also a media/entertainment lounge with kitchen, a fitness center, a green roof and landscaped terraces with seating areas, an on-site dry cleaner, bicycle storage, private storage, and automated delivery notification and cold storage for deliveries.
The building is pet-friendly and has two laundry rooms, one with TV.
Apartments
Tapestry apartments have digital heat controls in each room so that residents can tailor the temperature to their liking.
It also has oversized, double and tripled-glazed windows that let light in but keep the heat out, making apartments cooler in the summer.
Almost all apartments have large bay windows and some have terraces and some have Bosch washers and dryers.
Kitchens have bamboo cabinetry, Caesarstone countertops and Energy Star appliances.
Some of the units are non-smoking.
There is recycled tiling and carpeting.
There are 26 different apartment layouts including two duplexes and 7 different kitchen styles.
Kitchens have water-conserving plumbing and natural tone counters. . The building has Forest Stewardship Council-certified flooring, Energy Star appliance and recyclable carpets.
The L line on floors 4 to 9 is a studio with a 20-foot- living/dining area, a U-shaped kitchen with a breakfast bar, a linen closet and a walk-in closet.
The non-smoking E line on floors 3 to 9 has a 23-foot living room with a large bay window, a windowed, open, loft kitchen with breakfast bar and pantry, and a 14-foot bedroom.
Apartment 1-2 A,B is a duplex with a 24-foot living/dining with an open kitchen on the lower level and two bedrooms on the upper level with a large bay window in the 16-foot master bedroom.
A three-bedroom apartment has two large bay windows, one in the 21-foot living/dining area with an open kitchen, one in smallest bedroom.