2 Gold Street in Financial District: Review and Ratings | CityRealty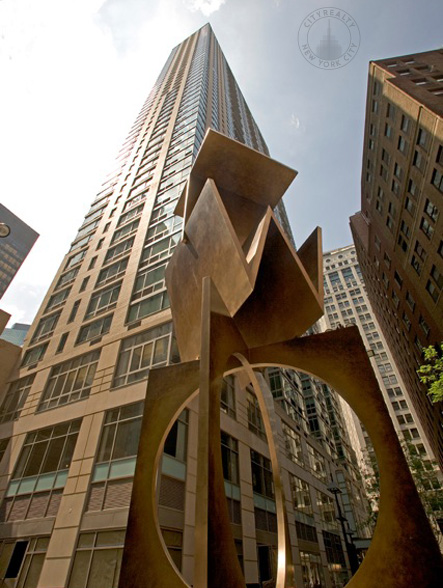 Review by
Carter Horsley

Carter B. Horsley, a former journalist for The New York Times, The International Herald Tribune and The New York Post. Mr. Horsley is also the editorial director of CityRealty.com.
This large, 51-story rental apartment tower was erected in the Financial District at 2 Gold Street between Platt Street and Maiden Lane in 2005, but it was planned in 1998 by its developer, Rockrose Development, as "a blockbuster corporate office building," according to an article by David W. Dunlap in the May 30, 2004 edition of The New York Times.
It was "by far the largest single apartment building under Liberty Bonds," Mr. Dunlap wrote, adding that "the $225 million project received $170.3 million in city-issued Liberty Bond financing."
The full-service building, which was designed by Avinash K. Malhotra, originally had 650 apartments but that increased to 839 when a 26-story tower was added to the site with a different color scheme for the setback but similar base.
The lobby was designed by The Rockwell Group. Thomas Balsey was the landscape architect.
The project incorporates the front red-brick façade of 211 Pearl Street that had been erected in 1832 for William Colgate, a founder of Colgate-Palmolive.
Rockrose was headed by the Elghanayan family that subsequently divided its assets with H. Henry Elghanayan, the eldest brother, keeping the Rockrose concern in 2009, and his younger brothers, K. Thomas and Frederick, creating T. F. Cornerstone concern that now owns this development.
The tower is very close to the former Chase Manhattan Bank and A.I.G. towers, the Louise Nevelson Park and it is not far from the South Street Seaport.
Bottom Line
The 2001 terrorist attacks on Lower Manhattan derailed this building's plans as a large office tower, but Hurricane Sandy in 2012 created greater havoc for it knocking out its electrical and mechanical systems and forcing the relocation of hundreds of its residents. Its developers persevered, however, and repaired the damage from flooding at an estimated cost of about $15 million and re-rented the apartments and added a second, lower tower.
They installed a 13-foot-high aluminum gate that uses nitrogen-fueled gaskets to make the basement watertight. Hurricane Sandy filled the lobby with three feet of water.
Description
The landscaped plaza has a sculpture, "Two," by Gustavo Bonevardi and John Bennett, who worked on the Tribute in Light at the World Trade Center.
The rooftop water tank is enclosed and illuminated at night.
The large roof deck has a long grass lawn and a glass-enclosed lap pool. The rooftop solarium has a gas fireplace, wet bar and catering kitchen.
The building has a large entrance marquee with a revolving door.
The building has many corner windows and balconies started about half-way up the beige-brick tower.
Amenities
It has a 24-hour concierge, an attended garage, a fitness center, a very large roof deck with spectacular vistas in all directions as well as a roof solarium with fireplace, a game room and valet service. Pets are allowed.
Apartments
Some apartments have balconies or terraces and floor-to-ceiling windows and windowed kitchens.
Penthouse A is a three-bedroom unit with a long entry foyer that leads to a 23-foot-long living/dining room with an open kitchen with an island and a terrace.
Apartment 12 on floors 27 through the penthouse is a three-bedroom unit with an entry foyer adjacent to the pass-through kitchen next to the 21-foot-ong living/dining room.
Apartment B on floors 4 and 5 is a one-bedroom unit with an entry foyer next to an enclosed kitchen and a 19-foot-long living/dining room and an angled, corner bedroom.
Apartment G on floors 4 and 5 is a studio unit with a 22-foot-long living/dining room and an enclosed kitchen.
Apartment N on floors 4 and 5 is a studio unit with a 17-foot-long living/dining room and an enclosed kitchen.